Anja and I have been camping since we met 11 years ago, and our first campouts were about bringing water, energy bars, nuts, dates, and fruits. We were lazy and didn't want to spend time cooking outdoors.
But today, we understand the importance of camping food from physiological and sociological aspects.
Campfire cooking makes camping more magical and brings people together simultaneously.
The most important thing we learned along the way is that you should be able to maintain flavor and quality even if you're cooking outdoors!
After years of camping and countless adventures, we've narrowed down this list of breakfast camping ideas that are our go-to's for camping when we need something tasty with minimal cleanup.
Before we start with recipes, here are some kitchen essentials to consider packing for your trip:
Stove: A stove is essential for cooking while camping. Choose a stove appropriate for your needs, such as a propane stove for car camping or a compact, lightweight stove for backpacking.
Pots and pans: Pack pots and pans suitable for your cooking needs. If you plan on cooking over a fire, consider packing a cast iron skillet or Dutch oven.
Utensils: Pack a variety of utensils such as spoons, forks, knives, spatulas, and tongs to help with meal prep and cooking.
Cooler: A cooler is essential for storing perishable items such as fresh fruits, vegetables, tofu, and yogurt. Make sure to pack your cooler with plenty of ice or ice packs to keep the food at a safe temperature.
Water bottles or hydration system: Ensure to pack plenty of water bottles or a hydration system to stay hydrated while camping.
Dishwashing supplies: Pack dishwashing supplies such as dish soap, scrub brushes, and a towel to help clean up after meals.
If you want to spend less time meal planning and more time enjoying your adventures, keep these best camping breakfast ideas bookmarked.
We split it into categories to make it easier for you to navigate through.
If you want to jump straight to a specific recipe, feel free to use a table of contents.
Table of Contents
Burritos, Sandwiches & Wraps – Camping Breakfast Ideas
1. Campfire Breakfast Burrito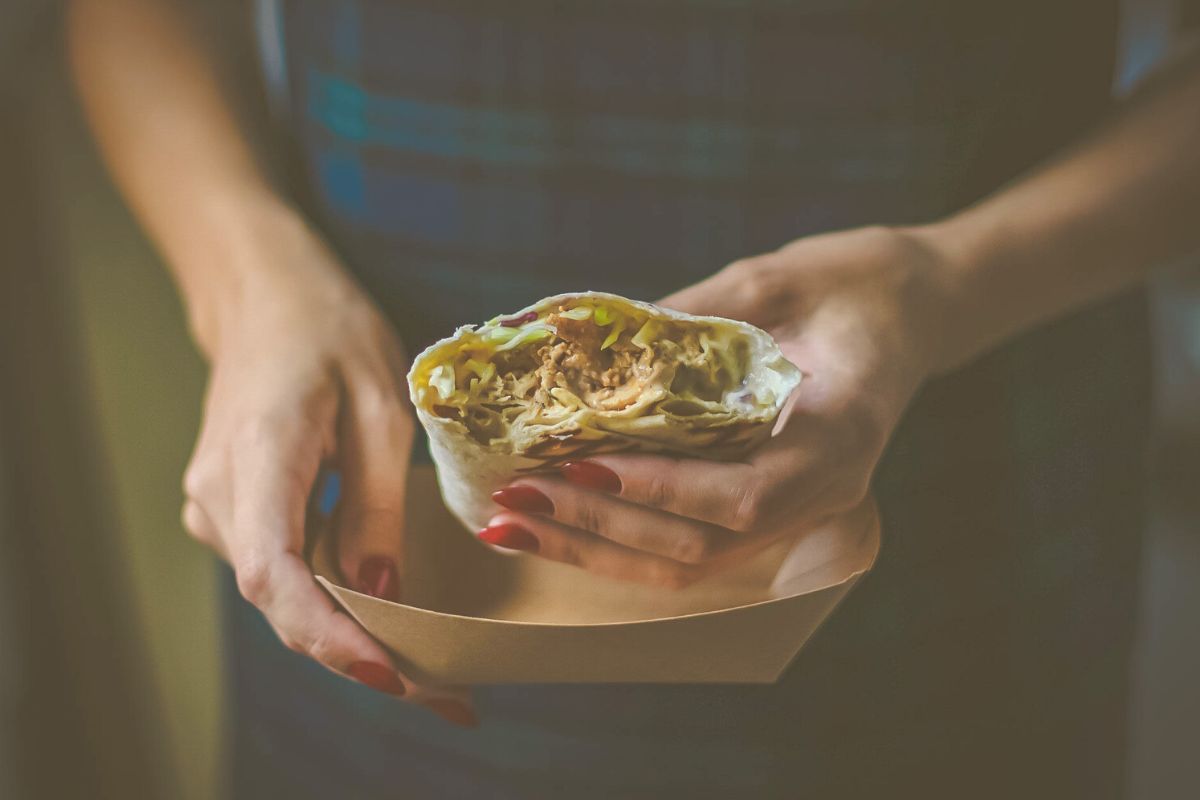 Ingredients
2 cups frozen tater tots, optional
8 flour tortillas, burrito size
1 pound spicy ground sausage
12 eggs
2 cups shredded cheese, Mexican blend
Directions
Make tater tots according to package directions if using.
In a large skillet, cook sausage until crumbly and fully cooked. Remove cooked sausage and set aside.
In the same pan, scramble eggs, add salsa at the end, and thoroughly combine.
In a large bowl, combine egg/salsa mixture, cheese, and sausage, and mix. Then fold in the cooked tater tots.
Divide equally among the eight tortillas. Fold ends of tortillas in, then roll to close. Wrap individually in aluminum foil sprayed with nonstick spray and freeze.
Move from freezer to refrigerator the day before planning on eating.
Start the camp grill or campfire. Heat for 20 minutes or until heated.
2. Halloumi Breakfast Sandwich Campfire
Ingredients
1 medium Hass avocado, halved and pitted
Kosher salt as needed
1 (8.8 ounces) block of halloumi cheese
3 tablespoons vegetable oil, divided
2 large eggs
Freshly ground black pepper, as needed
2 tablespoons unsalted butter
2 English muffins, halved lengthwise
1 cup packed wild arugula
Hot sauce of choice
Directions
Cut the halloumi in half lengthwise. Scoop the avocado into a small mixing bowl and mash it with a fork. Season with salt and set aside.
Heat a medium nonstick skillet over medium-high heat; add two tablespoons of vegetable oil and place the cheese in the pan. Cook until the cheese is golden brown, about 1 minute.
Flip the pieces and repeat on the other side, cooking for about 1 minute. Remove and set aside, then return the pan to heat.
Add the remaining oil and heat, then crack the eggs into the pan. Cook until the whites set, about 1 minute. Then gently break the yolk and flip the eggs, cooking for an additional 30 seconds for over easy.
Return the pan to medium-low heat, add the butter, and allow it to melt. Add the English muffins to the pan, and cut the side down. Toast the two muffins until golden brown, about 2 minutes. Remove and set aside.
Divide the smashed avocado between the two bottoms of the sandwich, then top with the crispy halloumi slices and fried eggs, followed by the arugula and hot sauce.
Close the sandwich and serve.
3. Greek Pita Sandwiches – Camping Breakfast Ideas
Ingredients
1/2 cup plain Greek yogurt
1/4 cucumber shredded
1 clove garlic minced
1/8 cup crumbled feta cheese
1 tomato chopped
3/4 cucumber peeled, seeded, and chopped
1/2 small onion chopped
1 cup raw spinach roughly chopped
1/2 pound ground hot breakfast sausage crumbled
1/2 pound thick bacon crumbled
4 pita rounds
6 eggs
Salt and pepper
Directions
Make the sauce by mixing the yogurt, shredded cucumber, garlic, feta cheese, salt, and pepper in a bowl, then refrigerate until ready.
Chop the tomato, the peeled cucumber portion, seeded, chopped onion, and spinach (sandwich topping veggies), and refrigerate until ready.
In non-skillet over medium heat, fry bacon and sausage, crumble, set aside, and keep warm. (NOTE: If you prefer to cook this over a campfire rather than a camp stove, use a cast iron skillet instead of a nonstick skillet and continue with the recipe.)
Reserve most of the grease from the skillet, leaving a thin coating in the pan. Toast the pitas on both sides, then set them aside.
Beat eggs, adding salt and pepper to taste.
Pour eggs into skillet over medium heat with a thin coating of reserved grease. Cook scrambled eggs by stirring until cooked.
Lay out pitas and portion ingredients equally, beginning with a layer of eggs, then adding a layer of the meats and vegetables, and finishing with the sauce.
TIP: Prepare the sauce and all your veggies and refrigerate until ready. Then, the morning prep is super fast and straightforward.
4. Breakfast Quesadillas – Camping Breakfast Ideas
Ingredients
4 slices of bacon
1 small green bell pepper
1 shallot
4 eggs
cheddar cheese
2 flour tortillas
butter or cooking oil
Directions
Cook the bacon in a cast iron pan over medium heat. Once the bacon is cooked, remove it from the pan and set it aside on a plate lined with paper towels.
Dice the pepper and shallots and add them to the pan with the bacon grease. Cook for 2-3 minutes.
Crack the eggs directly into the pan with the peppers and shallots. Use a fork or spatula to scramble them in the pan as they cook. Remove from the heat and set aside when the eggs are fully cooked.
Chop the bacon into bite-sized pieces and mix it into the eggs.
Assemble the quesadillas: Add a tortilla over low heat in the cast iron pan, and cover half the tortilla with sliced cheese. Layer on half of the eggs and bacon mixture. Top with a little more cheese.
Fold the tortilla in half and cook for 2 minutes on each side until the cheese melts. Repeat with the second tortilla and the remaining egg mixture.
TIP: If you pre-cook the bacon at home, you will need a little butter or oil to grease the pan for cooking the peppers and eggs.
5. Bacon, Egg, and Avocado Breakfast Wraps
Ingredients
2 avocados cubed
1 lemon juiced
2 tablespoons fresh parsley chopped
2 tablespoons fresh chives chopped
2 jalapeno peppers seeded and finely diced
6 slices thick-cut bacon
1/2 onion diced
6 eggs beaten
Salt and pepper to taste
1 cup shredded cheddar cheese
4 spinach wraps
Directions
Mix the avocados, lemon juice, parsley, chives, and jalapeno peppers in a medium-sized bowl. Set in the cooler till ready to serve.
In a medium-sized skillet over medium heat, thoroughly cook the bacon, remove it from the pan, and place it on paper towels to drain and cool.
Crumble bacon and set aside.
Remove most of the bacon grease from the skillet but leave enough to coat the pan and sauté the onion.
Sauté the onion until tender, stirring occasionally.
Reduce heat to low, and add the eggs, salt, and pepper to the pan.
Gently cook the eggs over low heat, stirring occasionally.
When the eggs are cooked, add the cheese, stirring until the cheese is incorporated.
Place spinach wraps on the table and spoon even amounts of the egg mixture and the avocado mixture into the center of the wraps. Fold the wraps and enjoy!
6. Sausage Breakfast Sandwiches
Ingredients
Sausage Patties
1/2 pound ground pork
1/2 tbsp maple syrup
1/2 tsp fennel seeds
1/4 tsp dried thyme
1/8 tsp ground nutmeg
1 garlic clove minced
1/2 tsp salt
fresh black pepper
Other Ingredients
4 English muffins
4 eggs
4 slices of sharp cheddar cheese
1/2 tbsp cooking oil or butter
Directions
At Home
Make the sausage patties: Combine the pork, maple syrup, fennel seeds, thyme, nutmeg, garlic, salt, and pepper in a bowl and combine.
Form patties about the diameter of English muffins and store them in an airtight container in the cooler on top of the ice.
TIP: Use parchment paper between each patty, so they don't stick together.
At Campsite
Heat a cast-iron pan over medium heat on your camp stove. Toast the English muffins until golden and then set them aside.
Next, add a little oil to the pan and cook the sausage patties for about 10 minutes on each side or until the internal temperature reaches 165°F. Cook time will vary depending on how thick you formed the patties.
Once the sausage is fully cooked, set each patty aside on top of an English muffin, then fry the eggs.
Lastly, add a slice of cheese on top of each egg and let it melt. I usually cover the pan with aluminum foil to help it dissolve.
Once the cheese is melted and the egg is cooked to your taste, add it to the sausage patty and serve!
Dutch Oven – Camping Breakfast Ideas
1. Dutch Oven Tomato And Avocado Frittata
Ingredients
1 tablespoon butter
2 tablespoons olive oil
1 small onion chopped
1 clove garlic minced
1/2 teaspoon salt
1/4 teaspoon black pepper
1/2 teaspoon dried basil
1/2 teaspoon dried oregano
6 eggs beaten
1/4 cup milk
1 cup shredded cheddar cheese
1 avocado sliced
3 cherry tomatoes cut into quarters
3 fresh basil leaves chopped
Directions
Heat butter and oil in the bottom of the heated Dutch oven.
Sauté onions and garlic.
Add the dried spices.
Beat the egg mixture in a separate bowl, then pour it over the garlic and onion mixture in the oven.
Rotate while baking with the lid on for about 10 minutes until the frittata is almost firm.
Add the cheese to the top of the frittata, replace the lid, and continue cooking until the cheese is melted and the frittata is firm.
Top it with avocado, tomatoes, and basil just before serving.
Serve warm.
TIP: You can use whatever size Dutch oven you'd like to make this delicious Dutch Oven Tomato and Avocado Frittata; remember, the smaller the range, the thicker the frittata, and vice versa.
2. Dutch Oven Bacon Scramble
Ingredients
4 slices thick bacon chopped
1/2 small onion diced
1 medium tomato chopped
1 cup fresh spinach chopped
4 eggs beaten
Salt and pepper to taste
1/2 cup shredded cheddar cheese
Directions
Prepare for cooking in your 10-inch cast iron camp Dutch oven.
Preheat it to medium-high heat.
Fry the bacon until it is almost fully cooked.
Now stir in the onions and continue cooking until the onions are slightly softened.
It is time to add the spinach, stirring and cooking until it is wilted.
Stir in the tomatoes and continue cooking until they begin to soften.
Reduce the heat to low before you add the eggs.
With reduced heat, you want to add the eggs, continually stirring as they cook; you want to work around the bottom of the pan, scraping the whole pot so nothing sticks.
When the eggs are almost set, sprinkle the cheese over the bacon and egg mixture, then cover with the Dutch oven's lid and continue cooking until the cheese is gooey and melted.
Serve hot, and enjoy.
TIP: A 10-inch Dutch oven is a great size for up to 4 servings, but if you scale for more than that, increase the Dutch oven size for proper cooking.
3. Dutch Oven Dutch Baby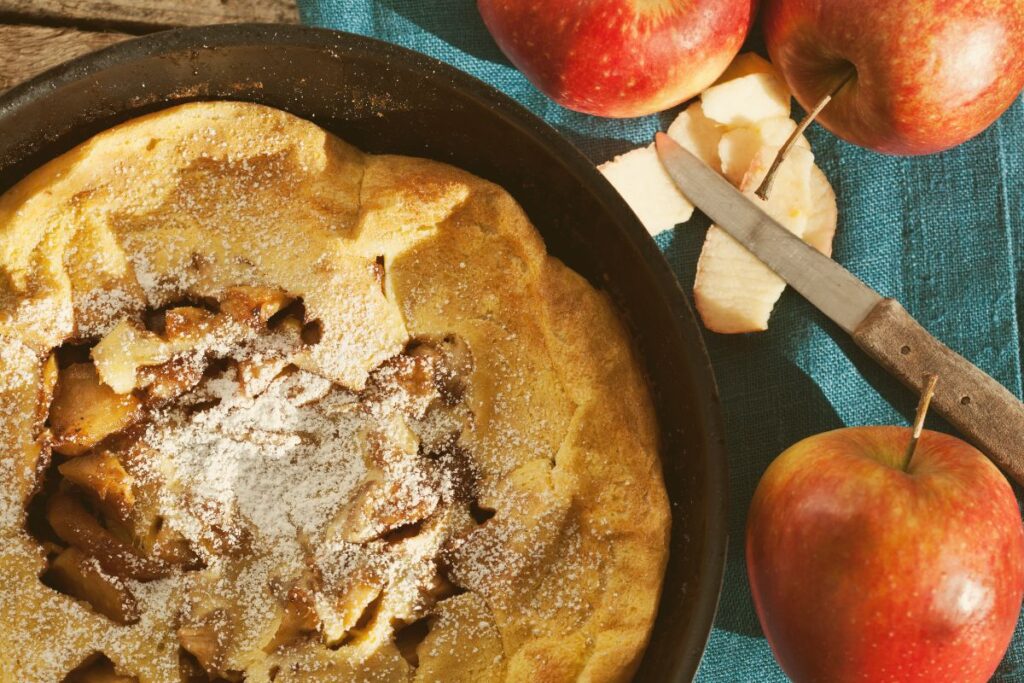 Ingredients
½ cup butter
9 eggs
1 ½ cups milk
1 tablespoon vanilla
zest from one lemon
1 ½ cups flour
½ teaspoon salt
4 cups berries
¼ cup powdered sugar (amount varies based on preference)
lemon juice (to squeeze on berries, if desired)
Directions
Using a 12-inch (8 quarts) dutch oven, prepare 24 charcoals.
Combine the eggs, milk, vanilla, and lemon zest (you can do this beforehand). When ready to cook, add the flour and salt and whisk together until well blended.
Place eight coals directly under the Dutch oven when the coals are nice and hot. Add the cube of butter and allow it to melt. Once melted, add the batter to the pot, cover, and add the remaining 16 coals to the lid.
Rotate the lid ¼ turn every 5 minutes and allow the dutch baby to cook until set, about 25 minutes. Remove from heat. It should puff up to the top, and it will fall once it is removed.
Cut into six slices and enjoy! Cover with berries, powdered sugar, and a squeeze of lemon. Replace the lid and allow the berries to warm before serving.
4. Dutch Oven Cinnamon Rolls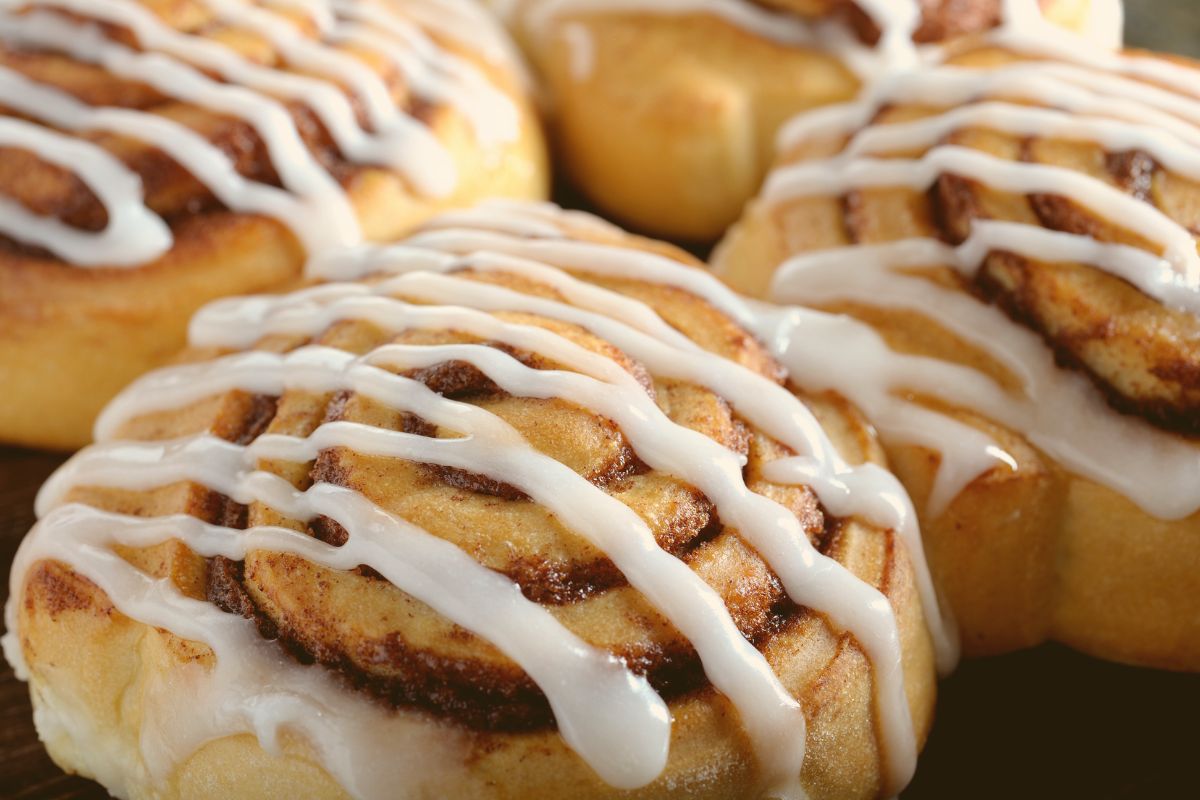 Ingredients
Dough
2 ½ cups flour,
3 tablespoons granulated sugar
2 teaspoons active dry yeast or 1 packet
1 teaspoon cinnamon
½ teaspoon sea salt
¾ cup milk, preferably whole
4 tablespoons butter
1 egg
Filling
4 Tbsp butter, softened
⅓ cup brown sugar (packed)
1 tablespoon ground cinnamon
4 cardamom pods, crushed and husk removed
Icing Glaze
½ cup powdered sugar
1 tablespoon milk
1 tablespoon melted butter
Directions
At Home
Combine the flour, granulated sugar, yeast, one teaspoon of cinnamon, and ½ teaspoon salt in the bowl of a mixer. Add the milk and butter to dry ingredients along with the egg. Add the milk and butter to a small bowl and warm in a microwave for 45-60 seconds to melt the butter.
Mix for about 5 minutes on medium-low (4 on our Kitchen Aid mixer) until the dough is smooth and is no longer sticky. Transfer the dough to an oiled bowl and cover. Rest for 10 minutes.
Meanwhile, prepare the filling. If using whole cardamom, crush the pods. Using a rolling pin and cutting board or a mortar and pestle. Remove the outer husks and use the rolling pin or pestle to grind the cardamom further. Combine in a small bowl along with the cinnamon and brown sugar.
Turn the dough onto a floured surface and knead 2 or 3 times to bring it into a ball. Roll out into a rectangle about 12″ by 8″. Spread the softened butter evenly over the dough, followed by the cinnamon sugar mixture.
Roll the dough into a tight cylinder starting with one of the long edges. Cut into 8-10, 1″ rolls using a piece of unflavored dental floss. Slide the floss under the roll, then wrap it over the top. Pull the ends in opposite directions to cut through the rolls.
Place the rolls into a Tupperware container that is lined with parchment paper. Place another piece of parchment paper between layers if you need to stack the rolls. Now, you can also make the icing glaze: whisk ingredients together and transfer them to a small container. Store the rolls and glaze in your cooler for up to two or three days.
At Campsite
Remove the rolls from the cooler and arrange them in a 4-qt Dutch oven. Cover the oven and let the dough rise while you start your coals or campfire.
Once the coals are ready, place seven in a circle and place the Dutch oven on top. Remove from heat. Bake for 30-45 minutes, until the tops are golden.
Mix the icing ingredients (if not done at home) and drizzle over the rolls. Enjoy a fresh cup of camp coffee!
5. Dutch Oven Coffee Cake
Ingredients
1 box yellow cake mix
1 tablespoon ground cinnamon
1 cup chopped pecans
3/4 cup vegetable oil
4 eggs beaten
1 (8 oz) container of sour cream
1 teaspoon vanilla
1 cup brown sugar
3 tablespoons powdered sugar
Vegetable spray
Directions
In a medium size bowl, mix the cake mix, cinnamon, pecans, vegetable oil, eggs, sour cream, and vanilla set aside.
Preheat Dutch oven to 325 degrees (19 total charcoal briquettes = 13 top/6 bottoms.)
Spray the inside of your pre-heated Dutch oven with vegetable spray.
Pour the batter into the bottom of the oven.
Sprinkle the brown sugar over the batter in the oven.
Cover and bake at 325 degrees until done, about 20-30 minutes, depending on your outside air temperature and altitude, so adjust the baking time accordingly. It's done when a knife inserted into the center of the cake comes out clean.
Rotate the oven and lid 1/4 and turn in opposite directions throughout the cooking process.
Take the Dutch oven off the coals and remove the lid to cool slightly.
Sprinkle with powdered sugar, slice, and serve.
No Cook Camping Breakfast Ideas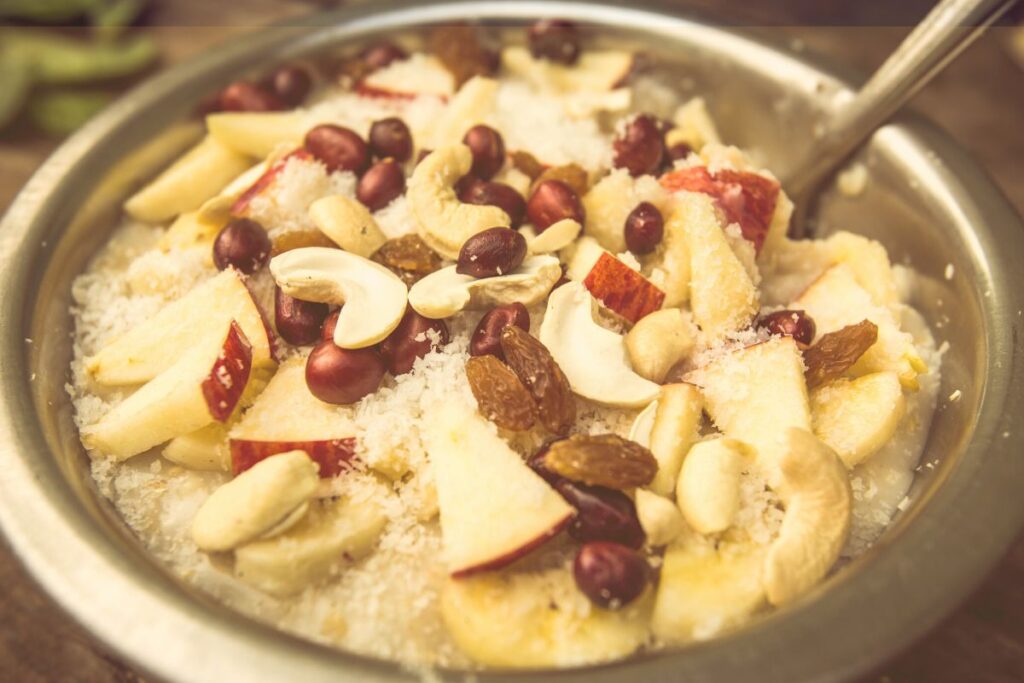 1. Toasted Oats Cereal
Ingredients
2 tablespoons olive oil
1 cup rolled oats
¼ cup chopped nuts or seeds
2 tablespoons maple syrup or sub agave or honey
¼ cup dried fruit (like raisins or dried cranberries)
To Serve: milk or non-dairy milk substitute
Directions
Add oil to a large, heavy pan over medium-high heat. When the oil is hot, add the oats and nuts.
Stir constantly for 5-7 minutes or until the oats turn golden. Take care to stir often to avoid burning the nuts. When the color turns golden, turn off the heat and add the maple syrup. Stir until incorporated.
Stir in the dried fruit.
Serve the cereal with either cold or warm milk. Serve immediately, or store in an airtight container for about a week.
Cereal Variation Ideas:
Oats, Pecans, Maple Syrup, and Dried Cranberries
Oats, Almonds, Honey, and Dried Blueberries
Oats, Walnuts, Maple Syrup, and Dried Figs
Oats, Maple Syrup, Toasted Coconut, Cacao Nibs, or Chocolate Chips (Add the cacao nibs or chocolate after the cereal cools)
2. Yogurt with Granola – Camping Breakfast Ideas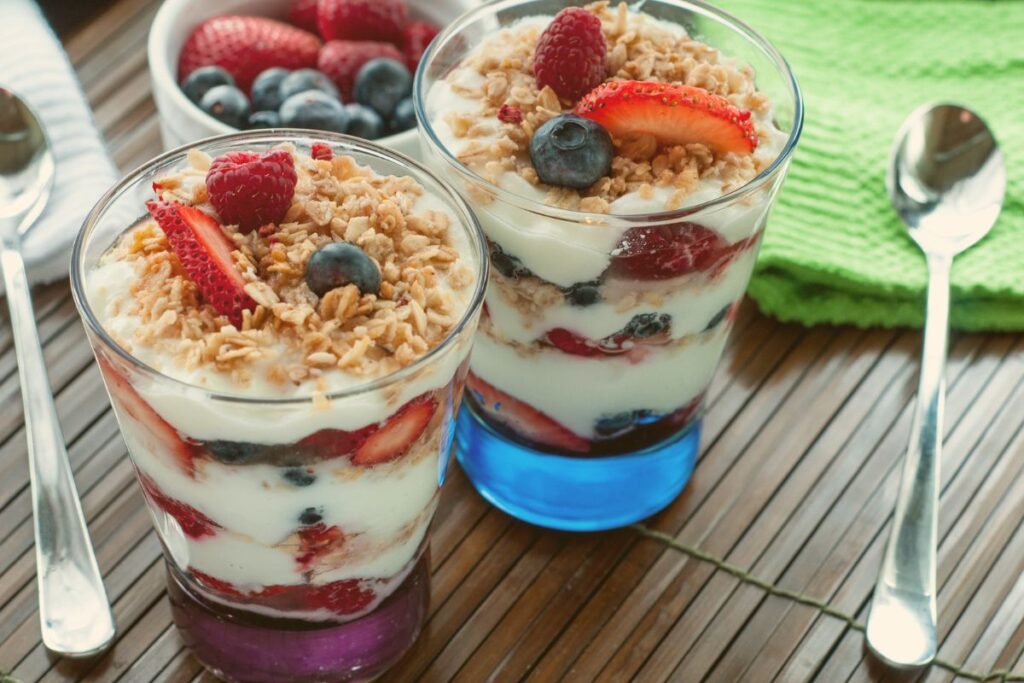 Ingredients
1 oz freeze-dried yogurt drops
¼ cup dried fruit of choice
¼ cup granola
Directions
At Home:
Place the freeze-dried yogurt in a small food processor or spice grinder and blitz it into powder, then place it in a zip-top bag with the dried fruit. Package the granola separately.
At Campsite:
Add ¼ cup cold water (more or less depending on the preferred consistency of the yogurt) to the powdered yogurt and fruit. Let it rehydrate, occasionally stirring, until creamy and smooth — about 5 minutes. Top with the granola.
3. Fruit And Nut Peanut Butter Stuffed Tortilla
Ingredients
1 whole wheat tortilla soft taco size
1 heaping tablespoon of peanut butter
1 banana
1/4 cup dried berry nut & seed mix
Directions
Spread the peanut butter on the tortilla.
Slice the banana and layer it over the peanut butter.
Sprinkle the berry, nut, and seed mix over the top of the banana.
Roll the tortilla carefully, so the filling doesn't fall out when you eat it. Enjoy!
4. Fruit Salad
Ingredients
1 can pineapple chunks (keep juice)
1 package vanilla instant pudding
1 can mandarin oranges (drained)
2 bananas (sliced)
frozen strawberries (cut in half)
Directions
Open a can of pineapple and drain the liquid into a bowl.
Add your package of pudding and mix it.
Now you can add your pineapple chunks, drained mandarin oranges, sliced bananas, and strawberries!
Add your favorite fruits, or try a more daring pudding flavor!
Pancakes And French Toast – Camping Breakfast Ideas
1. Banana Bread Pancakes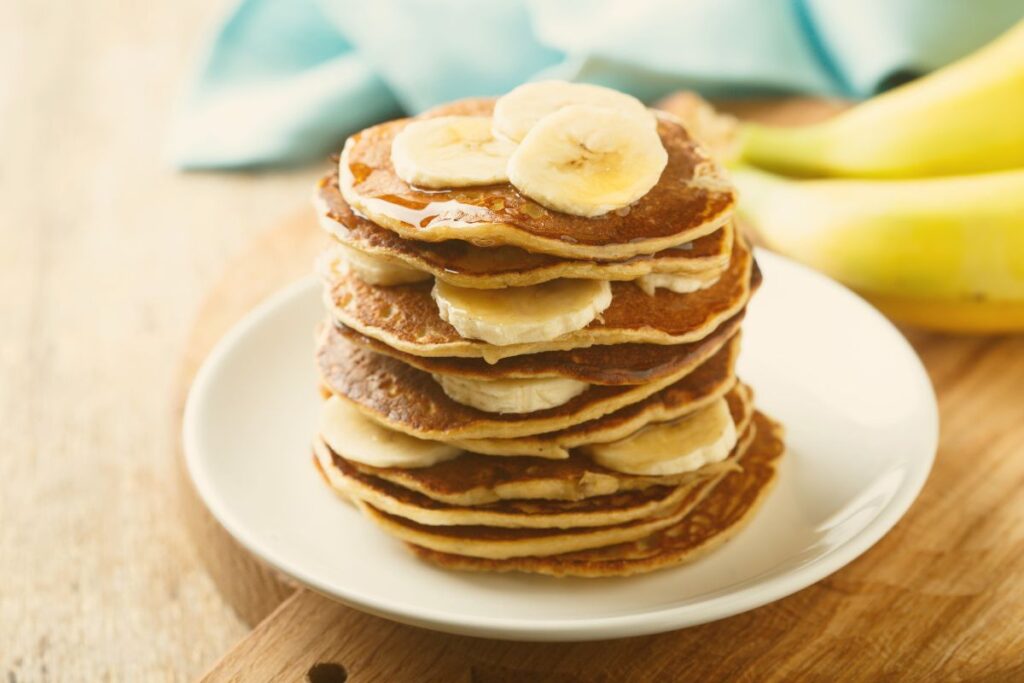 Ingredients
1 ¼ cups all-purpose flour
½ teaspoon kosher salt
½ teaspoon baking powder
¼ teaspoon baking soda
1 large ripe banana
1 large egg
⅓ cup white sugar
¼ cup milk
¼ teaspoon vanilla extract
¼ cup unsalted butter, melted
½ cup finely chopped walnuts
1 tablespoon unsalted butter, or as needed
Directions
Combine flour, salt, baking powder, and baking soda in a small bowl with a whisk. Reserve until needed.
Place banana in a mixing bowl and mash into a smooth paste with a potato masher. Add egg and sugar and whisk until sugar is dissolved and mixture is smooth and creamy about 2 minutes. Add milk, vanilla extract, 1/4 cup melted butter, walnuts, and flour. Whisk until just combined.
Let the batter rest for 10 minutes.
Melt one tablespoon of butter in a large, nonstick pan or skillet over medium-high heat. Reduce heat to medium and cook until edges start to look dry and small air bubbles pop up through the surface, about 3 minutes. Flip and cook until golden brown, about 3 minutes more. Once the pan is hot, transfer about 1/3 cup of the batter per pancake. Serve immediately.
NOTE: While an almost-black banana is recommended here, as long as it is fully ripe and you can mash it reasonably smooth, it should still work for this recipe.
If you want these a little more decadent, sprinkle on a little chopped dark chocolate before you flip the pancakes, which is the secret ingredient in our famous banana bread recipe.
2. Red Velvet Campfire French Toast
Ingredients
Red velvet French toast
8 slices brioche
3 large eggs
1 cup half-and-half cream
2 tbsp sugar granulated
1 tbsp vanilla extract
2 tbsp cocoa powder
2-3 tbsp red food coloring
1/4 tsp salt
2-3 tbsp butter or oil for frying
Cream cheese icing
4 oz cream cheese at room temperature
1/2 cup icing sugar, also known as powdered sugar or confectioner's sugar
3/4 cup whipping cream
1 tsp vanilla extract
1/8 tsp salt
Directions
Cream cheese icing
Beat the cream cheese and icing sugar together until smooth. Add the whipping cream, vanilla, and salt. Continue to beat for 2-3 minutes until thickened. Transfer the bowl to the fridge for 20 minutes.
Red velvet French toast
Mix the eggs, cream, sugar, vanilla, cocoa powder, food coloring, and salt.
Pour the egg mixture over the slices (still on the sheet pan). Turn the pieces every few minutes and spoon the mixture until almost everything has been absorbed – about 10 minutes.
Heat a skillet over medium heat. Add the butter, then place the slices into the skillet. Cook for 2-3 minutes per side or until browned.
One Pot Camping Breakfast Ideas
1. Turmeric Tofu Scramble
Ingredients
2 tablespoons oil
3 small fingerling potatoes
8 mushrooms
1 small shallot
2 cups spinach
5 oz tofu, pat dry with a paper towel
¼ teaspoon turmeric
1 tablespoon nutritional yeast
¼ teaspoon salt
Pinch black pepper
Directions
Chop the potatoes into ¼" cubes. Quarter the mushrooms. Slice the shallot into half-moons.
Heat a tablespoon of oil in a frying pan over medium heat. Once hot, add the potatoes and cook until beginning to soften and turn brown, about 7 minutes. Add the mushrooms and shallots and cook for 3 minutes, until the mushrooms begin to brown and the shallots soften. Move to one side of the pan.
Crumble the tofu into the pan and toss with the oil. Dust the turmeric and nutritional yeast over the tofu, then saute for 4 minutes. Add another tablespoon of oil if needed.
Add the spinach to the pan, then toss with the other scramble ingredients until wilted.
Season with salt & pepper. Enjoy!
2. Asparagus Pancetta Hash
Ingredients
1 tablespoon oil
1 medium potato, peeled if desired, cut into 1/4 inch dice
1 bunch of asparagus, cut into 1-inch pieces
4 oz pancetta, diced (we use the pre-diced pancetta from Trader Joe's)
1 clove garlic, minced
¼ teaspoon sea salt, plus more to taste
2 eggs
Directions
COOK THE POTATOES: Heat the oil in a cast iron skillet over medium heat on your stovetop or a grate over your campfire. Once the oil is hot, add the potatoes to an even layer. Cook for about 8 minutes, occasionally turning so that all sides have a chance to brown until the potatoes are beginning to turn golden.
COOK THE ASPARAGUS & PANCETTA: Add the asparagus, pancetta, garlic, and sea salt to the skillet. Continue cooking an additional 8-10 minutes, until the pancetta is crispy and the asparagus is cooked through and tender.
FRY THE EGGS: Push the hash to the side to create a well in the middle of the skillet. Crack the eggs into the well and cook them to your desired doneness (we cover the skillet and cook for 3 minutes to achieve a firm white and runny yolk).
SERVE: Serve immediately in the skillet to share or divide between two plates.
FAQ
What do people eat for breakfast when camping?
Oatmeal: Quick and easy breakfast option that can be made with just water or milk and a heat source. You can add some dried fruit or nuts for extra flavor and nutrients.
Granola: Another quick and easy option that can be eaten on its own or with milk or yogurt. You can also add some fresh fruit for extra flavor.
Instant breakfast drinks: Convenient and portable option for camping. Mix the powder with hot water, and you have a quick and easy breakfast.
Scrambled eggs: It is a hearty filling option you can make in a pan over the campfire or on a stove. You can add some vegetables or meat for extra flavor and nutrients.
Pancakes: Pancakes are a classic camping breakfast. Mix some pancake batter and cook in a pan over the campfire or on a stove. Serve with syrup and butter for a delicious breakfast.
French toast is another tasty option made over the campfire or on a stove.
What food should I bring for 3 days camping?
Breakfast: Pack items like oatmeal, granola, and instant breakfast drinks for quick and easy breakfasts. You could also bring some eggs, bacon, and bread for a more substantial breakfast.
Lunch: Pack non-perishable items like peanut butter, crackers, and jerky for lunch. You could also bring along some canned soup or pre-made sandwiches.
Dinner: Bring along some easy-to-prepare meals like instant noodles, canned beans, and pre-made pasta sauce for dinner. You could also pack some fresh vegetables and protein (such as chicken, steak, or fish) to grill over the campfire.
Snacks: Pack some non-perishable snacks like trail mix, jerky, and energy bars to have on hand throughout the day.
Drinks: Remember to bring enough water bottles or a hydration system to keep yourself hydrated throughout the trip. You could also get sports drinks or electrolyte tablets to replace any minerals you lose through sweat.
What is the most popular food for camping?
Hot dogs: Classic camping food that is easy to grill over the campfire and requires minimal prep.
Burgers: Another popular option that can be grilled over the campfire or on a stove.
Sausages: Grilled sausages are a simple and tasty option for a camping meal.
Foil packet dinners: Foil packet dinners are easy to make and require minimal cleanup. Place your choice of protein (such as chicken, fish, or vegetables) in a piece of foil, seal it up, and cook it over the campfire or on a stove.
One-pot meals: One-pot meals are an excellent option for camping, as they are easy to make and require minimal cleanup. Make a one-pot pasta or a one-pot stew for a hearty and delicious meal.
Grilled vegetables: Grilled vegetables are a healthy and tasty option for a camping meal. Slice and season your choice of vegetables and grill over the campfire or stove.
What To Do Next?
Now that you found a perfect breakfast, it's time to check out our list with plenty of camping dinner ideas and fuel yourself for fun camping activities.
What do you think about this article? Feel free to write your thoughts, experience, and some fun stories in the comments. We would like to hear from you! Thank you