---
TOP PICK & Best Overall Nissan Frontier Roof Top Tent in 2023
---
Why You Should Trust Us
We're Anja & Alex, a couple of gear geeks and outdoor enthusiasts with 10+ years of living with the outdoors. During countless road trips and adventures, we've made a million mistakes and had a lot of bad purchases. It helped us develop an eye for detail and an obsession to find the best product.

This website is our try to help you avoid buying crap gear. It is founded on the principles of honest, detailed, objective, and independent camping and hiking gear reviews we would like we had when we were younger and inexperienced.

Our review process starts with selection: we look at hundreds of products to determine the top contenders in each category. We then spend weeks testing it and researching the top contenders for detailed comparison testing. We don't accept any manufacturer's free evaluation units or paid endorsements. Our focus is strictly on creating content for the benefit of our readers. To learn more about us, click here.
---
Hey, fellow campers!
Welcome to my best Nissan Frontier roof top tent review in 2023!
I know there are a lot of rooftop tents on the market, and it may not be easy to find the best one for your Nissan Frontier.
Luckily, you will discover the information you seek within a few minutes.
Specifically, I put a lot of thought and researched the best Nissan Frontier roof top tents, so I made it to the top 5. I will give you a sneak peek at one more bonus suggestion, so you're spoiled for choice.
From the best overall to the best high-end rooftop tent, those for small or large groups, and the best budget option, I'm sure you will get covered.
So, let's start!
Table of Contents
Buying Guide – Essential Factors to Consider Before Making a Purchase Decision
Considering multiple crucial factors to guarantee outstanding camping help you purchase smart.
Size
When you buy a tent, you should know how many people you want to fit in it. Consider the tent's size if you plan to camp with your partner, two or more friends, or family. In this text, I've listed the tents by category, highlighting the size of each for easier navigation through your shopping trip.
Weather Protection
You use your tent mostly to protect yourself from the elements, so your shelter must meet an important criterion: water resistance. Will it hold up in bad weather? Does it have sun protection? These are essential things to think about when buying. Although your tent may be sturdy, I recommend applying a waterproofing spray coat.
Simple Setup
A tent with all its performance can be perfect, but it is ideal with a simple and quick setup. Well-written instructions will mostly allow you to set up the tent by following where each component should go. Tents that require up to a few minutes to set up are worth buying.
Durability
If you invest well in a tent, you'll want it to last long. Please pay attention to the material and the pillars to make it come true. The last thing you want to happen while camping is a breakdown. For example, fiberglass poles are a cheaper option, but they are not ideal at lower temperatures. Aluminum is more durable, which makes it a favorite among customers. And steel is an absolute winner.
Weight
The tent's weight will not be a problem if you stay in one place. Weight varies depending on the type of tent. Rooftop tents can weigh over 100 pounds, including shelter and materials. However, they can be challenging to carry and store. In that case, aluminum is a good option resistant to bad weather. Also, keep in mind the static weight capacity of the tent and the dynamic weight capacity capable of withstanding light transport.
Storage
If there are more of you camping, chances are there will be a lot of camping gear and stuff lying around. Tents in which you can store things in an organized way create a feeling of even greater meticulousness while staying in it.
Best Overall Nissan Frontier Roof Top Tent – Thule Approach Medium
➤ Opened: 95 x 56 x 40 in
➤ Closed: 49 x 56 x 11 in
➤ Weight: 128 lbs
The Thule Approach Medium includes everything you'd hope for in one place regarding all-inclusive roof tents.
It can withstand the harshest adventures; local nature explorations, weekend vacations, and longer trips are an absolute pleasure. It will practically be your companion on camping trips wherever you want – on the mountain, ski slopes, coast, forest – in just a few minutes of folding, the camping starts.
Thule Approach is a tent that makes your camping more comfortable and fun – it maximizes interior space, providing a great place to hang out and a restful night's sleep.
If you want to ease yourself into outdoor living and convert your Nissan Frontier into a home away from home, pay attention to all its benefits. 👇
Key Features & Benefits You Get
✅ Fairly spacious: This tent shines when it comes to its spaciousness. Its design makes the ends vertical, making it much more spacious inside. There is enough space to sit straight, stretch, and change clothes.
✅ Waterproof: You will probably never have to worry about rainwater seeping into your tent. The rain fly is made of 90% nylon and 10% thermoplastic polyurethane, which will be waterproof for years. All you have to do when it's raining is to get comfortable in the tent and play board games, for example. Most importantly, you'll stay dry.
✅ Durability: Considering all the snaps, handles, poles, and seams, opening and closing the zipper, I quickly realized that it is one of the most long-lasting tents. Ripstop 600D polyester that the canopy is made of is an industry-leading material, and I know from experience that this material is resistant to rain storms.
✅ Conversion made easy: The conversion process is a breeze. Begin by unzipping the cover and removing it, setting it aside. Then, effortlessly extend the ladder to its full length and utilize it as a lever to unfold the tent. In conjunction with the hinges on the floor, the tent's edge acts as a pivot point, facilitating a nearly effortless unfolding experience. Finally, collapse the adjustable aluminum ladder and securely zip the cover back. Voila! Your camp is now ready for adventure.
✅ Ease of assembly and installation: Thule Approach's setup takes under a minute. Only two things on this model require assembly — the ladder and the mounting hardware. The mounting tracks come pre-installed, which is an enormous advantage.
✅ Unbeatable views: Panoramic skylights let you get closer to nature and enjoy the picturesque landscapes. As night falls, you can lie back and gaze at the starry sky. With beautiful design and mesh windows, this is becoming a reality.
What I Don't Like About This Tent
❌ The mounting hardware of the M8 8.8 is not strong enough to move.
❌ The cover of the Thule Approach tent is designed so that you have to obliterate it every time you use the tent, which means that when you want to put it back on, you must be sure to line up the zipper ends correctly.
---
Best 2-3 Person Nissan Frontier Roof Top Tent – Roofnest Condor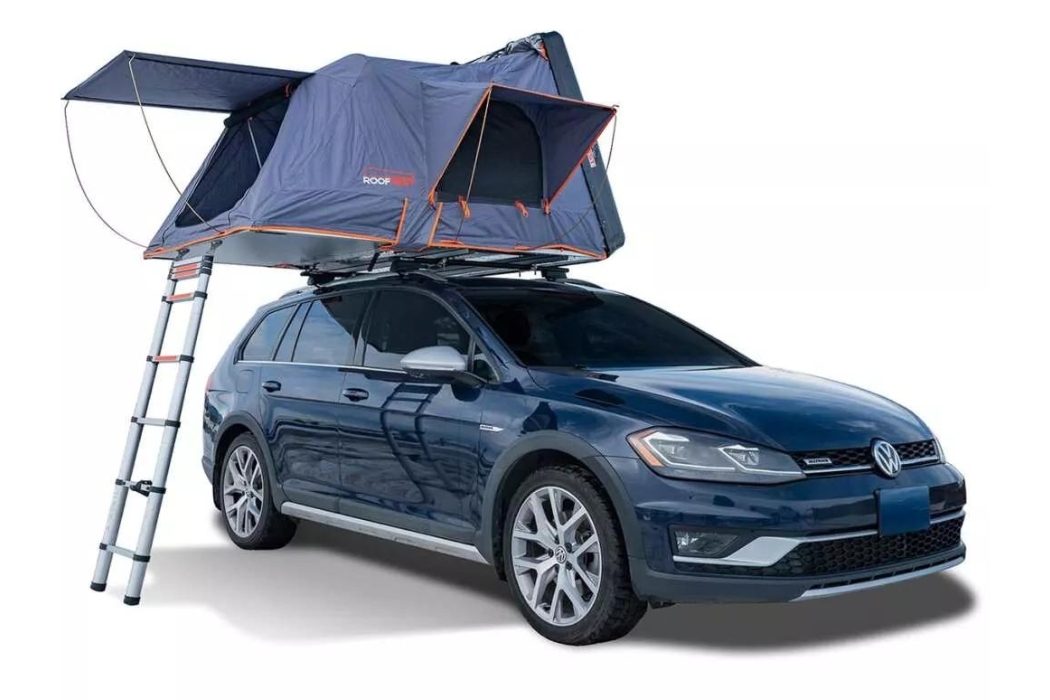 ➤ Interior: 83″L x 60Setup
➤ Exterior: 60″L x 48″W
➤ Weight: 135 lbs
Condor tent has all you need – a hard-shell, fold-out design, a super-compact form factor that perfectly fits Nissan Frontier, even truck beds, and the queen-size sleeping space makes it so spacious.
Made with durability and practicality, the Condor Rooftop Tent offers an unmatched experience of comfort, ease of setup, and functionality. It's an ideal companion for individuals or small groups (2-3 persons).
Key Features & Benefits You Get
✅ Ease of Setup: Setup is snap. Park your car and start by loosening the two velcro straps and the sturdy plastic ratchets, then push the cover firmly in place. You then need to pull out the telescopic ladder to unfold the tent's base, lean it at a comfortable angle on a solid surface, and that's it. With just a few easy steps, you'll be all set to embark on your thrilling camping adventure.
✅ Spacious and comfy: By its dimensions, that's enough ample room to sleep between two adults and a pet or small child. This spacious shelter for your crew is ideal for picnics and afternoon gatherings. Best of all, you'll be able to create a space large enough for yourself to maximize comfort.
✅ Weatherproofing: Condor is quite resistant in all seasons. The outer shell is made from ABS plastic with an outer layer of ASA plastic. In contrast, the canopy and rain cover are made from a polyurethane-coated polyester/cotton blend with a waterproof rating of 3000mm — about three times that of a typical backpacking tent. Rain will be the least of your worries; you'll even enjoy the sound of it.
✅ Panoramic views: Observing the nature around you is bliss, and you have a beautiful panoramic view from high above the ground. You can stretch your legs without having to go down.
✅ Efficient lighting: A USB-rechargeable LED light bar at the top of the entrance provides integrated lighting that is more convenient than any other lamp but also a little dimmer, which will not bother your eyes.
✅ Accessories: The Condor also comes with a shoe bag and gear bag so your belongings can be within easy reach without cluttering the sleeping area.
What I Don't Like About This Tent
❌ The packing process isn't as fast as setting up, but thanks to a lightweight, telescopic ladder, bungee cord, and a large nylon strap that lets you smoothly pull the cover back, it's up and running in probably 10 minutes.
❌ Condor is not cheap, but I consider it superior because it offers so much. It would be best if you planned to keep it and sleep in it for the long haul.
---
➤ Opened: 80 "L X 98 "W X 50 "H
➤ Closed: 85 "L X 52 "W X 14 "H
➤ Total weight: 182 lbs
If you plan to make your next camping trip great with the young ones while enjoying it yourself, look into FSR 80 Premium.
Sit back in this comfort tent, relax, or nap so you and your kids have enough energy to tackle all camping activities.
Key Features & Benefits You Get
✅ Premium build quality: This tent boasts top-quality artistry. Its robust construction, with 600D ripstop polyester fabric and zippers, makes the tent last even in challenging conditions. And the solid aluminum frame further improves the strength and stability of the tent, giving you a sense of security and protection while camping.
✅ Large mattress with built-in 1.5-inch high-density foam: A restful sleep is guaranteed because you won't have any difficulty at night on a comfortable mattress like this one. And the point of a good night's sleep is to wake up rested and ready for the next day of your exciting camping activities.
✅ Spacious and compact: The fold-out design and smallest footprint when closed at 80″ x 49″ make it tight for your Nissan Frontier. Every inch it takes up on the rack gives you twice as much sleeping space. The comfort you will feel is mainly due to the arrangement in the tent that allows you to organize the space well, both for sleeping and everyday living, as well as for storing things.
✅ Setup takes less than a minute: As soon as you arrive at the campsite, the adventure can begin because, with a setup that takes less than a minute, you won't have to deal with the complex installation. Takedown requires the same time. Here it's the opposite, as this tent comes mostly pre-assembled. Unlock, unfold, and effortlessly attach it to your Nissan Frontier. Its robust straps and buckles provide an easy and adjustable fit, allowing you to achieve your desired level of stability with ease.
✅ Weatherproof: The High Country 80″ with its integrated rainfly provides optimal protection from the elements by preventing water from entering your tent. Incorporating triple-layer technology for extreme weather conditions, this tent is unbeatable. You can stay warm when it's freezing while waiting for a chill during the summer, so you always feel comfortable.
✅ 360-degree view: Zippered mesh screened windows give you a fantastic view of the surrounding landscape from the roof. Also, the built-in skylight improves the overall ambiance allowing all that natural light enters the tent. So, let the sunshine in!
✅ Integrated night light: Enhance your nighttime camping experience with the integrated night light. You don't have to rely on flashlights and lanterns; this tent offers a USB-powered ultra-bright LED light strip. Emitting a full and luminous glow, the LED light strip illuminates the tent's interior, creating a pleasant atmosphere for evening activities around the campfire.
What I Don't Like About This Tent
❌ It comes with a higher price, but once you try it, you will understand it's worthwhile.
❌ The FSR High Country 80 may pose challenges regarding tent installation hardware and transportation. However, if you ensure sufficient storage space, you'll have no issues in these areas.
---
Best Budget Nissan Frontier Roof Top Tent – OVS Nomadic 2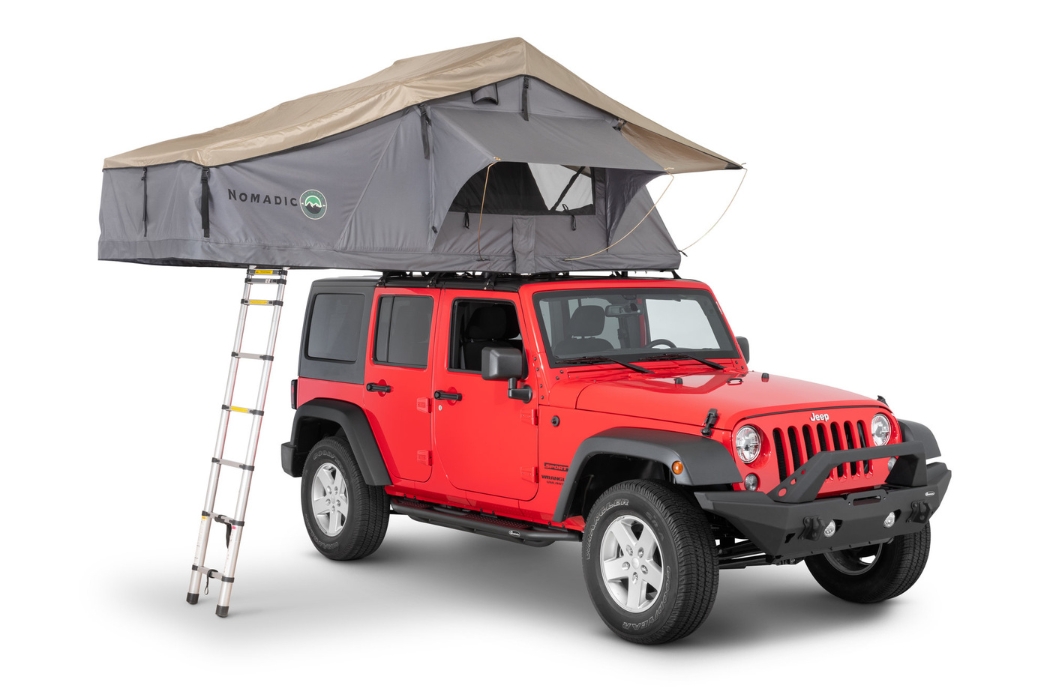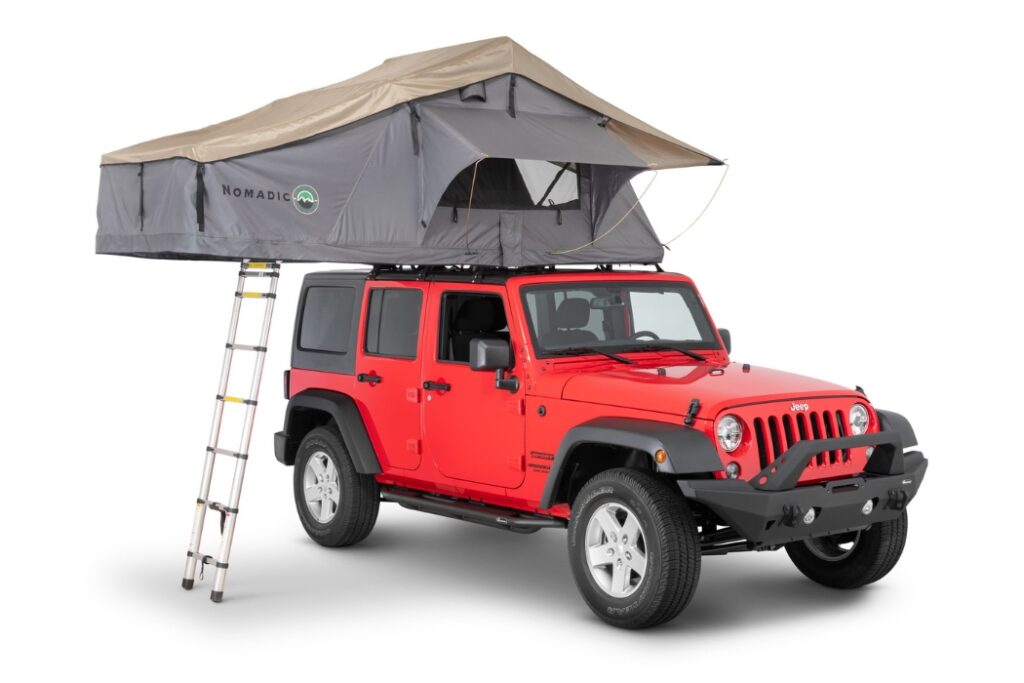 ➤ Closed: 54″W x 47″L x 14″H
➤ Open: 54″W x 122″L x 51″H
➤ Weight: 150 lbs
The cheapest tent on my list, OVS Nomadic 2, is perfect for you on a budget. It's pretty surprising how affordable it is, considering its preferences.
This rooftop tent is the top choice for accommodating two people within its price range.
Key Features & Benefits You Get
✅ Protection from elements: It is essential to protect yourself from bad weather conditions in your Nissan Frontier because the climate can often be erratic. Overland Vehicle Systems' Nomadic 2 was purpose-designed for this occasion. It is extremely durable, constructed of 600D waterproof polyester cotton canvas with double resistance and 420D waterproof polyester Oxford canvas. Its robust canvas ensures comfort, while the integrated rain cover effectively repels water during heavy downpours, keeping the interior dry.
✅ Comfortable to sleep: A restful night's sleep is vital to an enjoyable adventure, so when you're tired, you won't enjoy enough of the charms of camping. Therefore, the Nomadic 2 has thoughtfully built-in features such as a 3″ high-density memory foam mattress and a black quilted cover, encouraging relaxation setup. It is incredibly comfortable, and the mattress is easy to maintain, making it easy to clean without effort.
✅ A built-in skylight on the roof: The Nomadic 2 boasts a built-in skylight to brighten your evenings. This window improves ventilation and allows you to gaze at the stars from the comfort of your bed.
✅ Simple setup and installation: Rooftop tent set up is often challenging. However, the installation process has never been more straightforward with this tent. The universal mounting mechanism allows you to effortlessly set up the tent and attach it to 99.9% of vehicle roof rack systems or even some bed rack systems, ensuring broad compatibility. Moreover, opening and closing the tent is easy. You can install the tent with a simplified procedure and details that take under a few minutes.
✅ Insulated base – Some of the great specifications, the insulated base guarantees a comfortable and warm experience on chilly winter evenings.
✅ Storage pockets – Conveniently integrated into all windows are storage pockets, providing space to store all your belongings safely.
✅ Adjustable ladder – A 96-inch telescopic ladder ensures easy entry and exit of the tent, increasing comfort and ease of use. You climb them without any effort.
What I Don't Like About This Tent
❌ It is relatively heavy, so it can be challenging when it comes to transport, especially for vehicles with limited roof space.
❌ It doesn't have as much space inside as some other tents.
---
Best High-End Roof Top Tent For Nissan Frontier – Eezi Awn Xklusiv
➤ Open: 96″ L x 63″ W x 51″ H
➤ Closed: 48″ L x 63″ W x 11″ H
➤ Weight: 220 lbs
The last but outstanding option is the Eezi Awn Xklusiv roof tent.
Here's why it's worth noting.
Key Features & Benefits You Get
✅ Big space: These great tents have a bedroom for two on the ground floor, but what sets them apart is the ingenious design, which has an extra room that can be effortlessly pulled out and attached to the main tent. Made from sturdy ripstop canvas, extra room panels give you space. Imagine enjoying approximately 35 square meters of enclosed ground floor bliss, a haven where you can relax and enjoy.
✅ Comfort: Comfort takes center stage in the Eezi Awn Xklusiv roof tent. The luxurious 2.5-inch high-density foam mattress is encased in a lovely African print fabric, ensuring you sleep comfortably. As you lie on its plush surface, you'll have the restful sleep you need when camping.
✅ Ventilation and great views: With its thoughtfully designed four large doors and windows, ornate netting, and privacy panels, this retreat provides a truly comfortable and airy space to stay with beautiful views of nature.
✅ Storage space: The storage space ensures the organization of all your belongings. You can neatly store these basic components in the storage bag when not in use. Additional information, the tent has four pockets thoughtfully placed under the window, providing more space for some small items.
What I Don't Like About This Tent
❌ Due to its robust construction, the tent is heavier when transporting, especially if you often move your camping equipment.
❌ Due to the high-quality materials and innovative design, the price is higher than other options.
---
UPDATE: Rooftop Tent Worth Mentioning – Roofnest Meadowlark
➤ Interior: 80″L x 43″W
➤ Exterior: 47″L x 44"W
➤ Weight: 90 lbs
➤ Included With Tent: 2.5″ Mattress, Tent Cover, 7.5′ Ladder (shipped separately), Universal Mounting Kit, Ladder Hardware Kit, 2 Detachable Pockets, Interior LED, and privacy tent.
The extraordinary tent of exceptional quality, innovative features, and affordability is worthy of mention and attention – Meadowlark.
Ultra-compact. Ultra-light. Ultra affordable. For just 90 pounds, the Meadowlark will fit the vehicle perfectly and sets a new standard in affordable luxury.
Key Features & Benefits You Get
✅ Quick installation: The fascinating aspect of the Meadowlark is its weight: at 90 pounds, it's easy to mount. Pull off the cover, use the telescoping ladder to fold the tent, extend the integrated interior U-bar, and the campsite is set. Roofnest has reduced weight and simplified assembly by eliminating the traditional poles and ropes that tents typically rely on. You can pitch your tent in seconds, not minutes. The small weight also benefits Ford Raptors with lower-capacity roof rack crossbars.
✅ Lightning: Roofnest Meadowlark Rooftop Tent illuminates your shelter with a soft, ambient glow, creating a cozy and inviting atmosphere inside the tent. Powered by a simple USB connection, the LED light strip is energy-efficient, ensuring you never run out of light while camping.
✅ Mattress for a good night's sleep: This plush, supportive mattress ensures a comfortable night's sleep. The dual-density foam construction perfectly balances softness and firmness, contouring your body for optimal comfort.
✅ Waterproofing: Crafted from 210D coated Polyoxford fabric with a waterproof rating of 3000mm, this rainfly ensures superior water resistance, keeping you dry and comfortable during rainy weather conditions. Be it a gentle drizzle or a heavy downpour, the waterproof construction of the rainfly acts as an impenetrable barrier, preventing moisture from seeping into your sleeping quarters.
What I Don't Like About This Tent
❌ Limited headroom: The design of the Roofnest Meadowlark may result in relatively lower headroom than other tents.
❌ Weight and size: The Meadowlark Rooftop Tent is larger and heavier than other models, which may be challenging for vehicles with limited load capacity.
---
FAQ
What is the difference between roof racks and crossbars?
The roof rack refers to the complete system that encompasses all the components necessary for carrying cargo on the roof of a vehicle. Crossbars, on the other hand, are the specific bars within the roof rack system that create a foundation for attaching accessories and distributing the weight of the load across the roof. Crossbars are integral to the roof rack, allowing versatile attachment options based on the user's needs.
Is it a good idea to have a rooftop tent?
A rooftop tent can be a great idea, depending on your specific needs and preferences. Here are some factors to consider when deciding if a rooftop tent is right for you:
1. Camping Style: Rooftop tents are popular among outdoor enthusiasts who enjoy camping in remote or off-road locations. If you prefer to explore off-the-beaten-path destinations or enjoy camping in areas where the ground might not suit a traditional tent, a rooftop tent can be a practical choice.
2. Convenience: Rooftop tents offer convenience in setup and packing up. They can be quickly deployed and packed away, saving time and effort compared to setting up a ground tent. This is especially useful if you're frequently on the move or prefer to camp in different locations during your trip.
3. Space and Comfort: RTTs generally provide a comfortable sleeping area, often with built-in mattresses. They offer elevated views, protection from ground-level moisture, and insulation from cold or uneven ground. It can be a good option if you prioritize comfort and want a cozy sleeping space.
4. Vehicle Compatibility: Consider whether your vehicle is compatible with a rooftop tent. You'll need a sturdy roof rack or bars to support the tent's weight. Additionally, you should ensure that your vehicle's height and weight limits allow for the installation of a rooftop tent.
5. Budget: Rooftop tents can be more expensive than traditional ground tents, so it's essential to consider your budget. In addition to the tent, you may need to invest in a roof rack or bars if your vehicle doesn't already have them—factor in these costs when determining if a rooftop tent is financially feasible.
6. Usage Frequency: A rooftop tent can be a worthwhile investment if you're an avid camper and plan to use your tent frequently. However, suppose you only go camping occasionally or for a short duration. In that case, you may find that a traditional tent meets your needs without the added cost and setup associated with a rooftop tent.
Choosing a rooftop tent depends on your camping style, preferences, budget, and planned adventures. Consider these factors and weigh the pros and cons to determine if a rooftop tent aligns with your requirements.
Do rooftop tents use more fuel?
Rooftop tents can affect fuel efficiency due to their impact on the vehicle's aerodynamics. When a rooftop tent is installed, it creates additional wind resistance, which can result in increased fuel consumption.
The specific impact on fuel consumption can vary depending on various factors, including the tent's design, the vehicle's shape, driving speed, and weather conditions. Generally, the higher the tent is mounted on the roof, the larger its size and the greater the effect on aerodynamics and fuel efficiency.
The additional drag caused by a rooftop tent may lead to a slight decrease in fuel efficiency, especially at higher speeds or during highway driving. The actual increase in fuel consumption can vary between vehicles and may range from negligible to noticeable, depending on the factors above.
If fuel efficiency is a significant concern for you, it's advisable to consider the aerodynamic design of the rooftop tent you intend to purchase. Some manufacturers offer models specifically designed to minimize wind resistance and reduce the impact on fuel consumption.
Additionally, maintaining moderate speeds and avoiding excessive wind exposure can help mitigate the effect on fuel efficiency.
It's worth noting that the impact of a rooftop tent on fuel consumption is typically relatively small compared to other factors that affect fuel efficiency, such as driving style, tire pressure, and vehicle weight. Therefore, while rooftop tents may cause a slight increase in fuel consumption, it is generally not a significant factor for most users.
What are the disadvantages of a rooftop tent?
1. Vehicle Limitations: Rooftop tents require a vehicle with a roof rack or bars capable of supporting their weight. If your car does not have a suitable roof structure or weight capacity, you may need to invest in additional modifications or a different vehicle altogether. This can add to the overall cost and limit your options.
2. Increased Vehicle Height and Weight: Installing an RTT raises your overall height and weight. This can make it more challenging to navigate low-clearance areas, such as parking garages, drive-throughs, and branches on narrow trails. It's essential to be mindful of these limitations and plan your routes accordingly.
3. Aerodynamic Impact: As mentioned earlier, rooftop tents can negatively affect the aerodynamics of your vehicle. The additional wind resistance can lead to decreased fuel efficiency and increased driving noise. It's important to consider the potential impact on your vehicle's performance and fuel consumption, especially during long trips.
4. Setup and Accessibility: While rooftop tents are generally easier and quicker to set up than traditional ground tents, they still require some effort to deploy and pack away. You will need to climb up and down the vehicle to access the tent, which can be inconvenient, particularly if you have physical limitations or are camping in inclement weather conditions.
5. Limited Living Space: Rooftop tents typically provide a comfortable sleeping area but have limited living space compared to larger ground tents or camper trailers. You may find the confined space restrictive if you plan to spend significant time inside the tent during your camping trips.
6. Cost: Rooftop tents are more expensive than traditional ground tents. In addition to the tent, you may need to invest in a roof rack or bars if your vehicle doesn't already have them. The overall cost can be a significant factor, especially if you are on a tight budget.
It's essential to weigh these disadvantages against the benefits and your specific needs to make an informed decision. Consider your camping style, vehicle suitability, budget, and the trade-offs you will make before purchasing a rooftop tent.
Are rooftop tents warm in winter?
Rooftop tents can provide adequate warmth in winter but require additional considerations to ensure comfort in cold weather conditions. Here are a few factors to keep in mind:
1. Insulation: The insulation properties of an RTT play a crucial role in keeping it warm during winter. High-quality rooftop tents often feature insulation materials or layers for better heat retention. Look for tents with adequate insulation to help trap warmth inside the tent and keep cold air out.
2. Condensation: It can be a concern in colder temperatures, especially when warm air from inside the tent meets the hard surfaces of the tent fabric. To minimize condensation, ensure proper ventilation within the tent. Many rooftop tents have windows, vents, or mesh panels that can be opened or adjusted to allow for airflow while maintaining warmth.
3. Mattress and Bedding: The mattress in your RTT can influence how warm you feel during winter camping. Consider using a thicker or insulated sleeping pad or mattress to provide additional insulation from the cold ground. To retain body heat, use appropriate bedding, such as a cold-weather sleeping bag, blankets, or thermal liners.
4. Layering: Layering your clothing and using appropriate sleepwear is essential for staying warm inside the tent. Wear thermal or moisture-wicking base layers, insulating mid-layers, and a warm outer layer. Wear hats, gloves, and warm socks to retain body heat.
5. Heating Solutions: Inicyd conditions, you may consider additional heating solutions to supplement the tent's warmth. Portable heaters designed for camping can help maintain a comfortable temperature inside the tent. However, ensure that any heating device is safe and suitable inside an enclosed space.
6. Location and Weather: The location and weather conditions during your winter camping trip will also impact the warmth of your rooftop tent. Camp in areas with natural windbreaks, such as trees or hills, to minimize exposure to cold winds. Monitor weather forecasts and be prepared for changes in temperature and precipitation.
Remember that while rooftop tents can offer warmth in winter, they may not provide the same level of insulation as a well-insulated building or camper trailer. It's essential to be prepared and make appropriate adjustments to ensure comfort and safety in cold weather.
Final Conclusion
Out of six top tents on my list, I believe one will be a good fit for your Nissan Frontier, including all the actual performances – comfort, spaciousness, ease of installation, and water resistance.
My choice for an overall tent is the Thule Approach. It excels in all the parameters for complete camping.
If you plan camping with a friend or partner, the Roofnest Condor is an ideal choice. For you and your kids, I recommend the FSR 80″ Premium.
For less money but good quality, look at the OVS Nomadic 2, while the high-end tent with its specifications goes to the Eezi Awn Xklusiv.
The sixth bonus on my list – Roofnest Meadowlark provides a unique experience at an affordable price.
Also, check out my article on 99+ road trip essentials to ensure you don't forget anything for your overland adventure.
I wish you a successful shopping!