---
TOP PICK & Best Overall in 2023
---
Best Roof Racks For Subaru Crosstrek:
➤ Subaru XV Crosstrek (2012-2017) Slimline II Roof Rail Rack Kit
➤ Subaru XV Crosstrek (2018-current) Slimsport Roof Rack Kit
Why You Should Trust Us
We're Anja & Alex, a couple of gear geeks and outdoor enthusiasts with 10+ years of living with the outdoors. During countless road trips and adventures, we've made a million mistakes and had a lot of bad purchases. It helped us develop an eye for detail and an obsession to find the best product.

This website is our try to help you avoid buying crap gear. It is founded on the principles of honest, detailed, objective, and independent camping and hiking gear reviews we would like we had when we were younger and inexperienced.

Our review process starts with selection: we look at hundreds of products to determine the top contenders in each category. We then spend weeks testing it and researching the top contenders for detailed comparison testing. We don't accept any manufacturer's free evaluation units or paid endorsements. Our focus is strictly on creating content for the benefit of our readers. To learn more about us, click here.
---
Greetings, fellow campers!
Welcome to my best rooftop tent for Subaru Crosstrek review in 2023!
Suppose you're the loyal owner of a Subaru Crosstrek and have been itching to embark on unforgettable camping adventures. In that case, you'll love to explore the world of the best modern rooftop tents, carefully tested and reviewed to ensure you make the best purchase.
Over the past 10 years, I have explored countless camping destinations, tested numerous rooftop tents, and gained extensive knowledge of their features and performance. I aim to share this expertise with you so you can buy a rooftop tent as the perfect fit for your Subaru Crosstrek.
I will give you the top 5 picks in 2023 in this review.
Table of Contents
Buying Guide – How To Choose The Best Rooftop Tent For Subaru Crosstrek?
You can make your camping a high-quality experience if you consider the critical factors your perfect rooftop tent for Crosstrek should have.
Here are some that can help you.
Size And Capacity
Whether you're planning to camp solo, with a partner, or with a group, the size and capacity of the tent need to be your focus. Whether it's compact one-person tents or a large model that can accommodate up to several people depends on your needs.
Ease Of Setup
Quick setup of the roof tent will save you time preparing the campsite and allow you to enjoy outdoor activities in the shortest time. Look for integrated telescopic ladders and intuitive mounting systems that are great tools for easy assembly.
Durability
In case of rain, wind, and even snow, your rooftop tent needs to be resistant, so look for tents made of durable materials such as nylon fabric with waterproof coatings, then those with strong zippers, reinforced seams, and robust aluminum or fiberglass poles for durability and longevity of the rooftop tent.
Weather Resistance
With a weather-resistant rooftop tent protecting you from rain and wind while you enjoy the comfortable shelter, you will be completely calm.
Comfort
A pleasant stay and comfortable sleep for your family and friends are two inseparable things when it comes to the comfort of your tent. So, check out the rooftop tent's mattress thickness, characteristics like high-density foam, and breathable, moisture-wicking, and lightweight materials for all-around comfort.
Spaciousness
Escape into a world of camping with a spacious rooftop tent allowing ample room to stretch, unwind, and savor the landscapes.
Other Subaru models, such as Subaru Outback, Subaru Ascent, and Subaru Forester, go equally well with the best rooftop Subaru tents from the checklist.
Now that you know what to look for in a rooftop tent, it's time to give you the best options on the market.
Best Roof Racks for Subaru Crosstrek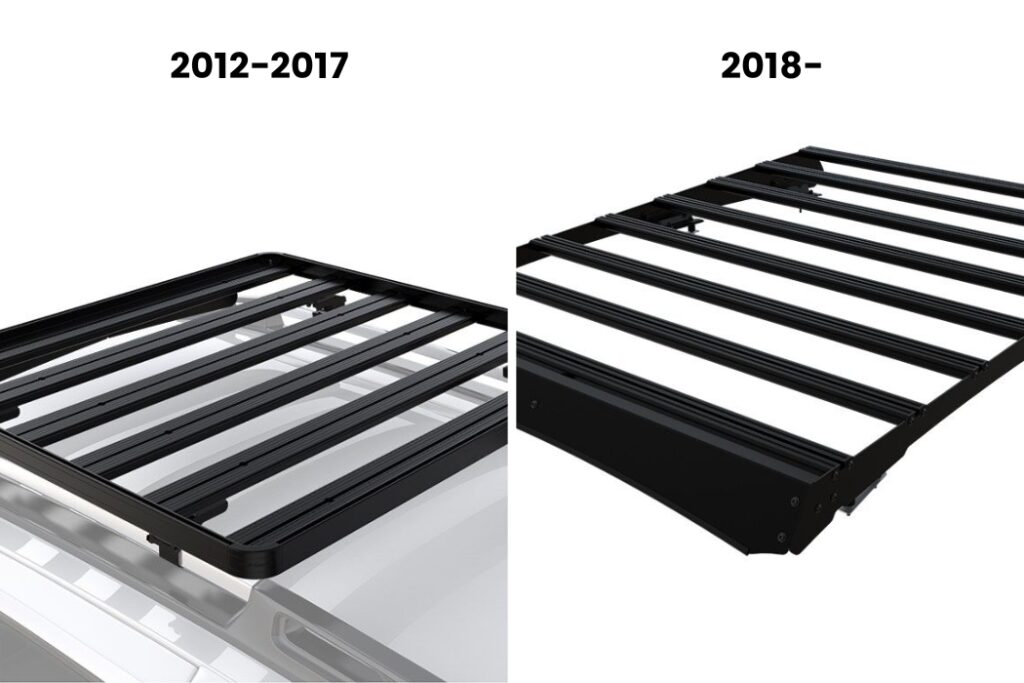 ➤ Subaru XV Crosstrek (2012-2017) Slimline II Roof Rail Rack Kit
This 1358mm/53.5″ long, full-size Slimline II cargo roof rack kit contains the Slimline II Tray, Wind Deflector, and 2 pairs of Grab-On Feet to mount the Slimline II Tray to the roof rails of your Subaru XV Crosstrek (2012-2017). This system installs easily with off-road tough feet that grab onto the existing factory/OEM roof rails. No drilling is required.
➤ Subaru XV Crosstrek (2018-current) Slimsport Roof Rack Kit
The Subaru XV Crosstrek (2018-Current) Slimsport Roof Rack Kit is the key to your most fun adventures. It comes light bar ready, so you can keep the journey going into the after-hours. This durable, low-profile rack lets you immediately haul out to the Great Outdoors with various compatible Front Runner accessories.
---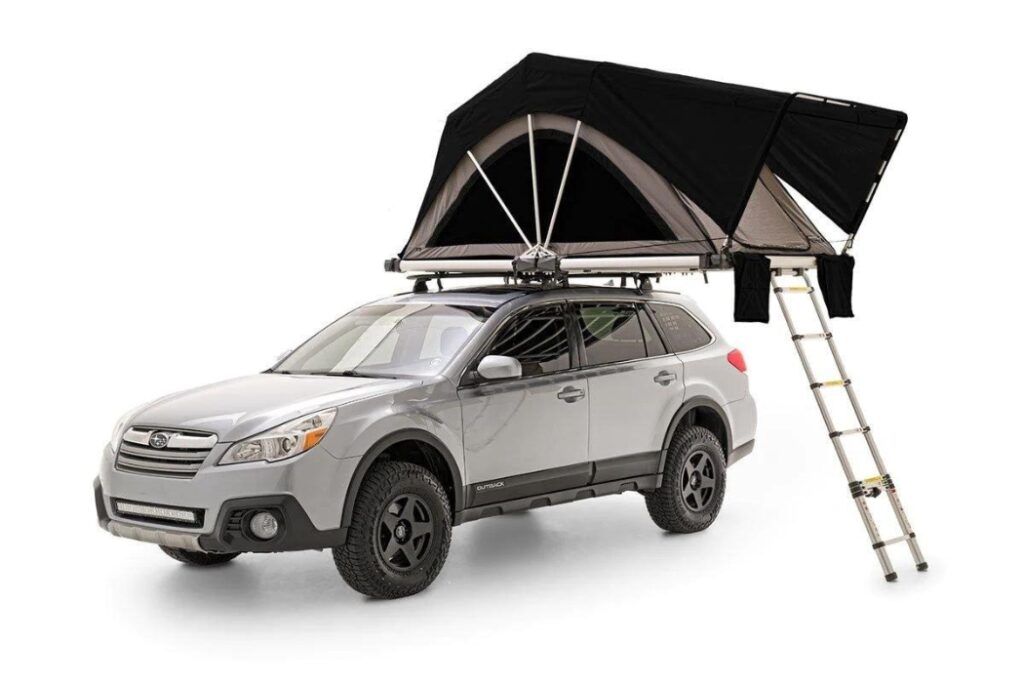 ➤ Occupancy: 3-Person
➤ Dimensions: 63″L x 16″W x 55″H
➤ Seasons: 4-Season
As a 10+ experienced camper, I'm thrilled to share my expert insights on the FSR High Country 55 Roof Top Tent, and I can confidently say that it's the ultimate pick for Subaru Crosstrek owners seeking unrivaled comfort and durability on outdoor expeditions.
Perfect for your Subaru Crosstrek, the enhanced Tri-layer technology of this best rooftop tent will handle extremely cold weather but still be comfortable on summer nights. You will undoubtedly enjoy great benefits such as size, design, lighting, and epic views.
Let's look at all benefits proving why FSR High Country 55 performs better than others.
Key Features & Benefits You Get
✅ Unrivaled comfort – In the spacious rooftop tent, you can get a good night's rest sleeping on a plush high-density foam mattress, even off-roading. You will be stunned by the high-quality comfort level as the mattresses relax you by creating an oasis of tranquility amidst the great outdoors. The relief you have after a strenuous hike or exploration is the feeling you need.
✅ Impressive durability – People love things that last because of the distinctly good quality they offer. What FSR High Country 55 rooftop tent stands out for is its durable and robust construction with an aluminum frame and reinforced polyester fabric, as it effortlessly withstands challenging conditions and provides long-lasting performance, allowing you to embark on thrilling adventures with confidence.
✅ Easy setup – You don't need any effort to set it up. The hassle-free setup process spares you precious time and effort, ensuring you have enjoyable camping from the moment you arrive at your destination. In this case, it helps you fight the poles like a pro. In less than a minute, expect to set up and take it down as well; simply amazing.
✅ Enhanced ventilation – On scorching summer days throughout the whole hard shell rooftop tent, you can feel a great ventilation system with excellent airflow, as mesh windows and a large entry door allow refreshing breezes to circulate freely. From now on, you can stay completely relaxed and enjoy every moment of your outdoor adventure.
✅ Integrated lighting – In the cozy ambiance of the FSR High Country 55 rooftop tent, you can enjoy evenings entirely differently. It features convenient LED light strips and a soft, warm glow that sets the perfect atmosphere for reading, unwinding, and gathering around the campsite. This soothing illumination has a calming effect that will give you relaxation and comfort after an exhilarating day of outdoor activities or hiking.
✅ Epic views – A unique design, like a large window, provides a panoramic view of your surroundings, so you can fully immerse yourself in the beauty of nature that ground-level tents can't match. Whether you're gazing at the starlit sky, watching the sun rise behind a mountain, or simply enjoying the peace of nature, this rooftop tent will take your breath away.
✅ Smallest footprint – The ingenious design boasts a compact footprint of just 55 inches. You can utilize maximum space, as it accommodates people and equipment while minimizing the tent's storage footprint. It perfectly optimizes space without compromising comfort, making it a great choice.
✅ Aerodynamic design – Its sleek design reduces drag and wind noise to a minimum during transit ensuring a smooth and fuel-efficient travel experience. You can glide through the open road and go the extra mile quickly while enjoying the tent's peaceful and quiet atmosphere.
✅ Flex storage – Tent roof and side mounting channels offer flexible storage solutions for all your gear, tools, and personal belongings at your fingertips. Say goodbye to cluttered interiors and hello to organized stuff maximizing space and ensuring a hassle-free camping experience. Get ready to embark on your journey, knowing that everything you need is conveniently stowed away efficiently.
✅ Insulated rooftop tent body – Year-round adventures with the FSR High Country 55 rooftop tent for the Subaru Crosstrek featuring an insulated tent body will keep you comfortable in any weather condition. Whether winter or summer, the interior remains warm and cozy during chilly nights and cool and pleasant on scorching hot days. So, it comes to the end of extreme temperatures and the time of the perfect climate control inside your rooftop haven.
✅ Nice boot bags – This practical accessory lets you conveniently store your shoes outside the tent, ensuring a clean and clutter-free interior. More important, bid farewell to muddy footprints and soggy boots, as the boot bags keep your shoes ready for your next adventure.
What I Don't Like About This Tent
❌ Though designed for all seasons, you must add insulated walls for extreme weather.
❌ The product doesn't include a roof rack. It's just a tent you can quickly adapt to and get one.
---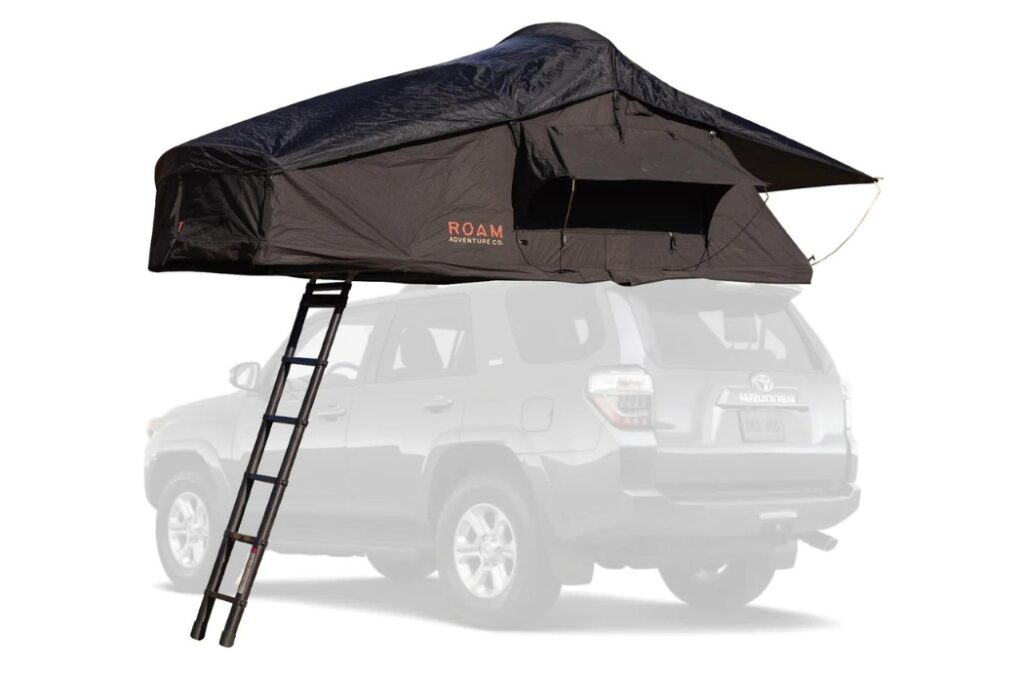 ➤ Dimensions (closed): 56″ x 48″ x 12″
➤ Size (sleeping): 56" x 96" x 52"
➤ Weight: 130 lbs
The next exceptional choice for Subaru Crosstrek on my list that I wholeheartedly recommend is Roam Vagabond Rooftop Tent, with many benefits that elevate your outdoor experience.
And if we list the versatile design, spacious interior, and durable construction, you will understand that it is a great companion for your camping for a reason.
Let's look at all of them.
Key Features & Benefits You Get
✅ Versatile design: What can be cozier than enjoying versatile design, light, and aerodynamic construction, making adventure thrilling and comfortable? Well, the beautiful interior of the Roam Vagabond makes the overall joy even bigger. With mesh windows and a skylight, allowing for plenty of natural light and ventilation, laying in the tent, watching star-gazing, or falling asleep with a good book in the heavy rain, makes staying in this rooftop tent an absolute delight.
✅ Spacious and comfortable: Imagine yourself lying under the starry sky, tucked into a paradise of comfort, stretching, relaxing during the day, having dinner, and sleeping soundly at night. Spacious soft shell rooftop Roam Vagabond for two adults and a kid will give you that freedom of space.
✅ Convenient Setup: In the package, you get a telescopic ladder for easy access to the rooftop tent and a practical pull-out canopy for the shade you can set up in a matter of minutes, turning your vehicle into a cozy campsite with its quick and user-friendly installation process.
✅ Weatherproofing: When the rain pours, and the wind howls, the Roam Vagabond's 280g PU-coated polycotton ripstop ensures no drop penetrates its solid walls. You will stay dry primarily because high-quality and waterproof materials such as durable ripstop fabric and a sturdy rainfly make it so. It simply boasts excellent waterproofing capabilities.
What I Don't Like About This Tent
❌ The ladder can be stiff initially but becomes much more flexible over time.
❌ Although it may not be able to accommodate large groups, it offers comfort and peace of mind.
---
➤ Occupancy: 4-5 People
➤ Open dimensions: 79 x 96 x 52 inches
➤ Closed dimensions: 79 x 48 x 16 inches
➤ Weight:194 Lbs
This rooftop tent is a hit for your family, especially if you want the ultimate one that combines durability, comfort, and versatility. It's not just a shelter; it's a welcoming space for unforgettable family adventures, providing a safe and comfortable home away from home.
Here's why the Tuff Stuff Elite Rooftop Tent is a dream come true for your family.
Key Features & Benefits You Get
✅ Roomy rooftop tent – Designed with your family in mind, you can enjoy spacious sleeping areas perfect for your kids, ensuring a cozy and restful night's sleep. But that's not all! The huge annex room provides even more space and can easily accommodate up to 5 people, giving an extra space to stretch out and relax. Say goodbye to cramped quarters and experience a spacious rooftop haven.
✅ Weatherproofing – Ultimate weather protection of the Tuff Stuff Elite Overland Rooftop tent for the Subaru Crosstrek, crafted with a waterproof 280G cotton/poly Ripstop fabric and a 420D Oxford Polyurethane raincoat is guaranteed. This tent will shield you from inclement weather, keeping you safe and dry even during heavy rain showers. The base of the rooftop tent has insulation, so even when it's freezing, you can snuggle up and enjoy cozy nights regardless of the cold outside.
✅ Quick and easy setup – Setting up camp is easy with the tent's intuitive design, especially since it's compatible with various roof rack systems, providing flexibility when using it on your Subaru Crosstrek.
✅ Unmatched durability – This rooftop tent stands head and shoulders above the rest regarding rugged weather tent durability. Its water-resistant fabric, reinforced seams, and sturdy aluminum frame offer unwavering protection and safety for your family.
What I Don't Like About This Tent
❌ The rigid construction can affect your vehicle's overall handling only if you frequently travel long distances or encounter rough terrain.
❌ Setup can take longer than rooftop tents on the market, which can be troublesome if you move camps often.
---
➤ Dimensions: 50″L x 12″W x 57″H
If you're on a budget and still want a quality rooftop tent, consider the TMBK 3 Roof Tent from Overland Vehicle Systems.
Key Features & Benefits You Get
✅ Weather protection – Constructed from a waterproof 600D double ripstop polyester cotton – canvas and a waterproof 420D polyester Oxford rain fly, you'll feel completely at ease inside, no matter the weather. TMBK's insulated base will ensure you are warm and cozy on cold winter camping.
✅ A quality night's sleep – I know the feeling of exhaustion after a whole day's walking, so when you return to the campsite, all you think about is sleep. That's why the 2.3-inch high-density memory foam mattress is here, which is comfortable to sleep on and easy to clean.
✅ Easy to set up – The relieving circumstance is that installing this rooftop tent on your vehicle is quite simple. The TMBK's unique universal mounting mechanism allows it to be mounted on 99.9% of OEM and aftermarket roof racks currently on the market. It all takes less than 5 minutes.
✅ Shoe bags – TMBK includes a shoe bag to store all your footwear.
What I Don't Like About This Tent
❌ Although the rooftop tent is designed to accommodate three people, it can feel cramped if you have large camping gear.
❌ Since it needs to be mounted on the vehicle's roof rack, it can slightly increase its weight.
---
➤ Occupancy: 4 people
➤ Weight: 165 lbs (75 kg)
➤ Sleeping Area: 82 ¾" x 77 ¼" (44.3 sq ft)
➤ Footprint (closed): 85 ½" x 54 ¾"
A quality edition of the hard-shell rooftop tent that includes a king-size bed is iKamper Skycamp 3.0.
This rooftop tent is your ticket to unforgettable exploration. Your Subaru Crosstrek is ready, are you?
Key Features & Benefits You Get
✅ Spacious – Rooftop tent with king-size comfort for four – from upgraded zippers to redesigned locking latches and an improved aerodynamic hard shell for accessory storage gives your unforgettable experience.
✅ 4-season rooftop tent – You can stay in this rooftop tent any time of the year thanks to the breathable high-density polycotton canvas, waterproof zippers and rain vents, convertible windows, and insulating mattresses to reduce anti-condensation mat. Rain or shine, wind or snow, this tent becomes your sanctuary, shielding you from the elements.
✅ Easy to set up – You can set up this rooftop tent effortlessly, giving you more time to savor the moments that truly matter, whether making barbecue by the campfire or sharing stories under a starlit sky.
✅ Superior build quality – Made from waterproof and breathable fabric, it stands out with its superior build quality and materials. It is carefully crafted to provide exceptional protection against rain, sun, and snow, ensuring you can comfortably enjoy outdoor escapades.
✅ Versatility – You can attach effortlessly to your vehicle, allowing you to travel to any location. Imagine waking up to breathtaking sunrises, surrounded by unspoiled natural beauty, while comfortably elevated above the ground – it's possible with this rooftop tent.
What I Don't Like About This Tent
❌ It comes with a hefty price tag, but it's worth every penny for its outstanding camping experiences.
❌ Due to its size and weight, it can affect the efficiency of your vehicle, but just if you're planning long trips.
---
UPDATE: Rooftop Tent Worth Mentioning – Roofnest Meadowlark
➤ Interior: 80″L x 43″W
➤ Exterior: 47″L x 44"W
➤ Weight: 90 lbs
➤ Included With Tent: 2.5″ Mattress, Tent Cover, 7.5′ Ladder (shipped separately), Universal Mounting Kit, Ladder Hardware Kit, 2 Detachable Pockets, Interior LED, and privacy tent.
The extraordinary tent of exceptional quality, innovative features, and affordability is worthy of mention and attention – Meadowlark.
Ultra-compact. Ultra-light. Ultra affordable. For just 90 pounds, the Meadowlark will fit the vehicle perfectly and sets a new standard in affordable luxury.
Key Features & Benefits You Get
✅ Quick installation: The fascinating aspect of the Meadowlark is its weight: at 90 pounds, it's easy to mount. Pull off the cover, use the telescoping ladder to fold the tent, extend the integrated interior U-bar, and the campsite is set. Roofnest has reduced weight and simplified assembly by eliminating the traditional poles and ropes that tents typically rely on. You can pitch your tent in seconds, not minutes. The small weight also benefits Ford Raptors with lower-capacity roof rack crossbars.
✅ Lightning: Roofnest Meadowlark Rooftop Tent illuminates your shelter with a soft, ambient glow, creating a cozy and inviting atmosphere inside the tent. Powered by a simple USB connection, the LED light strip is energy-efficient, ensuring you never run out of light while camping.
✅ Mattress for a good night's sleep: This plush, supportive mattress ensures a comfortable night's sleep. The dual-density foam construction perfectly balances softness and firmness, contouring your body for optimal comfort.
✅ Waterproofing: Crafted from 210D coated Polyoxford fabric with a waterproof rating of 3000mm, this rainfly ensures superior water resistance, keeping you dry and comfortable during rainy weather conditions. Be it a gentle drizzle or a heavy downpour, the waterproof construction of the rainfly acts as an impenetrable barrier, preventing moisture from seeping into your sleeping quarters.
What I Don't Like About This Tent
❌ Limited headroom: The design of the Roofnest Meadowlark may result in relatively lower headroom than other tents.
❌ Weight and size: The Meadowlark Rooftop Tent is larger and heavier than other models, which may be challenging for vehicles with limited load capacity.
---
FAQ
Can you put a rooftop tent on a Subaru Crosstrek?
It is possible to put a rooftop tent on a Subaru Crosstrek. It is a popular vehicle for outdoor enthusiasts, and many owners choose to equip their Crosstreks with rooftop tents for camping and adventure purposes. However, it's essential to ensure that your specific model of the Subaru Crosstrek has the necessary weight capacity and roof rack compatibility to support a rooftop tent because they can vary in weight. Hence, it's crucial to check the weight limits specified by the rooftop tent manufacturer and the vehicle manufacturer. Exceeding the weight capacity of your Crosstrek's roof or roof rack can lead to structural damage and compromise your safety.
How much weight can a Crosstrek hold on the roof?
The Ascent, Crosstrek, and Forester all have a roof rail capacity of 700 pounds when the vehicle is parked on a level surface. That means the tent and its occupants can't weigh more than 700 pounds.
What is the difference between roof racks and crossbars?
The roof rack refers to the complete system that encompasses all the components necessary for carrying cargo on the roof of a vehicle. Crossbars, on the other hand, are the specific bars within the roof rack system that create a foundation for attaching accessories and distributing the weight of the load across the roof. Crossbars are integral to the roof rack, allowing versatile attachment options based on the user's needs.
Is it a good idea to have a rooftop tent?
A rooftop tent can be a great idea, depending on your specific needs and preferences. Here are some factors to consider when deciding if a rooftop tent is right for you:
1. Camping Style: Rooftop tents are popular among outdoor enthusiasts who enjoy camping in remote or off-road locations. If you prefer to explore off-the-beaten-path destinations or enjoy camping in areas where the ground might not suit a traditional tent, a rooftop tent can be a practical choice.
2. Convenience: Rooftop tents offer convenience in setup and packing up. They can be quickly deployed and packed away, saving time and effort compared to setting up a ground tent. This is especially useful if you're frequently on the move or prefer to camp in different locations during your trip.
3. Space and Comfort: RTTs generally provide a comfortable sleeping area, often with built-in mattresses. They offer elevated views, protection from ground-level moisture, and insulation from cold or uneven ground. It can be a good option if you prioritize comfort and want a cozy sleeping space.
4. Vehicle Compatibility: Consider whether your vehicle is compatible with a rooftop tent. You'll need a sturdy roof rack or bars to support the tent's weight. Additionally, you should ensure that your vehicle's height and weight limits allow for the installation of a rooftop tent.
5. Budget: Rooftop tents can be more expensive than traditional ground tents, so it's important to consider your budget. In addition to the tent, you may need to invest in a roof rack or bars if your vehicle doesn't already factor in these costs when determining if a rooftop tent is financially feasible.
6. Usage Frequency: A rooftop tent can be a worthwhile investment if you're an avid camper and plan to use your tent frequently. Suppose, however, that you only go camping occasionally or for short. In that case, durations, you may find that a traditional tent meets your needs without the added cost and setup associated with a rooftop tent.
Choosing a rooftop tent depends on your camping style, preferences, budget, and planned adventures. Consider these factors and weigh the pros and cons to determine if a rooftop tent aligns with your requirements.
Do rooftop tents use more fuel?
Rooftop tents can affect fuel efficiency due to their impact on the vehicle's aerodynamics. When a rooftop tent is installed, it creates additional wind resistance, which can result in increased fuel consumption.
The specific impact on fuel consumption can vary depending on various factors, including the tent's design, the vehicle's shape, driving speed, and weather conditions. Generally, the higher the tent is mounted on the roof, the larger its size and the greater the effect on aerodynamics and fuel efficiency.
The additional drag caused by a rooftop tent may lead to a slight decrease in fuel efficiency, especially at higher speeds or during highway driving. The actual increase in fuel consumption can vary between vehicles and may range from negligible to noticeable, depending on the factors mentioned above.
If fuel efficiency is a significant concern for you, it's advisable to consider the aerodynamic design of the rooftop tent you intend to purchase. Some manufacturers offer models specifically designed to minimize wind resistance and reduce the impact on fuel consumption.
Additionally, maintaining moderate speeds and avoiding excessive wind exposure can help mitigate the effect on fuel efficiency.
It's worth noting that the impact of a rooftop tent on fuel consumption is typically relatively small compared to other factors that affect fuel efficiency, such as driving style, tire pressure, and vehicle weight. Therefore, while rooftop tents may cause a slight increase in fuel consumption, it is generally not a significant factor for most users.
What are the disadvantages of a rooftop tent?
1. Vehicle Limitations: Rooftop tents require a vehicle with a roof rack or bars capable of supporting their weight. If your vehicle does not have a suitable roof structure or weight capacity, you may need to invest in additional modifications or a different vehicle altogether. This can add to the overall cost and limit your options.
2. Increased Vehicle Height and Weight: Installing an RTT raises your overall height and weight. This can make it more challenging to navigate low-clearance areas, such as parking garages, drive-throughs, and branches on narrow trails. It's important to be mindful of these limitations and plan your routes accordingly.
3. Aerodynamic Impact: As mentioned earlier, rooftop tents can negatively affect the aerodynamics of your vehicle. The additional wind resistance can lead to decreased fuel efficiency and increased driving noise. It's important to consider the potential impact on your vehicle's performance and fuel consumption, especially during long trips.
4. Setup and Accessibility: While rooftop tents are generally easier and quicker to set up than traditional ground tents, they still require some effort to deploy and pack away. You will need to climb up and down the vehicle to access the tent, which can be inconvenient, particularly if you have physical limitations or are camping in inclement weather conditions.
5. Limited Living Space: Rooftop tents typically provide a comfortable sleeping area but have limited living space compared to larger ground tents or camper trailers. You may find the confined space restrictive if you plan to spend significant time inside the tent during your camping trips.
6. Cost: Rooftop tents are more expensive than traditional ground tents. In addition to the tent, you may need to invest in a roof rack or bars if your vehicle doesn't already have them. The overall cost can be a significant factor, especially if you are on a tight budget.
It's important to weigh these disadvantages against the benefits and your specific needs to make an informed decision. Consider your camping style, vehicle suitability, budget, and the trade-offs you will make before purchasing a rooftop tent.
Are rooftop tents warm in winter?
Rooftop tents can provide adequate warmth in winter but require additional considerations to ensure comfort in cold weather conditions. Here are a few factors to keep in mind:
1. Insulation: The insulation properties of an RTT play a crucial role in keeping it warm during winter. High-quality rooftop tents often feature insulation materials or layers for better heat retention. Look for tents with adequate insulation to help trap warmth inside the tent and keep cold air out.
2. Condensation: It can be a concern in colder temperatures, especially when warm air from inside the tent meets the cold surfaces of the tent fabric. To minimize condensation, ensure proper ventilation within the tent. Many rooftop tents have windows, vents, or mesh panels that can be opened or adjusted to allow for airflow while maintaining warmth.
3. Mattress and Bedding: The mattress in your RTT can influence how warm you feel during winter camping. Consider using a thicker or insulated sleeping pad or mattress to provide additional insulation from the cold ground. To retain body heat, use appropriate bedding, such as a cold-weather sleeping bag, blankets, or thermal liners.
4. Layering your clothing and using appropriate sleepwear is essential for staying warm inside the tent. Wear thermal or moisture-wicking base layers, insulating mid-layers, and a warm outer layer. Wear hats, gloves, and warm socks to retain body heat.
5. Heating Solutions: In extremely cold conditions, you may consider additional heating solutions to supplement the tent's warmth. Portable heaters designed for camping can help maintain a comfortable temperature inside the tent. However, ensure that any heating device is safe and suitable inside an enclosed space.
6. Location and Weather: The location and weather conditions during your winter camping trip will also impact the warmth of your rooftop tent. Camp in areas with natural windbreaks, such as trees or hills, to minimize exposure to cold winds. Monitor weather forecasts and be prepared for changes in temperature and precipitation.
Remember that while rooftop tents can offer warmth in winter, they may not provide the same level of insulation as a well-insulated building or camper trailer. It's essential to be prepared and make appropriate adjustments to ensure comfort and safety in cold weather.
Final Conclusion
With my 5 top tents recommendations, you are ready to explore untouched landscapes and outdoor activities like never before with the best rooftop tent for Subaru Crosstrek.
But it's not just about the destination; the journey matters. I've selected five of the best roof tents that perfect your camping trip.
On top of all the tents on the list, FSR High Country 55 takes the top place in the premium series. Unbeatable comfort, exceptional durability, and user-friendly features make it worthwhile.
Besides, other tents, such as Roam Vagabond and Tuff Stuff Elite Overland, may become your sanctuary, shielding you from the elements while allowing you to stay connected to nature.
But, with iKamper Skycamp 3.0, you will have a great experience based on quality, comfort, and price.
Additionally, the Roofnest Meadowlark is worth mentioning as it provides a high-quality camping experience at an affordable price point which you will be surely interested in.
Also, check out my article on 99+ road trip essentials to ensure you don't forget anything for your overland adventure.
Happy shopping!