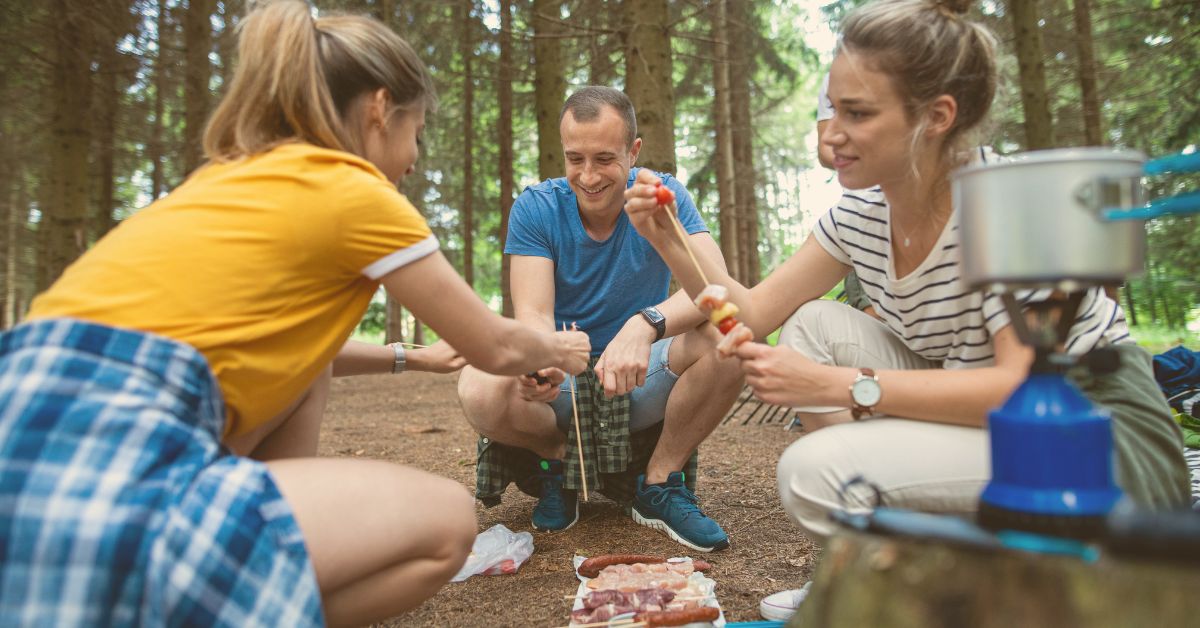 Anja and I have been camping since we met eleven years ago, and our first campouts were about bringing water, energy bars, nuts, dates, and fruits. We were lazy and didn't want to spend time cooking outdoors.
But today, we understand the importance of camping food from physiological and sociological aspects.
Campfire cooking makes camping more magical and brings people together simultaneously.
The most important thing we learned along the way is that you should be able to maintain flavor and quality even if you're cooking outdoors!
For us, camping lunch needs to be easy to make! If possible, no cook. Most recipes here will be speedy and easy, while some require equipment, such as a cast iron pan and camp stove.
After years of camping and countless adventures, we've narrowed down this list of best camping lunch ideas that are our go-to's for camping when we need something easy-to-make with minimal cleanup.
Here are some kitchen essentials to consider packing for your trip:
Stove: A stove is essential for cooking while camping. Choose a stove appropriate for your needs, such as a propane stove for car camping or a compact, lightweight stove for backpacking.
Pots and pans: Pack pots and pans suitable for your cooking needs. If you plan on cooking over a fire, consider packing a cast iron skillet or Dutch oven.
Utensils: Pack a variety of utensils such as spoons, forks, knives, spatulas, and tongs to help with meal prep and cooking.
Cooler: A cooler is essential for storing perishable items such as fresh fruits, vegetables, tofu, and yogurt. Make sure to pack your cooler with plenty of ice or ice packs to keep the food at a safe temperature.
Water bottles or hydration system: Ensure to pack plenty of water bottles or a hydration system to stay hydrated while camping.
Dishwashing supplies: Pack dishwashing supplies such as dish soap, scrub brushes, and a towel to help clean up after meals.
If you want to spend less time meal planning and more time enjoying your adventures, keep these camping lunch ideas bookmarked.
If you want to jump straight to a specific camping lunch recipe, feel free to use a table of contents.
Table of Contents
1. Turkey Wraps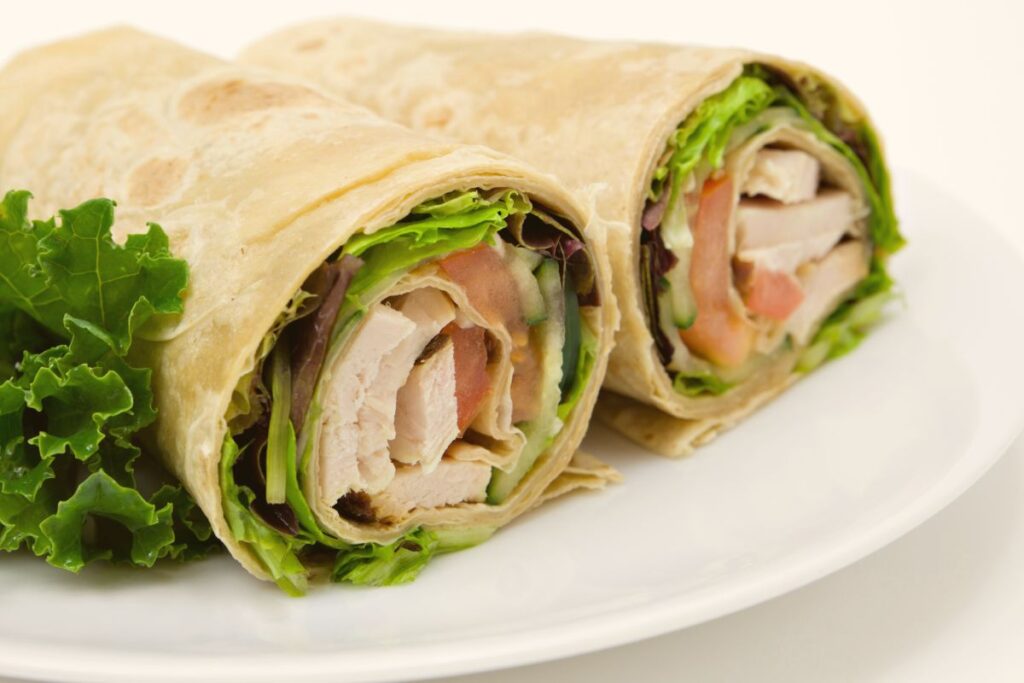 Ingredients
1 (8-ounce) package of cream cheese with chives
2 tablespoons Dijon mustard
6 (8-inch) whole wheat tortillas
1 ½ cups finely shredded iceberg lettuce
12 slices thinly sliced deli turkey
¾ cup shredded Swiss cheese
6 slices bacon, cooked and crumbled
1 large tomato, seeded and diced
1 large avocado, sliced
Directions
Mix cream cheese and Dijon mustard until smooth; spread about two tablespoons of cream cheese mixture on each tortilla, spreading to within 1/4 inch of the edge.
Arrange about 1/4 cup of shredded lettuce on each tortilla; press the lettuce down into the cream cheese mixture. Place two turkey slices per tortilla over the lettuce, and sprinkle with two tablespoons of shredded Swiss cheese. Top each tortilla evenly with crumbled bacon, tomato, and avocado slices.
Roll each tortilla up tightly; cut in half across the middle with a slightly diagonal cut.
2. Honey Mustard Chicken Salad
Ingredients
⅓ cup honey(115 g)
¼ cup dijon mustard(65 g)
2 tablespoons olive oil
2 cloves garlic, minced
2 teaspoons salt
1 teaspoon pepper
4 boneless, skinless chicken thighs
¼ cup bacon(60 g), chopped
4 cups romaine lettuce(300 g), chopped
1 cup cherry tomatoes(200 g), halved
¼ red onion, sliced
1 avocado, pitted and sliced
Directions
Mix the honey, mustard, oil, garlic, salt, and pepper in a small bowl or liquid measuring cup.
Place the chicken thighs in a dish and pour the marinade over the chicken, reserving half for later.
Flip the chicken thighs over, fully covering them in the marinade.
Cover the dish with plastic wrap and refrigerate for 30 minutes to an hour.
Heat a large skillet over medium heat, and place the chicken thighs in the pan.
Cook for five minutes on each side or until the chicken is cooked.
Remove the chicken and set aside.
Wipe the pan clean and place it back on the heat.
Add the chopped bacon to the pan and cook until crispy, about ten minutes.
Transfer the bacon to a paper towel-lined plate to drain.
Add three tablespoons of water to the reserved marinade and stir to combine.
Slice the chicken into strips.
Add the romaine, cherry tomatoes, red onion, avocado, cooked bacon, and chicken to a bowl and sprinkle with the remaining honey mustard dressing.
3. Basil Pesto Grilled Cheese
Ingredients
1 tablespoon softened butter divided
2 slices Italian bread
1 tablespoon prepared pesto sauce, divided
1 slice provolone cheese
2 slices tomato
1 slice of American cheese
Directions
Spread butter on one side of a slice of bread and place it upside down into a nonstick skillet over medium heat.
Spread 1/2 of the pesto sauce on the unbuttered side of the bread. Stack provolone cheese, tomato, and American cheese on top of the pesto, in that order.
Spread the remaining pesto sauce on the second slice of bread. Place the pesto side down onto the sandwich in the pan. Butter the top side of the bread.
Gently fry the sandwich, flipping once, until both sides are golden brown and the cheese has melted, about 5 minutes per side.
4. Grilled Chicken Tacos
Ingredients
1/4 cup vegetable oil, plus more for oiling the grill grates
3 tablespoons chili powder
Kosher salt
1 1/2 pounds boneless, skinless chicken breasts (about 3)
12 corn tortillas
Shredded cheese, pickled jalapenos, shredded lettuce, and salsa for serving
Directions
Prepare a grill for medium heat.
Mix the oil, chili powder, and one teaspoon salt in a small bowl to make a paste. Pound the chicken breasts between 2 pieces of plastic wrap to about 1/2-inch thick. Rub the chicken all over with the chili paste.
Lightly oil the grill grates. Grill the chicken until firm to the touch, flipping once for 3 to 4 minutes per side. Set aside for 5 minutes, then shred the meat into bite-size pieces or cut it into strips. Warm tortillas on the grill and wrap them in a kitchen towel to stay warm.
For the topping, serve the chicken tacos with shredded cheese, pickled jalapenos, lettuce, and salsa.
5. Black Bean Salad
Ingredients
1 (15-ounce) can of black beans, rinsed and drained
1 1/2 cups corn kernels, defrosted if frozen
1/2 cup chopped scallions or shallots
1/2 jalapeño pepper, seeded and minced, or 1/2 pickled jalapeño pepper, minced but not seeded
1 red bell pepper, seeded and chopped (and three plum tomatoes, seeded and chopped)
2 tablespoons lime juice
1 tablespoon extra virgin olive oil
1 avocado, cut into chunks
1/2 to 1 teaspoon of sugar
Salt and pepper to taste
1/2 cup chopped fresh cilantro
Directions
Combine everything but the avocado and herbs – Gently mix the black beans, corn, scallions, jalapeños, tomatoes or red bell pepper, lime juice, and olive oil in a large bowl. Then, gently fold in the chopped avocados.
Season and chill – Add salt and pepper to taste. Chill. Sprinkle with sugar to taste, enough to balance the acidity from the lime juice.
Add the cilantro and serve – Add the chopped fresh cilantro.
6. Chicken Skewers With Tzatziki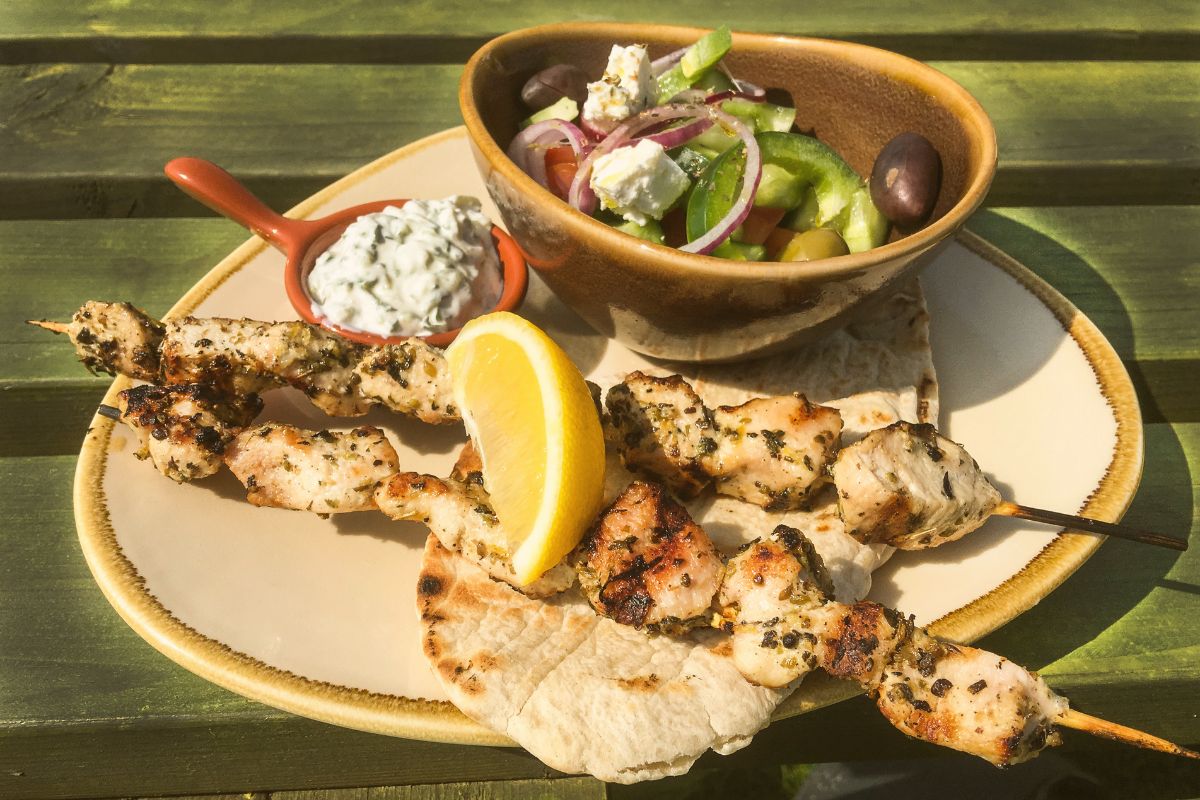 Ingredients
2 tablespoons olive oil
1 lemon, juiced
1 tablespoon dried oregano
½ teaspoon garlic powder
½ teaspoon salt
4 boneless skinless chicken thighs, cut into 1" pieces
1 small zucchini, sliced into 1/4" moons
1 red onion, chopped
14 cherry tomatoes
½ cup prepared tzatziki, store-bought or recipe as follows
Tzatziki Sauce
½ cup Greek yogurt
¼ cucumber, seeds removed & chopped fine
1 tablespoon chopped fresh mint
2 cloves garlic, finely minced
¼ teaspoon salt
Directions
Mix the olive oil, lemon juice, oregano, garlic powder, and 1/2 teaspoon salt in a bowl. Add the chicken and toss to coat. Set aside 30 minutes (up to 2 hours) to marinate, tossing occasionally.
To make the tzatziki (which can be made ahead): Remove excess moisture from the chopped cucumber by blotting it with a towel. Combine the cucumber, Greek yogurt, mint, garlic, and salt in a small bowl.
Cover & store in your cooler if making ahead of time.
Prepare a grill or campfire for grilling.
Thread the chicken and vegetables onto skewers.
Once the grill is ready, place the skewers on the grill grate and grill, turning every few minutes so all sides cook evenly. The chicken must cook for 3-5 minutes per side, and the veggies will require roughly 10-12 minutes.
Remove skewers. Serve with tzatziki for dipping. Enjoy!
7. Chicken Pad Thai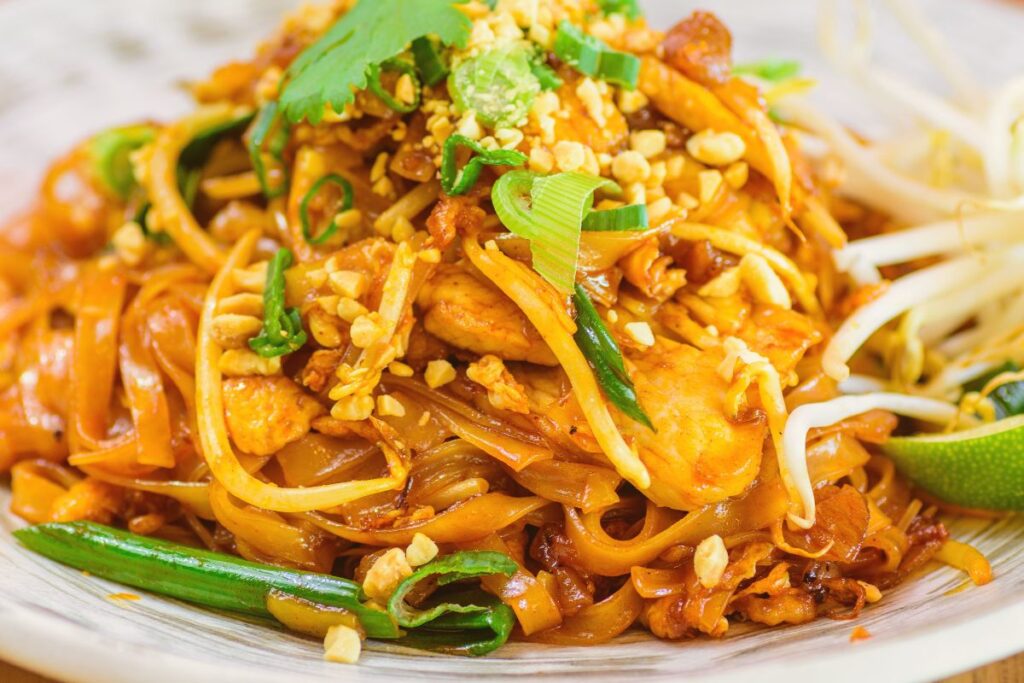 Ingredients
8 ounces flat rice noodles – cooked al dente according to package instructions
1 large boneless skinless chicken breast – pounded to ½ inch thickness and chopped into bite-sized pieces
salt & pepper – to taste
2 eggs
1 cup fresh bean sprouts
⅓ cup sliced green onions
¼ cup sliced white onions
⅓ cup cilantro – roughly chopped
peanuts (optional)
Sauce
¼ cup ketchup
2 tablespoons fish sauce
2 tablespoons sugar
1 teaspoon minced garlic
1 teaspoon peanut butter
juice of 1 lime
½ teaspoon crushed red pepper flakes
1 teaspoon soy sauce
Directions
Season chicken with salt and pepper to taste.
Cook chicken in a large wok or pan over medium heat, stirring until cooked through (about 6-8 minutes); move chicken to a bowl and set aside.
Whisk together all sauce ingredients and set aside.
Crack eggs over the preheated pan (where you cooked the chicken) and allow to fry for about a minute, then break it up with a spoon and add the onions and bean sprouts.
Add chicken and sauce. Add noodles and toss to coat the noodles in the sauce.
Stir in green onions and cilantro. Garnish with peanuts if desired.
8. One Pot Pasta Primavera
Ingredients
4 cups broth(960 mL), of your choice
10 oz linguine(285 g), uncooked
10 oz broccoli floret(285 g)
1 lb asparagus(455 g), chopped into 1-inch (2 cm) pieces
1 small onion, diced
4 cloves garlic, minced
½ teaspoon red pepper flakes
salt, to taste
pepper, to taste
1 teaspoon olive oil, to taste
4 oz mushroom(110 g), sliced
¼ cup heavy whipping cream(60 mL)
½ cup grated parmesan cheese(55 g)
3 tablespoons fresh parsley, finely chopped
Directions
Over high heat, combine broth, linguine, broccoli, asparagus, onion, garlic, red pepper flakes, salt, pepper, and olive oil. Stir.
Add the mushrooms and bring to a boil.
Once at a boil, reduce heat to medium and cook the pasta for 10 minutes, continuously tossing with tongs.
Add the heavy cream, parmesan, and parsley, and toss for 3 minutes.
Let the pasta sit off the heat for a few minutes if the liquid has yet to absorb completely.
Enjoy!
9. Sweet Potato Peanut Stew
Ingredients
1 tablespoon oil
1 small onion, diced (to yield 1 1/2 cups )
2 cloves garlic, minced (about one tablespoon)
1 medium sweet potato, chopped into 1/4 inch cubes (to yield 2 cups)
2 cups broth
14 oz can of diced tomatoes
¼ cup peanut butter
2 teaspoons New Mexico chili powder
1 teaspoon salt
14 oz can chickpeas, drained
2 cups Tuscan kale, destemmed and chopped
Directions
Heat the oil in a dutch oven over medium heat. Add the onion and saute for about 5 minutes, until translucent and just starting to brown in spots. Add the garlic and saute until fragrant, about 1 minute.
Add the sweet potato, broth, tomatoes & their juices, peanut butter, chili powder, and salt. Stir well to ensure the peanut butter is thoroughly mixed and no clumps remain. Simmer, uncovered, for about 15-20 minutes or until the sweet potatoes are tender.
Once the sweet potatoes are tender, add the chickpeas and the kale to the dutch oven. Stir to combine and heat until the chickpeas have warmed through and the kale has wilted.
10. Lime & Cilantro Grilled Chicken Tacos
Ingredients
Marinade
4 boneless, skinless chicken thighs (about 1 lb)
2 tablespoons chopped cilantro
2 limes juice + zest
1 teaspoon salt
1 teaspoon chili powder
1 teaspoon cumin
1/2 teaspoon garlic powder
1/2 teaspoon ground coriander
1 tablespoon oil
Taco Assembly
Tortillas (corn or flour, depending on your preference)
Pico de gallo
Cheese
Cilantro
Directions
Prepare the marinade by mixing the oil, lime juice, zest, cilantro, and spices in a small bowl. Place the chicken into a Tupperware or sealable bag and pour the marinade over, shaking to ensure that the chicken is coated evenly. Place the chicken into a fridge or cooler to marinate for at least an hour or overnight.
Remove the chicken from the marinade and place it on a prepped grill. Cook until the internal temperature reaches 165F, turning as needed to ensure even cooking (approximately 5-8 minutes on each side). Remove from the heat and chop into bite-sized pieces.
To assemble the tacos, layer chicken, pico de gallo, cheese, and fresh cilantro into tortillas (warmed over the grill if you prefer).
11. One Pot Pesto Pasta
Ingredients
1 banana shallot
2 cloves garlic
1 glug of olive oil
100 g spinach
1/2 bunch basil
1/2 bunch parsley
100 g asparagus
1 handful of toasted pinenuts
150 g cooked chicken breast, torn up
200 g spaghetti, snapped in half
375 ml chicken stock
125 ml whole milk
50 ml double cream
10 g Parmesan
1 tbsp extra virgin olive oil
Directions
FRY THE SHALLOT AND GARLIC
Peel and slice the shallot, and peel and mince the garlic. Heat a little oil in a large saucepan and chuck in the shallot and garlic.
ADD THE GREEN STUFF
Meanwhile, finely chop the spinach and herbs. Cut the asparagus into 2cm stems. Fry until the shallots and garlic soften, then add the spinach, basil, parsley, asparagus, and pine nuts.
ADD CHICKEN, PASTA, AND LIQUID
Throw in the chicken and spaghetti and season well with salt and pepper. Pour in the stock, milk, and cream. Bring the liquid to a boil, stir, then cover and reduce to a simmer for 8-10 minutes until the pasta is cooked.
FINISH AND SERVE
When the liquid has been absorbed and what's left is a creamy sauce, grate in the Parmesan and season to taste. Serve with extra herbs, a drizzle of extra virgin olive oil, and more Parmesan.
12. Tomato Basil Wrap With Mozzarella
Ingredients
5 Wholemeal Weight Watcher tortilla wraps
4 tbsp pesto
2.5 cups mixed leaf salad
4 oz shredded mozzarella
4 medium tomatoes (sliced)
20 fresh basil leaves (chopped)
1 tbsp dill (chopped)
salt and black pepper
Directions
Spread the pesto on each tortilla.
Layer mixed leaf salad, mozzarella, tomato slices, basil, and dill on the right side of the tortilla wrap. Add a pinch of salt and black pepper.
Roll the wrap, and cut it in half before serving.
13. BLT Camping Wraps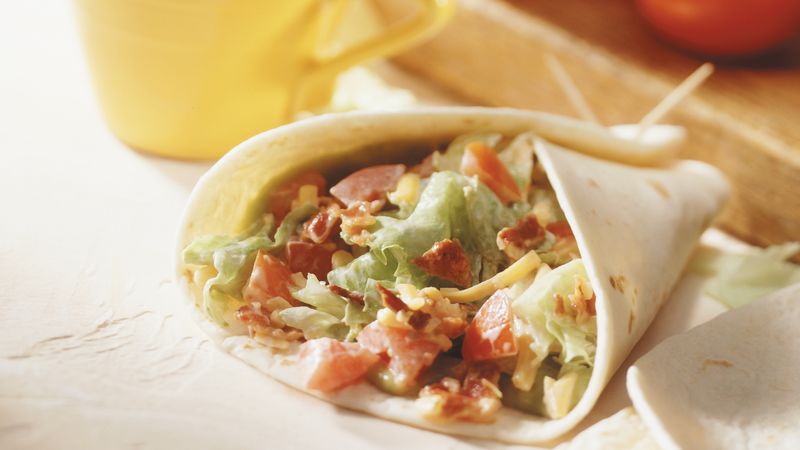 Ingredients
3 slices thick bacon fried and chopped or crumbled
2 tablespoons mayonnaise
1/4 cup chopped lettuce or fresh spinach
6 grape tomatoes quartered
1 wheat tortilla soft taco size
Directions
Fry the bacon till it is crispy, drain it on paper towels, then chop or crumble it into bite-sized pieces.
Mix the bacon, mayonnaise, lettuce, and tomatoes in a small bowl, and toss to coat evenly.
Lay the tortilla on a flat surface and pile the mixture in the center.
Roll the tortilla to create a hand-held yummy wrap.
(Note: This recipe makes one wrap, so scale up to make as many servings as necessary.)
14. Chicken Parmesan Wrap
Ingredients
3 cups roughly shredded, cooked boneless, skinless chicken breasts (see note)
1 1/2 teaspoons Italian seasoning (make sure yours is a salt-free blend)
1/2 teaspoon kosher salt
1/8 teaspoon black pepper
1 cup of your favorite marinara sauce
1/4 cup finely chopped fresh basil
4 Flatout flatbreads
1 cup shredded, reduced-fat Italian cheese blend
additional marinara sauce, warmed for dipping if desired
Directions
Place shredded chicken in a medium bowl. Add Italian seasoning, salt, and black pepper, and stir well to combine.
Add marinara sauce and basil to the chicken mixture, and stir to combine again.
Optional: If you want your filling piping hot, microwave the chicken mixture for about 60-90 seconds. (Even if you skip this, your filling should still be pleasantly heated after the wraps are seared in the skillet in step 7. If you are prepping these as make-ahead, skip this optional step.)
Lay one flatbread on a work surface, and sprinkle 1/4 cup of cheese down the center, leaving a large border all around the cheese. Spread 1/4 of the chicken mixture (about a 1/2 cup) on the cheese.
Fold the short ends of the flatbread inward toward the middle, then fold the long sides of the flatbread inward toward the center, making a closed wrap.
Repeat with the remaining 3 flatbreads, evenly dividing the remaining cheese and the remaining chicken mixture.
Preheat a dry nonstick skillet over medium heat. Once preheated, add the wraps and cook on the first side until golden brown, about 1 1/2 – 2 minutes. Flip the wraps and cook on the second side until golden, about another 1 1/2 minutes.
Serve with an additional marinara sauce for dipping.
Note
Chicken
Store-bought rotisserie chicken is a quick and easy option. Nearly any boneless, skinless chicken breasts will work in this recipe, as long as they're not overly flavorful from spices or marinades. You can plan on cooking a couple of extra chicken breasts whenever you're making chicken, so you have extra cooked chicken for this recipe without any additional work.
Make-ahead options
As detailed in the post, you can mix the chicken filling up to a day ahead (although it's best, if possible, to wait until the last minute to chop and stir in the basil). Store the filling, covered, in the refrigerator until continuing.
You can also go further in the process and add the prepared chicken mixture and the cheese to the flatbreads. Then, fold the wraps and store them individually in the refrigerator for about a day before searing and serving.
Lastly, you can make these entirely, including searing them in the skillet and then storing them individually in the refrigerator (for up to about two days) or the freezer (for a couple of months). Briefly reheat in the microwave before serving.
15. Grilled Gyro Kebabs
Ingredients
½ pound lamb, cut into bite-sized pieces
4 oz halloumi
10 cherry tomatoes
2 teaspoons oil
salt, to taste
4 flatbreads or large pitas
Marinade
juice of 1/2 lemon (about two tablespoons)
1 tablespoon olive oil
1 teaspoon dried oregano
1 clove garlic, finely minced
Lemon Yogurt Sauce
½ cup plain Greek yogurt
juice of 1/2 lemon, *
1 clove garlic, finely minced
¼ teaspoon salt
Directions
At home (or at least one hour before dinner)
Stir together all marinade ingredients in a small bowl. Place the lamb in a large zip-top bag or resealable container and pour in the marinade, ensuring the meat is completely coated. Meat should marinate for at least an hour and up to 48 hours.
At camp
Fire up your grill or get your campfire going. You'll be cooking the kebabs over medium-high to high heat.
Build your skewers by threading the lamb, tomatoes, and halloumi on their skewers. Brush the tomato and cheese skewers with oil, and season the lamb skewers with salt.
Once the grill has reached medium-high heat, place all the skewers on the grate. Grill, often turning, until the lamb has cooked through (about 10 minutes), the tomatoes are soft and beginning to blister (about 4 minutes), the halloumi is soft, and grill marks form (about 3 minutes on each side). Heat the flatbreads over the grill until warm.
*If you'd like, grill the lemon half until it begins to brown and caramelize before juicing for the marinade.
In the meantime, make the yogurt sauce by combining the yogurt, lemon juice, garlic, and salt.
Build your gyros by spreading sauce on each flatbread and topping it with lamb, tomatoes, and halloumi.
16. Garlic Lovers Salmon In Foil
Ingredients
2-pound side of salmon, boneless and skinless
4 tablespoons butter
8 cloves garlic, peeled and roughly chopped
1/4 cup dry white wine
2 tablespoons freshly-squeezed lemon juice, plus extra lemon wedges for serving
salt and pepper
1/4 cup chopped fresh Italian parsley*
1/4 cup thinly-sliced green onions
Directions
Heat a grill to medium heat.
Line a large baking dish with a large piece of aluminum foil.
In a small saucepan, heat butter over medium-high heat until melted. Stir in the garlic and cook for 1-2 minutes until fragrant. (You want the garlic to be partly- but not fully-cooked.) Remove from heat and stir in the white wine and lemon juice.
Lay the salmon out on the foil. Using a pastry brush, brush a tablespoon of the butter mixture on the foil until it is evenly covered. Then, brush the remaining butter-garlic mix on top of the salmon until it evenly covers it. Season the salmon evenly with a few generous pinches of salt and pepper.
Fold the sides of the aluminum foil up and over the top of the salmon until it is completely enclosed. (If your sheet of foil is not large enough, place the second sheet on top and fold the edges to form a sealed packet.
To Cook On The Grill: Carefully transfer the packet of salmon to the grill, and grill for 12-14 minutes, or until the salmon is almost completely cooked. (Cooking times will vary on the thickness of your salmon, so I recommend checking it a few minutes early if you have a thinner cut of salmon.) Carefully open and pull back the aluminum foil so that the top of the fish is completely exposed. (Be careful, it will release lots of hot steam!) Continue cooking for 3-4 minutes until the top of the salmon and the garlic are slightly golden and the fish is cooked through.
Remove salmon from the grill. Sprinkle the top of the salmon evenly with parsley and green onions, and serve immediately.
17. Pie Iron Pizza Calzone
Ingredients
Pre-Made Pizza Crust Dough
Hunt's Pizza Sauce
Mozzarella Cheese
Can of Diced Tomatoes
Pepperoni
Directions
Start by lining your pie iron with a healthy cooking spray to ensure you can get your calzone out of it when it's done (we use olive oil for all of our cast iron pie irons).
Line both sides of the pie iron with your pizza dough. Remember that the dough will rise quite a bit, so make sure to put it in a manageable amount, I did about 1/8 thick or less, and it rose perfectly.
Place your ingredients on only one side of the iron, such as the sauce, pepperonis, and cheese. Remember to place one side of the iron down onto the other, as you don't want your food falling out.
Lock up your pie iron over a low-flame coal bed in your fire pit. I lay mine directly in the coals.
Flip the iron often and take it out of the coals for a few minutes to ensure you don't develop hot spots in the pie iron and burn your crust.
I like to cook mine to a golden brown, like a marsh mellow. Cook for 5-10 minutes, depending on your fire. Check often; after about 3-4 minutes, you should be able to crack the iron open to check on the calzone.
18. Halloumi Burgers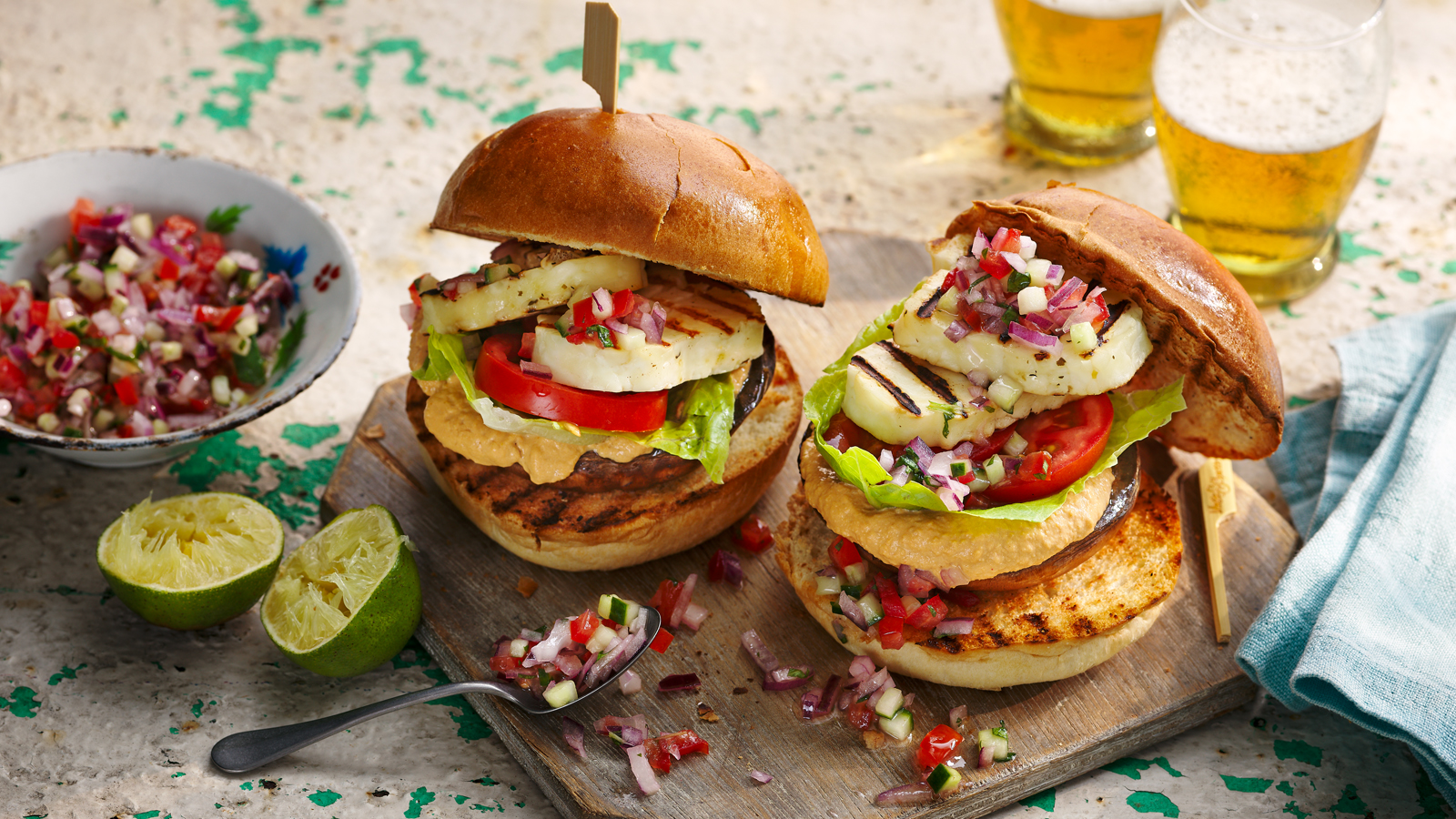 Ingredients
2 tbsp olive oil
2 portobello mushrooms were wiped clean, and the stalks removed
200g/7oz halloumi cheese, thickly sliced
2 brioche buns, cut in half
2 tbsp finely chopped onion
2 tbsp finely chopped tomato
2 tbsp finely chopped cucumber
2 tbsp finely chopped fresh mint
1 lime, juice only
4 tbsp hummus
1 large tomato, thickly sliced
4 romaine lettuce leaves, roughly torn
salt and freshly ground black pepper
Directions
Heat a griddle pan or barbecue until hot. Brush half the oil over the mushrooms and season well. Place on the griddle pan or barbecue and cook for 6–8 minutes, turning them over halfway through cooking.
Meanwhile, brush the remaining oil over the halloumi slices and cut-side of the brioche buns. Cook for 2–3 minutes or until lightly charred.
Mix the chopped onion, tomato, cucumber, and mint with the lime juice and season well.
To assemble the burgers, put a mushroom on the bottom brioche half and spread it over the hummus. Top with the sliced tomato, lettuce, and halloumi. Spoon over the onion and tomato relish, sandwich with the brioche lid, and eat immediately.
19. Vegan Sloppy Joes
Ingredients
1 tablespoon olive oil
12 ounces of vegan ground beef
1/4 cup yellow onion chopped
1/4 cup green bell pepper chopped
1/2 teaspoon garlic powder
1 teaspoon yellow mustard
3/4 cup ketchup
1 tablespoon light brown sugar
salt to taste
ground black pepper to taste
Directions
Into a medium-sized skillet over medium heat, add the olive oil. Add vegan ground beef, onion, and pepper when the oil is hot.
Cook for 5 minutes, occasionally stirring, until the vegan beef is browned and the vegetables are softened.
Stir in the ketchup, brown sugar, mustard, garlic powder, salt, and pepper.
Reduce heat to a low simmer for 20 minutes, stirring occasionally.
Pile the sloppy joe mixture onto toasted burger buns and serve warm.
FAQ
What are some good camping food ideas?
Foil packet dinners: Foil packet dinners are easy to make and require minimal cleanup. Place your choice of protein (such as chicken, fish, or vegetables) in a piece of foil, seal it up, and cook it over the campfire or on a stove.
One-pot meals: An excellent option for camping, as they are easy to make and require minimal cleanup. Make a one-pot pasta or a one-pot stew for a hearty and delicious meal.
Grilled meals: Grilled meals are a classic choice for camping. Try grilling chicken, steak, vegetables, or fish for a delicious and hearty meal.
Soups and stews: An ideal option for camping, as they are easy to make and can be cooked in a pot over the campfire or on a stove.
Quesadillas: Easy to make and require just a few ingredients. Place cheese and any desired fillings (such as beans, vegetables, or meat) between two tortillas and cook in a pan or over the campfire.
Pancakes: Pancakes are a classic camping breakfast. Mix up some pancake batter and cook in a pan over the campfire or on a stove. Serve with syrup and butter for a delicious breakfast.
Grilled cheese and tomato soup: This classic combo is easy to make over the campfire and requires minimal ingredients.
What food should I bring for 3 days camping?
Breakfast: Pack items like oatmeal, granola, and instant breakfast drinks for quick and easy breakfasts. You could also bring some eggs, bacon, and bread for a more substantial breakfast.
Lunch: Pack non-perishable items like peanut butter, crackers, and jerky for lunch. You could also bring along some canned soup or pre-made sandwiches.
Dinner: Bring along some easy-to-prepare meals like instant noodles, canned beans, and pre-made pasta sauce for dinner. You could also pack some fresh vegetables and protein (such as chicken, steak, or fish) to grill over the campfire.
Snacks: Pack some non-perishable snacks like trail mix, jerky, and energy bars to have on hand throughout the day.
Drinks: Remember to bring enough water bottles or a hydration system to keep yourself hydrated throughout the trip. You could also get sports drinks or electrolyte tablets to replace any minerals you lose through sweat.
What To Do Next?
Now that you found a perfect lunch idea, it's time to check our list with plenty of camping breakfast and dinner ideas and fuel yourself for fun activities.
What do you think about this article? Feel free to write your thoughts, experience, and some fun stories in the comments. We would like to hear from you! Thank you