---
Top Pick & Best Overall Blackout Tent For Camping
---
Why You Should Trust Us
We're Anja & Alex, a couple of gear geeks and outdoor enthusiasts with 10+ years of living with the outdoors. During countless road trips and adventures, we've made a million mistakes and had a lot of bad purchases. It helped us develop an eye for detail and an obsession to find the best product.

This website is our try to help you avoid buying crap gear. It is founded on the principles of honest, detailed, objective, and independent camping and hiking gear reviews we would like we had when we were younger and inexperienced.

Our review process starts with selection: we look at hundreds of products to determine the top contenders in each category. We then spend weeks testing it and researching the top contenders for detailed comparison testing. We don't accept any manufacturer's free evaluation units or paid endorsements. Our focus is strictly on creating content for the benefit of our readers. To learn more about us, click here.
---
Are you tired of waking up with the first rays of the sun during your camping trips or festivals?
I can help! This comprehensive review unveils the best blackout tent that promises uninterrupted rest and unmatched camping comfort.
I'm a camping enthusiast with 10+ years of experience and an inexhaustible desire to provide the necessary knowledge and help to other campers. I tested 80% of the dark rest tents you will find in this review, and when I don't personally use gear, I do super comprehensive research and speak to fellow campers who tested particular pieces of equipment.
Join me as I dive into the best blackout tents and discover why Crua Combo Maxx stands out, delivering the ultimate camping haven for you and your loved ones.
Table of Contents
Buyer's Guide: Choosing the Perfect Dark Rest Tent
Rest assured, this guide will be your compass, steering you toward a dark room tent that promises a peaceful night's sleep under the stars.
Blackout Technology
Picture this: the sun sets, nature's lullaby begins, and you slip into a cocoon of darkness within your tent. Seek tents crafted with high-tech fabrics or coatings to ensure you sleep like royalty. No more early morning sun rays waking you up.
Size and Capacity
Whether you're a solo adventurer, a small family, or a party of pals, size matters! Prioritize a dark tent with enough room for everyone to sprawl out comfortably. Consider dividers or multiple compartments for privacy and organization, ensuring your camping crew enjoys their little paradise.
Durability and Weather Resistance
Nature can be a wild ride, but your tent should be the sturdy steed that weathers the storm. Look for top-notch materials like tough fabrics and burly poles built to withstand Mother Nature's surprises. Remember the waterproof and weather-resistant features – your dark tent should be a sanctuary from rain or windy whims.
Versatility and Adaptability
Don't be held back by the seasons – your tent should be ready to roll all year round! Opt for models with removable rainfly, adjustable vents, and adaptable features that let you customize your shelter. Your tent should be your trusty companion from sun-soaked summers to chilly winters.
Setup Ease and Portability
People want to avoid fumbling with complicated setup instructions after a long day's journey. Look for tents with a user-friendly design that pops up like a breeze or comes with color-coded poles for effortless assembly. If you're a wandering soul, go for a lightweight, compact option that fits snugly in your pack, ready to hit the trail quickly.
Ventilation and Airflow
Condensation is the ultimate camping buzzkill! A well-ventilated tent is your secret weapon against stuffiness. Seek tents with smartly placed mesh panels, nifty windows, and vents that let the breeze dance through.
Additional Features
Little touches make a big difference! Look for tents with nifty extras like pockets for stashing your gear, gear lofts to keep things organized, or even power cord access for charging your gadgets. These thoughtful features turn your tent into a cozy home away from home.
---
➤ Dimensions of Duo Maxx (Outer Tent)
Width: 6.5ft / 200cm
Length: 7.5ft / 230cm
Height: 4.4ft / 136cm
Packed Dimensions: 20.8 x 7 x 7 in / 53 x 18 x 18 cm
Packed Weight: 7.49 lbs / 3.4 kg*
➤ Dimensions of Culla Maxx (Inner Tent)
Width: 6.2ft / 190cm
Length: 6.8ft / 210cm
Height: 3.7ft / 115cm
Packed Dimensions: 27.5 x 17.7 x 17.7 in / 70 x 45 x 45 cm
Packed Weight: 19.8 lbs / 9 kg*

➤ Specs
Sleeping Capacity: 3 People
Doors: 1 Door
Guylines: Luminous and Elastic Guy Lines
Zips: Heavy-Duty Luminous Jumbo Zips
Tent Repair Patch Kit: Included
Tent Pegs: 17PCS – 6.8in / 17.5cm
As a camping enthusiast with over a decade of rugged adventures under the starry skies, let me share my favorite blackout tent – the Crua Combo Maxx.
Picture this: after a day of hiking through lush forests and marveling at breathtaking sights, the night begins to fall, and it's time to rest. As you crawled into your Crua tent, you were instantly enveloped in darkness – a cocoon of serenity and peace. No pesky rays of sunlight, no intrusive headlights from passing cars – just tranquility and the promise of a blissful night's sleep.
And then, imagine waking up undisturbed by the first rays of the sun. And above all, Crua Maxx is a perfect insulated tent so that you can forget about cold feet and numerous night clothes. What a fantastic combo Crua created.
Key Features & Benefits You Get With Crua Combo Maxx
✅ Blackout Bliss
There's nothing quite like waking up naturally to the soft sounds of nature without the harsh jolt of early morning sunlight. The Crua Combo Maxx delivers an outstanding sleeping experience thanks to its blackout technology and excellent insulation. As I lay in the darkness, I felt a sense of calm wash over me, knowing I could sleep peacefully, undisturbed by the outside world. It is an incredible feeling.
✅ Spacious Serenity
This three-person tent isn't just a space to sleep; it's a home away from home. With ample room for up to three campers, you'll find comfort and togetherness in the heart of nature, making it ideal for small families, friends, or couples seeking a cozy escape. When camping with Anja and our son Kalin, the Crua tent effortlessly accommodated all of us, offering enough space to move around comfortably and even store our gear without feeling cramped.
✅ Weatherproof Warrior
During one particularly stormy night, we witnessed its resilience in action. Rain pelted the tent, and winds howled, but we were dry and secure inside. The weatherproof materials and robust construction proved their worth, offering peace of mind during inclement weather. So, conclusion: No matter what Mother Nature throws your way, the Crua Combo Maxx has you covered!
✅ Adaptable Comfort
The Crua Combo Maxx is a versatile companion that handles all seasons. Its detachable Cocoon layer provides added insulation, keeping you warm and snug. On warmer days, the tent's multiple ventilation options kept the interior cool and airy, allowing us to enjoy the outdoors without feeling stifled.
✅ Setup Simplicity
After a long day of hiking, setting up camp should be a breeze. With the Crua Combo Maxx, I was delighted by its user-friendly design and color-coded poles, making assembly quick and effortless. It was a welcome change from the struggles I'd experienced with other tents.
My Experience with Crua Combo Maxx
Having spent nights in various tents over the years, the Crua Combo Maxx left a lasting impression on me. The immediate darkness embraced me as I crawled inside, creating a peaceful ambiance that eased me into slumber.
Its spacious interior allowed me to stretch out comfortably (to mention that I'm 6.5ft), and the thoughtful design kept all our gear neatly organized.
On a particularly stormy night, the tent's weatherproof prowess shined through, offering a sense of necessary security. From chilly autumn nights to balmy summer evenings, the Crua Combo Maxx was an adaptable companion, enhancing our camping adventure to new heights.
Why Would You Like This Tent
✅ Blackout technology ensures peaceful and restful sleep.
✅ Ample space for up to three campers, fostering a sense of togetherness.
✅ Weather-resistant materials offer reliable protection from the elements.
✅ The versatile design caters to varying weather conditions for year-round use.
✅ Thoughtful pockets and organizers keep gear neatly stored and easily accessible.
✅ Sturdy construction and durable materials ensure longevity.
Why Would You Not Like This Tent
❌ While it may be a bit pricey, the unparalleled features and quality make it a worthwhile investment for your camping adventures.
❌ The tent's setup can be complex for first-time users, but it becomes a breeze once you get the hang of it.
In conclusion, the Crua Combo Maxx reigns as the ultimate blackout tent, ushering you into a world of darkness, comfort, and serenity during your camping adventures. Embrace the night, immerse yourself in blissful sleep, and awaken, ready to explore with this exceptional three-person, four-season tent by your side. If you seek a camping haven that caters to your every need, the Crua Combo Maxx is the way to go.
---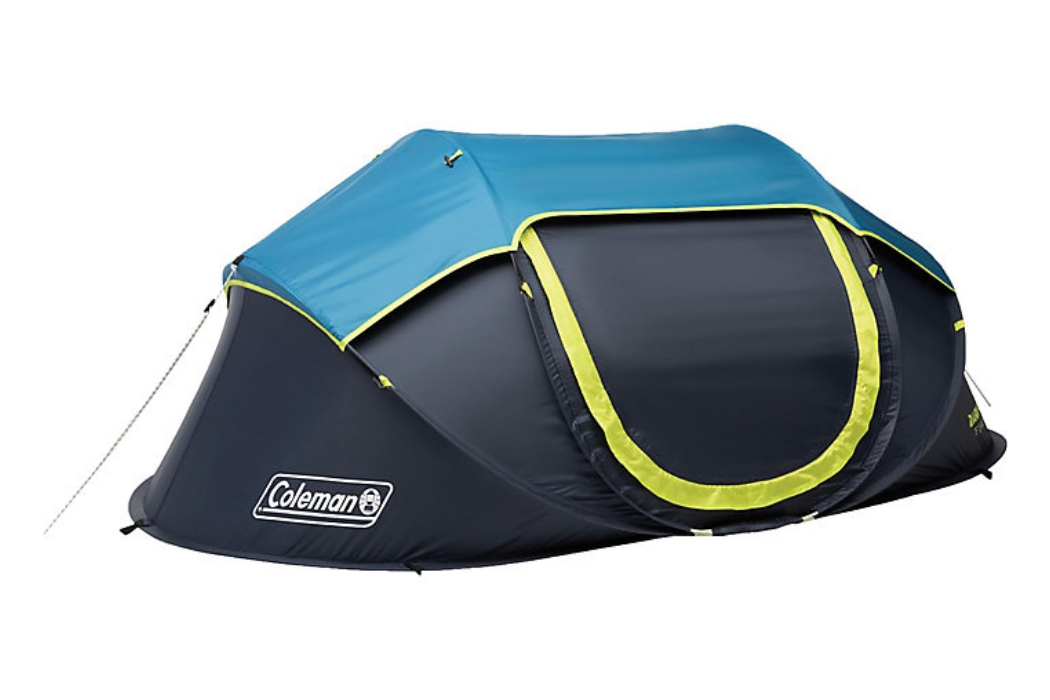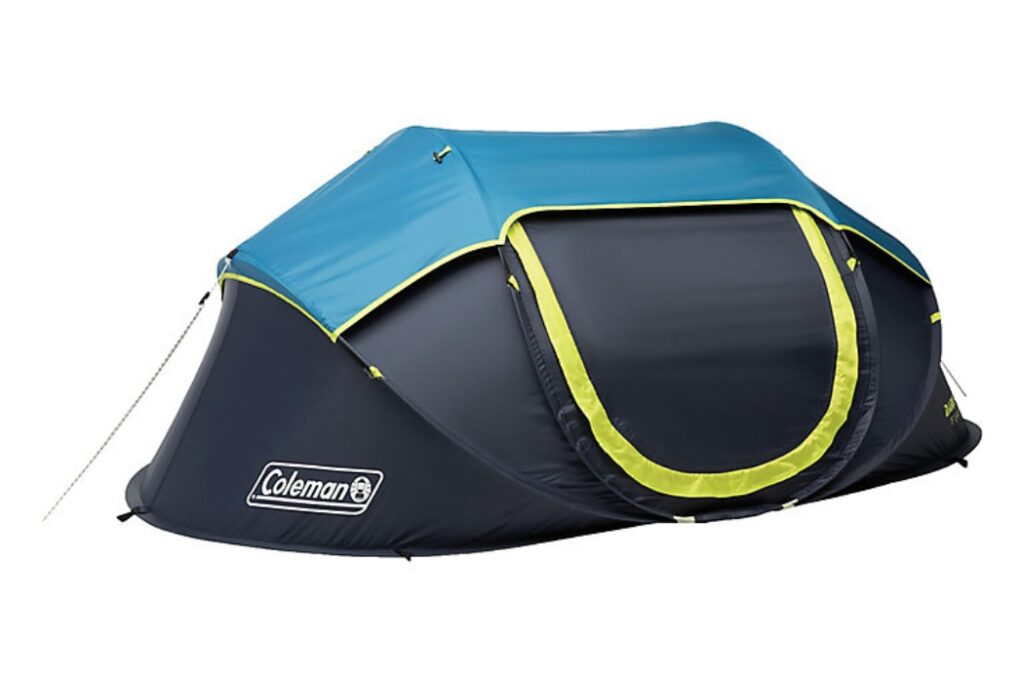 ➤ Center height: 2 ft. 11 in.
➤ Windows :1
➤ Number of doors: 1
➤ Footprint: not included
➤ Tent Room divider: no
➤ Vestibule Area: no
➤ Tent Floor Area: 7 ft 6 in x 4 ft 5 in x 2 ft 11 in
➤ Tent Capacity: 2 person
➤ Weathertec: No
➤ Tent Shape: Dome
➤ Warranty: 1-year
If you're tired of missing out on precious sleep during your camping trips and searching for a super affordable 2-person tent, my friend, look no further than the Coleman 2-Person Tent.
Coleman is the first brand to introduce blackout technology worldwide, making me confident that they know what they are doing!
As a camping expert with years of experience, I can confidently say this tent is a great 2-person option. Its innovative features, including the ability to block 90% of sunlight and its lightning-fast 10-second setup, make it stand out as the best 2-person dark rest tent in my roundup review.
Check the tent's key features and benefits and see how it can transform your camping adventures.
Key Features & Benefits You Get
✅ Dark Rest Technology – Coleman's 2-Person Pop-Up Tent boasts remarkable Dark Room Technology, a true game-changer for your camping experience. Say goodbye to being rudely awakened by early morning rays! Not only does this technology create a restful ambiance, but it also significantly reduces heat inside the tent. So, when the sun is at its peak, you'll feel cool and comfortable inside, allowing you to recharge and be ready for the day's adventures.
✅ Fast Setup & Folds Flat – As someone who cherishes every moment in the great outdoors, I can attest to the 10-second setup Coleman's 2-Person Pop-Up Tent offers unparalleled convenience. The pre-assembled poles effortlessly spring into place, enabling you to have your shelter ready in no time. No more tedious and time-consuming setups that eat into your precious camping hours! Additionally, when it's time to pack up and move on to the next adventure, this tent folds flat with remarkable ease, making it incredibly convenient to store and carry. You'll find yourself relishing the freedom to explore without being weighed down by cumbersome gear.
✅ Adjustable Rainfly – Mother Nature can be unpredictable, but with the adjustable rainfly featured in this tent, you'll be prepared to face the elements confidently. The rainfly shields you from rain and wind and provides much-needed ventilation to ensure a comfortable experience. Stay dry and protected during unexpected showers while enjoying a well-ventilated and pleasant interior, making every moment spent in the tent enjoyable.
✅ Stay Dry – Having experienced my fair share of rain-soaked camping trips, I genuinely appreciate the value of taped floor seams in the Coleman 2-Person Pop-Up Tent. These sealed seams are a formidable barrier against moisture, preventing water from seeping inside and keeping you comfortably dry. So, you won't have to worry about damp and uncomfortable sleeping conditions, allowing you to embrace the beauty of nature without any unwelcome surprises.
✅ Gear Pockets – Staying organized while camping can be challenging, but Coleman's thoughtfully designed 2-Person Pop-Up Tent perfectly addresses this concern. Including convenient gear pockets lets you keep essential items neatly stowed away and easily accessible. Forget rummaging through your belongings in search of that elusive flashlight or multitool! With everything organized and within arm's reach, you can focus on enjoying the outdoor experience to the fullest.
Why You Wouldn't Like This Tent
❌ Peak height may be limiting for taller campers.
❌ Limited space for two adults and gear may feel cramped during extended stays.
❌ The pop-up design may require extra care and attention during folding to avoid damage.
---
➤ Dimensions: 9 ft x 7 ft with a center height of 4 ft 11 in (2.74 m x 2.13 m x 1.50 m)
➤ Capacity: 4 people
➤ Entry points: 2
One more Coleman baby in the room. And there will be more.
So, this tent is the same as the previous one, but larger. It can fit 3-4 people. You will feel slightly cramped if you have four adults in a group and the gear. It was our case. So, keep that in mind. Besides that, the tent passes the test! It is an excellent piece of camping gear, neither for campers nor festival lovers.
Let's check the benefits you get with this tent!
Key Features & Benefits You Get
✅ Blackout Technology – It blocks up to 90% of sunlight, allowing you to sleep peacefully even as the sun rises. Trust me; those lazy mornings inside this cozy cocoon are pure bliss. It significantly reduces interior heat, keeping you cool and comfortable when the sun peaks.
✅ WeatherTec™ System – Rain showers can't dampen your spirits when you have this tent. Its WeatherTec™ System, with welded floors and inverted seams, ensures you stay dry and cozy during unexpected rain. No worries about waking up to a soggy sleeping bag – you're all set for an enjoyable adventure, rain or shine.
✅ Fast Pitch™ System – Setting up camp has never been quicker. The Fast Pitch™ System with pre-attached color-coded poles and hub made assembly a breeze. Within moments, we were ready to embark on camping adventures, leaving more time for marshmallow roasting and stargazing, so you will too!
✅ Ground Vent – Ventilation matters, and this tent gets it right. The ground vent helps reduce condensation, ensuring a fresh and comfortable interior. I appreciated this feature during warm nights when the breeze gently whisked away any stuffiness, allowing us to enjoy our time inside the tent fully.
✅ Two Entry Points – In a 4-person tent, easy access is a must. Coleman nailed it with two entry points, making it a breeze to come and go without disturbing your camping buddies. No more awkward acrobatics to get in or out – just simple and easy access for everyone.
Cons
❌ While it comfortably fits four people, space for four adults with gear may feel tight.
❌ Taller campers may find the center height of 4 ft 11 a bit limiting.
---
➤ Weight: 37 lbs (16.8 kg)
➤ Packed Size: 28" x 13" x 12" (70 cm x 32 cm x 30 cm)
➤ Floor Size: 189" x 122" (480 cm x 310 cm)
➤ Peak Height: 76″ (195 cm)
➤ Number of Compartments: 3
➤ Occupancy: 5
➤ Shape: Tunnel
Oh, look, one more Coleman tent.
This time, let me introduce you to a true masterpiece in blackout tents when it comes to larger tents. If you are ready to elevate your family campout to new heights, I recommend Coleman Rocky Mountain 5+.
Imagine having your living room amidst nature's beauty, offering comfort and luxury like never before. You just imagined Rocky Mountain!
Key Features & Benefits You Get With This Family Oasis
✅ Inside the tent, you'll find room to accommodate five campers, with an internal divider creating two separate bedrooms for added privacy. But that's just the beginning – the spacious hang-out area in the front is a game-changer. Bring a table, chairs, or any gear you desire, from mountain bikes to kayaks, and enjoy quality family time like never before.
✅ The living room boasts clear vinyl windows, providing breathtaking rainy-day views, while the pole-supported awning ensures dry entry and exit through the front door.
✅ Let's talk about doors – Coleman certainly didn't hold back in this department. The Rocky Mountain 5 has one of the tallest doors I've ever seen in my 10+ years career, standing at a whopping 76 inches. Step inside, and you'll feel an immediate sense of space and comfort, making every entry and exit a breeze.
✅ Now, let's get to the highlight of this tent – the blackout feature. The back bedroom section can be easily clipped in and out, allowing you to tailor your camping experience.
✅ Once inside, you'll find a sleeping paradise with black paneling that turns your sleeping quarters into near-pitch-black sanctuaries. Coleman went the extra mile by adding a second layer of black fabric to the rear of the tent, ensuring condensation was a thing of the past. And when you're outside the sleeping area, you'll be welcomed by bright and airy surroundings – the best of both worlds, whether it's bedtime or lunchtime.
Why You Won't Like This Tent
While I adore the Coleman Rocky Mountain 5 Plus, a few aspects are worth mentioning.
❌ Ventilation is primarily through the large mesh front door and a smaller mesh window at the rear, with vinyl windows limiting airflow. During rainy weather, zipping up the tent can make it feel stuffy, despite the addition of covered vents near the living area floor.
❌ Also, it's essential to consider the price, which may be on the higher side, especially for a Coleman tent. However, when you weigh the darkness and exceptional livability this tunnel-style tent offers, it becomes clear that it provides an unmatched luxury experience.
---
➤ Weight: 22.1 lb (10 kg)
➤ Center Height: 6 ft 4 in (193 cm)
➤ Dimensions: 12 x 9 ft (366 x 274 cm)
➤ Area: 108 ft² (10 m²)
➤ Area per Person: 13.5 ft² (1.25 m²)
➤ Packed Size: 25.5 x 10 x 10 in (65 x 25 x 25 cm)
I hear you; One more Coleman, oh boy. But keep reading, and you will be grateful you found this tent on my list.
When it comes to family or group camping, finding a tent that combines comfort, convenience, and reliability is like discovering a hidden gem in the wilderness.
During my camping trip with family and friends, Coleman Skydome 8-Person Tent exceeded my expectations and left a positive impression on how you can transform your camping into an experience of pure joy and relaxation for a fraction of the cost!
Key Features & Benefits You Get
✅ Dark Room Technology – This tent becomes a sanctuary of relaxation thanks to the Dark Rest technology. Blocking 90% of sunlight allows campers to sleep past sunrise, ensuring well-rested mornings without the sun's harsh glare. The reduced interior heat makes it perfect for afternoon naps, providing a relaxed and cozy environment for a quick snooze.
✅ Fast and Effortless Setup – Setting up this skydome tent with pre-attached poles is a breeze. In under 5 minutes, you're ready to start making unforgettable camping memories. No more wasting time struggling with complicated assembly instructions – this tent lets you maximize your outdoor adventure time.
✅ WeatherTec™ System – Camping is even more enjoyable when you don't worry about unexpected downpours. The WeatherTec™ system, featuring welded corners, inverted seams, and taped seams, ensures you and your gear remain dry and comfortable during rainy weather. No need to fear the rain ruining your camping – you're well-protected.
✅ Ample Headroom – The nearly vertical walls of the Coleman Skydome Darkroom tent provide 20% more headroom compared to traditional dome blackout ents. It means you can move around freely without feeling cramped, adding a sense of spaciousness inside the tent. No more hunching over or feeling confined – your camping home feels comfortable and accommodating.
✅ Sturdy Frame – Camping in windy conditions can be nerve-wracking, but the strong frame of this tent is up to the task. Tested to withstand winds up to 35 mph, you can rest assured that your shelter will stand firm, keeping you safe and secure in various weather conditions.
✅ Convenient Wide Door Design – The wide door design of the Coleman Skydome Darkroom tent makes moving gear in and out hassle-free. Whether it's airbeds, sleeping bags, or camping equipment, you won't face any struggles maneuvering through the entrance. It's a small but impactful feature that adds convenience to your adventure.
✅ Mesh Storage Pockets and Gear Loft – Keeping your camping gear organized is essential for a comfortable trip. The tent's mesh storage pockets and gear loft provide handy storage solutions for small items, keeping your living space tidy and clutter-free. No more searching for misplaced items – everything has its place.
✅ Easy Storage and Warranty – The carry bag included with the tent makes storage and transport a breeze. You can pack it up neatly and conveniently when it's time to head back home. Plus, the manufacturer's 1-year limited warranty ensures peace of mind, offering additional assurance of the tent's quality and durability.
✅ Great Value For Money – It is one of those rare tents providing more than you pay. Considering the size and all benefits, this tent is cheap!
Why You Won't Like This Tent
While the tent offers numerous advantages, there are a few cons to consider for a well-rounded evaluation.
❌ Ventilation Limitations: The tent's ventilation system depends on the large front door and a smaller rear mesh window, which work well in warm weather or when the tent is open. However, during rainy or windy conditions, when the tent needs to be closed, the vinyl windows on the sides restrict airflow, leading to potential stuffiness inside.
❌ Weight and Bulkiness: With its spacious interior and robust build, the Coleman Skydome Darkroom tent is not the market's lightest or most compact option. Weighing in at 22.1 lb (10 kg) and packed into a 25.5 x 10 x 10 in (65 x 25 x 25 cm) carry bag, it may be challenging for solo campers or backpackers who prioritize portability.
❌ Occupancy Limit: Despite being labeled as an 8-person tent, managing expectations regarding the comfort level is crucial when accommodating eight adults. While the tent provides ample space, fitting eight adults inside with their gear might result in a slightly cramped environment. For the most enjoyable experience, consider using the tent for 6-7 occupants.
---
➤ Weight: 27.7 lb (12.56 kg).
➤ Official capacity: 10 people.
➤ Dimensions: 16 x 9 ft (488 x 274 cm).
➤ Inner area: 144.2 ft² (13.4 m²).
➤ Inner area per person: 14.4 ft² (1.34 m²).
➤ Peak height: 78 in (198 cm).
➤ Packed size: 25.5 x 10.5 x 10.5 in (65 x 27 x 27 cm)
Ok, I know! I know what you think now! This guy works for Coleman. 🙂
But it's not true. Regarding dark technology, Coleman is the #1, and it will be like that until other brands start making better blackout tents. Fact.
As a seasoned camping enthusiast, Coleman Skydome™ XL 10-Person Camping Tent is designed to elevate your adventures in ways you never imagined. It's very similar to previous tents, but more spacious and heavier.
Check this out.
Key Features & Benefits You Get
✅ Dark Room™ Technology – As with previous Coleman tents, blackout technology reduces up to 90% of sunlight. Beyond restful sleep, it offers the additional benefit of creating a relaxed and inviting space during scorching summer days. Take a well-deserved break from the heat and enjoy a comfortable afternoon refuge inside the tent, feeling refreshed and ready to tackle the next adventure.
✅ Spacious Living with Dual Doors – The tent's thoughtfully designed dual doors provide multiple benefits. Not only do they offer convenient access for all campers, but they also ensure enhanced privacy when needed. No more crossing over each other's space – enter and exit from your side quickly.
✅ Effortless Setup For More Quality Time – With pre-attached poles, setting up camp becomes a breeze, allowing you to enjoy more time with your camping tribe. Spend less time fumbling with tent assembly and more time immersing yourself in the beauty of the great outdoors.
✅ Exceptional Weather Protection – Rain or shine, this dark rest instant cabin tent has your back. The WeatherTec™ system, featuring welded corners, inverted seams, and taped seams, guarantees you and your gear stay dry and cozy, even during unexpected downpours.
✅ Vertical Walls for Freedom of Movement – The tent's near-vertical walls offer an abundance of headroom, ensuring you can stand and move freely inside.
✅ Smart Ventilation Design – The tent's ventilation system has been meticulously crafted to maintain a consistent fresh air flow. Even with the fully zipped tent, the mesh windows promote continuous air circulation, keeping you cool and comfortable during warmer days.
Cons
❌ Due to its size, this dark rest instant cabin may be cumbersome for solo campers or backpacking trips.
❌ The tent's generous capacity may require careful planning and organization for optimal comfort.
❌ Some campers prefer additional storage options for keeping gear and essentials.
---
I recently used the Coleman 4-Person Sundome tent for a week during my national park camping trip. After 10+ years of camping, I developed a flair for cheap but good camping gear. Long story short, the tent exceeded my expectations.
Before taking it to camp, I set it up in my backyard and tested it with a sprinkler to ensure it wouldn't leak during rain. Thankfully, it remained scorched.
During the camp, I had no trouble setting it up, and it efficiently handled heavy rain, keeping everything inside dry. The tent's Dark Rest Technology worked wonders, creating a dark and cozy environment inside, even when I had a bright light. However, it's worth noting that the door design could use improvement as it tends to fall into the tent, allowing water to drip inside.
While I wouldn't recommend it for backpacking due to its weight, the Coleman 4-Person Sundome was a reliable and spacious companion throughout the week, making my adventure enjoyable.
Key Features & Benefits You Get With This Tent
✅ Dark Room™ Technology in this tent creates a serene sanctuary by blocking up to 90% of sunlight. Beyond providing a good night's sleep, this technology keeps the interior cooler during hot days, ensuring you wake up refreshed and ready to embrace the adventures that await.
✅ Easy Setup – The simplicity of setting up the Coleman Sundome Tent is revolutionary in itself. With a straightforward and swift assembly process, you can spend less time pitching the tent and more time enjoying the great outdoors with your camping buddies.
✅ Spacious Interior – The tent comfortably accommodates four campers, providing ample space for airbeds and personal belongings. Whether you're camping with family or friends, this tent fosters a sense of togetherness and comfort for everyone.
✅ Effective Weather Protection – The tent's WeatherTec™ system, featuring patented welded floors and inverted seams, ensures you remain dry and cozy even during unexpected rain showers. Say goodbye to damp gear and hello to worry-free camping.
✅ Durability on a Budget – The Coleman 4-Person Sundome Tent doesn't compromise quality despite its budget-friendly price. It is crafted from durable materials that withstand the rigors of camping, ensuring this investment will serve you well for many future trips.
Why You Won't Love This Tent
❌ Limited Vestibule Space
The tent needs a dedicated vestibule or awning area, meaning there needs to be a designated space to store muddy shoes or wet gear outside the sleeping area. It can lead to clutter inside the tent and compromise the cleanliness and organization of the sleeping quarters.
❌ Single-Room Layout
While the tent comfortably accommodates four campers, it features a single-room layout without dividers. This may limit privacy options for individual campers, especially if there's a need to create separate sleeping or changing areas.
❌ Condensation Build-Up
During humid or cooler nights, condensation can accumulate inside the tent due to limited airflow options. While the tent's ventilation system works well in most weather conditions, campers may experience moisture build-up on the walls and ceiling during specific weather patterns.
❌ Bulkiness and Weight
While the tent is designed for four campers, it might be bulkier and heavier than other 4-person tents on the market. This could pose challenges for backpackers or hikers seeking lightweight and compact tents for their outdoor adventures.
❌ Limited Gear Storage
While the interior storage pockets are helpful for smaller items, the tent may need more space for larger camping gear or equipment. Campers may need to consider alternative storage solutions or invest in additional gear organizers.
❌ Rainfly Attachment
Some users may need help with the rainfly attachment, especially during adverse weather conditions. Properly securing the rainfly might require additional effort and attention, which could be inconvenient in inclement weather.
❌ Stake Quality
The stakes provided with the tent may not be as durable or robust as some campers prefer. Upgrading to more substantial, reliable stakes might be necessary, especially for camping in rocky or challenging terrains.
---
Ok. Pay attention now. In front of you is the king of blackout tents: the Crua Tri, ladies, and gentlemen.
This tent was overbuilt to be an investment that lasts for years and allows you to camp all year round!
My wife and I invested in the Crua Tri three years ago, envisioning it as our cozy haven during festivals. Little did we know that this tent would become essential to our camping adventures for years. Through over a dozen multi-day excursions, enduring diverse weather conditions from scorching heat to freezing sleet, the Crua Tri remains as sturdy and pristine as the day we bought it. This 4-season tent has proven its worth beyond measure.
The only minor drawback is the limited natural light inside the tent during the day. However, any discontent quickly vanishes when we wake up in the pitch-black interior of the Crua Tri, realizing it's already 9 am and our fellow campers had to rise with the sun.
Sleeping Capacity: 3 People
Doors: 1 Door
Windows: 2 Large Side Windows
Pockets: 4 Interior Pockets
Guylines: 15 Luminous and Elastic Guy Lines
Zips: Heavy-Duty Luminous Jumbo Zips
Tent Repair Patch Kit: Included
Tent Pegs: 26PCS – 7in / 18cm
Season: 4 Season Tent
Hydrostatic Head: 5000mmHH
Wheelchair Accessibility: Yes
Packed Weight: 57.3 lbs / 26 kg*
Vents: 3 Large Vents
Width: 7.5ft / 230cm
Length of Sleeping Area: 7.2ft / 220cm
Length of Tent: 11.6ft/ 356cm
Length of Porch (Fully Extended): 11.48ft / 350cm (NB Porch Length can be halved)
Height: 5.2ft / 160cm
Packed Dimensions: 34.6 x 22.8 x 14.5 in / 88 x 58 x 37 cm
Key Features & Benefits You Get With This Tent
✅ Advanced Insulation Technology – The Crua Tri's innovative insulation technology provides a cozy sanctuary every season. It keeps the interior warm during chilly nights, allowing you to embrace winter camping quickly. Conversely, the insulation is a shield during hot summers, providing a cooler and more comfortable environment.
✅ Extra Dark Blackout Tent – The blackout technology in the Crua Tri ensures complete darkness, granting you the luxury of sleeping undisturbed by the sun's early rays or any external light sources. Wake up naturally and refreshed whenever you choose to, without being at the sun's mercy.
✅ Whisper-Quiet Atmosphere – The tent's sound-insulating features create a tranquil and peaceful atmosphere. No more being awakened by noises from outside or fellow campers as the Crua Tri envelops you in a calm cocoon of serenity.
✅ Spacious Design – With ample space to accommodate multiple campers comfortably, the Crua Tri offers the luxury of moving freely without feeling cramped. Its thoughtfully designed layout and vertical walls add to the sense of openness and roominess.
✅ Ultimate Weather Protection – This high-end tent boasts a weather-resistant build, with durable materials and sealed seams to keep you dry and cozy even during heavy rain or unpredictable weather conditions. It's a reliable fortress against the elements, promising peace of mind during any camping adventure.
✅ Multi-Room Configuration – The Crua Tri offers the option to divide the interior into separate rooms, allowing for flexible privacy arrangements. Whether you need individual sleeping quarters or a separate space for gear storage, this tent adapts to your camping preferences.
✅ Exceptional Durability – The premium materials and top-notch craftsmanship of the Crua Tri ensure long-lasting durability. It withstands the rigors of outdoor adventures and remains as reliable and resilient as the day you brought it home.
Why I Wouldn't Say I Like This Tent
❌ Price! This tent is super expensive, but premium features come with a higher price point.
❌ The insulated design may be slightly heavier than non-insulated tents.
❌ Due to its advanced features, the setup process may require more attention and time.
---
➤ Size: 6
➤ Season: 3-season
➤ Tent Type: Dome, Screen Room, Blackout
➤ Weight (lbs): 22 lbs
➤ Max Inside Height (in): 72
➤ Floor: 120 sq ft
➤ Setup Time: 15 mins
Let's be honest right at the beginning and make it clear. Coleman Carlsbad is not in the group of perfect dark room tents. The main reason I put it in my review is that there are not too many other tents with dark room and screen porch options in the market.
The second thing. I didn't use it myself, but I did detailed research and spoke to fellow campers who own it.
So, experiences are different; someone is super happy, others are disappointed.
Let's find out where the truth is.
Key Features & Benefits You Get With This Tent
✅ The Dark Rest Technology is good; all my buddies told me it is pretty dark. So, it is a notable feature that significantly reduces sunlight infiltration, allowing campers to enjoy more restful sleep without being disturbed by early morning rays.
✅ Built-In Screened Porch – Hm… Including a screened porch is a definite advantage for campers with a ton of gear and looking to immerse themselves in nature while being protected from bugs. However, it's essential to note that the screen porch is not fully covered, which may lead to leakage during rainy weather. Overall, some users said that the tent leaked even inside. So, this one is something between the good and downside.
✅ Spacious Interior – The Coleman Carlsbad tent offers a spacious interior layout, providing ample room for multiple campers to sleep comfortably. The added huge porch expands the living area, offering a dedicated space for relaxation and socializing. This option is for 6 people, but there is a smaller version for 4.
✅ WeatherTec™ System is designed to keep campers dry during inclement weather. However, it's important to mention that some users have reported that the screen porch is not entirely waterproof, leading to potential leakage issues during heavy rain.
✅ Ventilation & Comfort – Proper ventilation is crucial for comfortable camping, and the Coleman Carlsbad tent features large windows and adjustable vents to help regulate airflow. It helps maintain a cool and pleasant interior, even on warm days.
Cons
❌ The screen porch is not fully covered, leading to potential leakage during rain. Some users said that it leaks even inside the tent.
❌ Some users may find the tent's weight and size less suitable for backpacking or long-distance hiking.
❌ The complexity of the tent's design may require more attention during setup and takedown.
❌ The tent's price point may potentially don't match quality.
---
✅ Mesh – The tent's mesh design serves two valuable purposes. Firstly, it ensures enhanced ventilation, allowing fresh air to circulate freely throughout the tent, creating a comfortable and breathable environment for campers. Secondly, the mesh acts as a protective barrier, preventing bothersome insects from entering the tent, enabling a peaceful and undisturbed sleep.
✅ XXL Blackout Bedroom – With the blackout fabric blocking an impressive 99 percent of daylight, campers can indulge in a truly restful night's sleep, undisturbed by early morning light. Additionally, this blackout feature provides the added benefit of creating a cooler interior during hot days, offering up to 5 degrees Celsius of temperature reduction, ensuring a more comfortable and refreshing camping experience.
✅ 360-Degree View plus Enhanced Ventilation – The tent's six large windows and mesh roof give campers a stunning 360-degree view of the surrounding landscape, connecting them intimately with nature. Beyond the scenic vistas, these windows maximize air circulation, promoting a well-ventilated and airy atmosphere within the tent. The two hinged doors further improve ventilation, opening effortlessly like traditional doors for easy access.
✅ Sturdy and Easy to Pitch Family Size Octagon Tent – The color-coded steel poles significantly simplify the tent's setup process, ensuring a smooth and hassle-free experience even for larger family-sized tents. This sturdiness is further amplified by the tent's reliable response to wind, offering campers peace of mind during gusty conditions. The ability to transform the tent into a bug-proof screen room by removing the flysheet adds versatility to the camping adventure, allowing campers to enjoy bug-free relaxation.
✅ Waterproof – Coleman's Weather Tec system, featuring an impressive 4500 mm HH (hydrostatic head), combines fully taped seams and a sewn-in groundsheet to create a completely waterproof shelter. Regardless of the weather conditions, campers can rest assured that the tent will keep them dry and comfortable, offering a reliable sanctuary during rain showers or storms.
✅ Enhanced Size – The tent's generous dimensions, measuring 3.96 x 3.96 x 2.15 meters (L x W x H), provide ample space for family and friends to move freely and comfortably inside. With a 15.7 square meter bedroom area, campers can enjoy a cozy and roomy sleeping environment. Despite its size, the tent remains easily transportable, thanks to the practical pack size of 85 x 30 x 30 cm and the inclusion of a sturdy wheeled carry bag for added convenience.
❌ Complex Setup for Novices – While experienced campers may find the tent relatively easy to set up due to the color-coded steel poles, beginners might need help. The unique octagonal shape and large size can be overwhelming for those unfamiliar with tent assembly, leading to potential frustration during the initial setup.
❌ Bulky and Heavy – The tent's larger size and sturdy materials that provide weather resistance also contribute to its weight and bulkiness. Weighing around 20.7 kg, this tent may be better for campers who prioritize lightweight gear or plan to backpack to their camping spot.
❌ Higher Price Point – As a high-end and feature-rich tent, the Coleman Octagon 6-Man Festival Dome Tent comes at a relatively higher price than basic dome tents. While it offers exceptional quality and functionality, the cost may be a consideration for budget-conscious campers.
---
FAQ
How do blackout tents work?
Blackout tents work thanks to specialized fabrics or dark room technology that effectively blocks incoming sunlight and reduces external light sources. The materials are designed to absorb or reflect light, creating a darker interior environment that allows campers to sleep undisturbed by early morning sunlight or artificial lighting. This light reduction improves sleep quality and helps maintain a cooler and more comfortable atmosphere inside the tent during hot days.
Common materials used in blackout fabrics may include polyester, nylon, or other synthetic fibers, along with light-blocking additives or coatings like PVC (Polyvinyl Chloride) or polyurethane.
Can I use a blackout tent for camping in colder weather?
While blackout tents provide excellent light-blocking capabilities, their effectiveness in retaining heat varies. Some blackout tents may have additional insulation features (Crua Combo Maxx), making them suitable for colder weather camping. However, for camping in icy conditions, it's essential to consider using appropriate sleeping bags and insulation layers inside the tent for maximum comfort and warmth.
Are blackout tents more expensive than regular tents?
Blackout tents often come with specialized features like darkroom technology and light-reducing fabrics, which may make them slightly more expensive than regular tents. However, the price range can vary significantly depending on the tent's brand, size, and additional features. When choosing the right blackout tent, it's essential to consider your budget and camping needs.
Are blackout tents suitable for family camping?
Blackout tents can be an excellent choice for family camping trips, especially if you have young children or prefer to sleep in longer. Their enhanced darkness and comfort can lead to better sleep for the entire family, ensuring everyone is refreshed and ready for outdoor adventures.
Are blackout tents 100% dark?
While blackout tents are designed to reduce incoming light and create a darker interior environment significantly, they are not usually 100% opaque. The level of darkness achieved depends on the specific design and materials used in the tent.
Factors such as the thickness and composition of the blackout fabric, the presence of windows or mesh panels, and external light sources can impact the overall darkness inside the tent.
For instance, Coleman guarantees 90%, and Crua promises 99%.
Best Blackout Tents – Final Conclusion
After thorough research and consideration, the standout dark room tents in this roundup review are clear. For the best overall performance and innovative features, the Crua Combo Maxx takes the crown. The Coleman Sundome Dark Room Tent is the top choice for campers on a budget seeking excellent blackout capabilities. Finally, the Coleman Rocky Mountain 5 Plus is the ultimate family tent for families looking for ample space and blackout technology.
P.S. In case you're camping first time or just feeling confused with packing for your next adventure, I crafted a super detailed car camping checklist to save you time and make packing a breeze.