Anja and I have been camping for over a decade. We've heard all types of questions regarding car camping, and I will try to answer some of them in this blog post.
Well, I still remember our first campout weekend when we were newbies at camping. Guess what? We forgot a TENT!
Oh yeah, you read it well.
It was so funny and frustrating at the same time.
So, it was a severe warning for our future camping trips, and we've learned that a car camping checklist is an essential tool for any camper – a must-have holy grail of camping.
After countless adventures and packing processes, we've experienced almost every scenario.
And we've learned a lot along the way.
Now, we decided to finally answer all questions, pack our experience into this complete car camping packing list, save you a LOT of time, and set you up for a successful car camping trip.
Please remember that this list mainly applies to car camping, where you drive to your campsite.
If you're looking for camping, you need to hike to; we recommend checking out our backpacking checklist, which is focused on lightweight gear.
We split it into categories to make it easier for you to navigate through.
If you want to jump straight to a specific subtopic, feel free to use a table of contents.
Table of Contents
Useful Camping Packing Tips
The first question to ask yourself before starting packing is, 'What kind of camping am I doing?'.
It will determine what items you need and should go on your car camping checklist. It will also influence the size of your tent, bedding, and other supplies.
It comes in all shapes and sizes – you may be roughing it for an extended period at a campsite in the middle of nowhere with limited indoor facilities, or you could be car camping at a campground with tons of amenities for fun inside the park where you're staying.
The critical thing to remember is that you'll want to tailor your car camping checklist to meet your needs.
Store all your gear together in a dedicated area or storage bins. You don't want to roam around the house or garage to track everything down the day before take off.
Consider buying a duplicate version for small things like cooking utensils, can openers, and silverware. Second-hand stores can be great for this.
This way, you'll never leave behind a bottle opener in the kitchen drawer at home.
We know this car camping checklist might feel overwhelming if you're new to camping.
But remember that there are many items you can bring from home (bedding, kitchen equipment, first aid kit), and you don't have to run out and buy everything brand new.
Consider local laws and most campsite regulations as you prepare your car camping essentials. Some items may be prohibited, such as fireworks.
Remember that many private campgrounds have an on-site store that sells essential items.
You should also consider whether or not you are staying at a campsite with access to electricity and clean water.
If you still don't know where to go, we recommend you use Dyrt. It is a great place to research campsites, see what amenities the campground offers and read other camper's reviews.
The Complete Car Camping Essentials Checklist
Campsite & Sleeping:
Tent, stakes, and rain fly
Sleeping bags
Sleeping bag liners
Pilows
Blankets/Sheets
Sleeping pad/Air Mattress
Mattress pump (optional)
Camp table
Tablecloth
Lantern/headlamps
Sunshade/Rain shelter
Clothesline and clips
Doormat
Clothing & Footwear:
Down/Synthetic layer
Shirts/Tanks
Long sleeve shirts
Hiking Pants/Shorts
Underwear
Hiking Socks
Hiking shoes
Camp slippers
Lightweight jacket
Base layer (optional)
Rain gear
Sun hat
Warm beanie
Gloves
Sleep clothes
Sunglasses
Swimsuit (optional)
Long underwear
Other optional items for activities
Safety and Hygiene:
First aid kit
Knife
Gear repair kit
Hand sanitizer
Trowel
Toilet paper
Camp Kitchen:
Stove
Stove fuel
Lighter/Matches
Cooler(s)
Water jug
Skillet
Cook pot with lid
Pot holder or heatproof gloves
Instant read thermometer
Sharp knife
Cooking utensils
Cutting boards
Coffee maker
Can opener
Bottle opener
Containers for leftovers
Storage bins
Portable grill grate (optional)
Dutch oven and lid lifter (optional)
Mixing Bowls (optional)
Measuring cups (optional)
Heavy-duty foil (Optional)
Roasting sticks (optional)
Serving:
Plates
Bowls
Forks, spoons, and knives
Napkins
Drink glasses
Coffee mugs
Water bottles
Cleanup:
Dish basin/Sink
Biodegradable soap
Sponge
Scrubber
Cast iron scraper
Microfiber dish towel
Trash bags
Dish drying rack (optional)
Paper towels (optional)
Tools:
Firewood
Firestarter/Kindling
Axe
Charcoal and chimney starter
Water bucket
Shovel
Toiletries:
Toothbrushes
Toothpaste
Floss
Medications
Lip balm
Sunscreen
Bug spray/Insect repellent
Menstrual products
Deodorant
Hand soap
Shower supplies
Quarters for the shower
Shower shoes
Towels
Baby wipes
Extras:
ID, credit card, cash
Camera, batteries, memory cards
Phone
Navigation
Solar chargers
Hammock
Journal and pen
Book
Instruments
Kid's toys or activities
Bikes/Scooters and helmets
Water toys/Lifejackets
Hiking daypack
Other optional items for activities
Indoor Car Camping Essentials
Regarding car camping, everyone has their preferences, and it's ok. However, there are some must-have items we recommend all campers should have in their supplies for inside the tent.
Indoor camping essentials to consider include:
Blankets
Pillows
Cots
A sleeping bag and insulated liner
A plug-in or battery-operated fan
A sleeping pad or mattress topper
An air mattress, a pump, and a repair kit
A heater safe for tent
Earplugs and a sleeping mask
A portable charging station
Outdoor Car Camping Essentials
When you go camping, it's logical that you'll spend much more time outside your tent.
Because of that, you want to ensure the area is safe and functional. Try to choose lightweight and waterproof gear mostly.
Here are some of the outdoor camping essentials you should include:
Tent and tent stakes
Hammer to install tent stakes
A tarp
Mosquito netting
Flashlights or headlamps
Lantern with fuel
Spacious cooler and ice
Refillable water dispenser
Matches or a lighter
Kindling to help start a campfire
Citronella candles to repel insects
Outdoor lightings, such as rope lights or tiki torches
Tablecloth clips
Approved firewood
Campsite deco (optional)
Shelter & Sleep System
A camping shelter and sleep system are crucial to your campout. It consists mainly of a tent, sleeping bags, and a sleeping mat.
The quality of these car camping gear will directly influence your whole camping trip experience.
Also, double-check before take-off because forgetting something will ruin your adventure (we felt it on our skin).
When shopping for a sleep system, some essential things to consider are size, type of cover, ventilation, sleeping space, weight capacity/portability, price range, and compatibility with other gear you may need for an adventure.
Camping Tent
First things first, you'll need a tent. Don't be like us from 10 years ago. (read intro)
A camping tent is an essential piece of equipment for any outdoor enthusiast.
It is the ultimate safe and cozy place in nature.
A good tent will keep you dry and comfortable in all sorts of weather, from light rain to heavy snow.
Choosing a tent appropriate for the number of people you're camping with is also crucial – there's nothing worse than being cramped up in a tiny space!
While there are some alternative shelters like hammocks and bivvies, for most campers, a tent is by far the most suitable option.
When shopping for a tent, there are several things to reflect on:
More significant is only sometimes better; lightweight tents can pack small enough to fit into even the most miniature backpacks.
Also, manufacturers tend to be slightly optimistic about how many people can comfortably sleep inside a tent.
For example, the four-person tent will accommodate four people when their sleeping mattresses lay beside each other – leaving little to no free space. If you want extra interior space, you would like to size up.
Weather resistance and wind strength
Pay attention to the weatherproofing features of the tent. Additionally, a decent-sized entry can be helpful in wet conditions. Check out our reviews on:
Best Tents for Hot Weather
Best High Wind Tents
Ensure your tent has proper insulation, so it doesn't become an icebox during cold periods. Many manufacturers also offer winterization kits which additional covers and padding.
Ensure your tent has plenty of ventilation to avoid stuffiness and condensation build-up.
If you're looking for expert advice and in-depth reviews, check out our guides:
Camping Mattress / Sleeping Pad
Another essential part of your car camping checklist is if you ask us.
Let me tell you another story.
When camping for the first time in my life, I didn't bring a sleeping pad or mattress because I was sure it wasn't necessary. (what an idiot)
I remember sleeping in a tent in the middle of the forest. (with other friends, don't worry)
It was summer, a hot period, but the night was so cold, and I was freezing. I absorbed all the cold from the ground, literally.
But, one more lesson to learn.
Consider a few things when deciding whether to bring a sleeping pad or air mattress on your next car camping.
Sleeping pads provide insulation from the cold ground and can be more comfortable than lying on a bare tent floor.
Air mattresses are also suitable for campers who want more cushioning but can be more difficult to inflate and deflate.
If you're unsure which one is right, please drop us a line in the comments or send us a message, and we'll do our best to provide you with good advice.
Sleeping Bag
A suitable sleeping bag on your car camping checklist is essential for a good night's sleep.
A few things to remember when choosing a bag, such as a temperature rating, weight, and size.
The temperature rating is the lowest temperature at which the bag will keep you comfortable. If you plan on camping in cold weather, choose a pack with a low-temperature rating.
Typically, this rating tells you what the low limit of the bag is – which is different from a comfort rating.
The weight is another important consideration, especially if you plan on backpacking. Choose a lightweight bag that you can efficiently carry.
Finally, consider the size. Make sure it is big enough to fit you comfortably but not so large that it is difficult to carry.
During our 10+ years of experience, we noticed many fellows need some additional info considering down or synthetic sleeping bags. So, we asked our dear contributor Milica (an outdoor expert with over 5 years of experience in hiking, camping, and backpacking) to break it down and write an in-depth article.
You can check that one here.
Blankets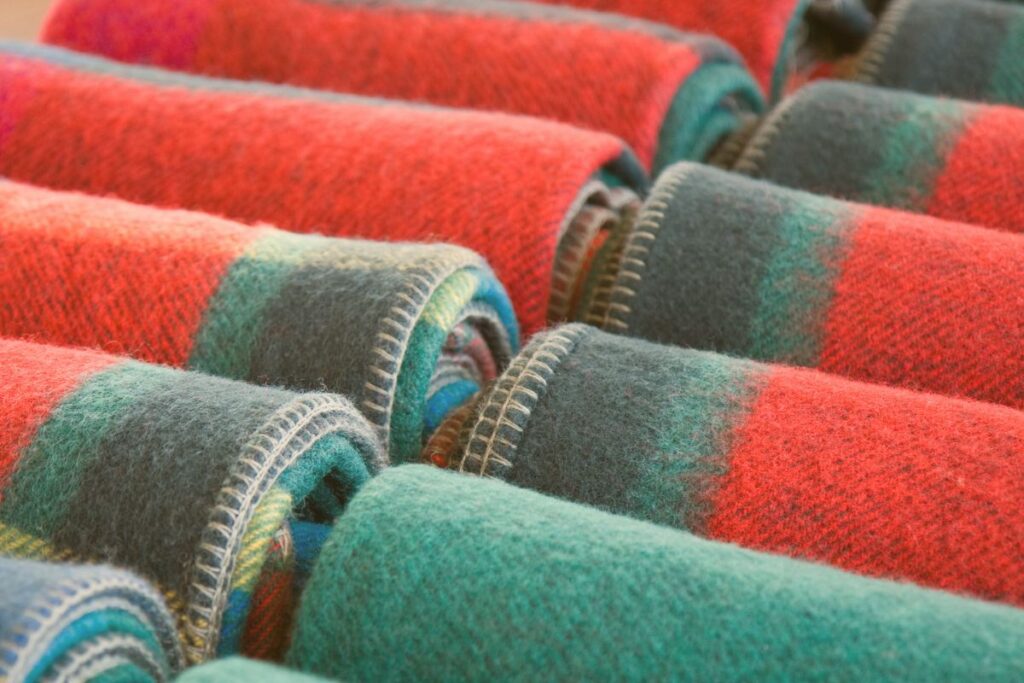 A blanket is a valuable piece of camping equipment for a car camp.
Here are a few reasons you should add a lightweight blanket to your car camping checklist:
Blankets help keep you warm in cold weather conditions. Even if the outside temperature feels freezing, wearing a light cover will help you stay warm.
A lightweight blanket can also be handy as an emergency raincoat or windbreaker if bad weather occurs while camping.
Camping Pillows
First, I would like to tell you that when car camping, we bring our pillows from home; it's more comfortable. But we also have a pair of inflatable camping pillows, which we use periodically.
So, there are a few factors to consider when deciding whether or not you need a pillow on your car camping checklist.
First, choosing how often you will be using it is essential. An inflatable one will do just fine if you only use it occasionally.
However, investing in a quality camping pillow is worth acquiring if you use it more frequently.
Another consideration is the type of sleep you expect while car camping.
If sleeping on your back is your preferred method, then a camp pillow may not be best suited for you because it is designed primarily for people who sleep on their side or stomach.
Instead, look for pillows with features designed specifically for backpacking or car camping adventures, such as shoulder straps and head wings that help distribute weight evenly throughout your body during sleep.
Campsite Essentials
When we have covered the complete sleep system, it's time to jump into the camping accessories you will need for your next campout.
Camping Chair
Camping chairs are a great way to make outdoor adventures more comfortable.
They come in various styles, sizes, and colors, so you'll find one perfect.
Here are a few things to consider when choosing a camping chair:
If you carry long chair distances, weight is a vital factor to consider. The lighter the chair, the easier it will be to transport.
Make sure to choose a big enough chair. You don't want to be cramped up while trying to enjoy the outdoors!
Consider what type of material will best suit your needs. Camping chairs are generally made from either metal or fabric. Metal chairs are usually more durable but heavier, while fabric chairs are lighter but might not withstand heavy use.
Camping chairs can range in price from around $20 to $200+. You'll want to choose a model that fits your budget. But remember that cheaper models might offer fewer features and quality.
Check out our in-depth review of the best heavy-duty camping chairs here.
Camping Table
A camping table is always the right option when car camping, and here is why you should include it in the car camping checklist.
A good, sturdy table will make dining outdoors much more comfortable.
Not only does a camping table make outdoor eating more straightforward, but it also comes with plenty of benefits you may not have considered before.
It makes food preparation and cleanup much faster and more comfortable. Preparing meals on a tabletop instead of off the ground saves time and energy.
Your kitchen area won't be cluttered thanks to an easily accessible dining surface. This way, you avoid fumbling around under logs or behind rocks to find utensils!
Most developed campsites will provide picnic tables and benches, but you'll likely need to get your own if you plan free camping.
The portable tables are great because you can place them wherever is most convenient, compared to heavy picnic tables at the campgrounds.
We find an extra camp table lovely, even if there's a picnic table at the site.
Lighting
Car camping is an endlessly fun and exciting experience, but it can also be quite dark at night.
You will want to bring along some lighting to make your car camping trips more enjoyable and safe.
Consider bringing some lanterns and headlamps. Sometimes, we even use decor lighting to make the atmosphere more cozy and enjoyable at night.
Headlamps help keep you safe while hiking at night and provide light when exploring caves or other dark places. Choose models with low-glare lenses to minimize eye irritation.
LED lanterns are lightweight and use LED bulbs instead of traditional halogen bulbs, which makes them much less expensive and easier to carry around.
Various types of camp lighting are available today so that you can find one perfect for your needs.
Some general tips when choosing camp lighting include selecting lights that are bright enough to see in the darkness but not too bright to cause discomfort or distraction.
Additionally, ensure the light fixtures are durable and weatherproof so they don't get damaged during rough terrain or rainy conditions.
And finally, choose lights with adjustable brightness levels if necessary so you can customize them to your preference.
Sunshade / Rain Shelter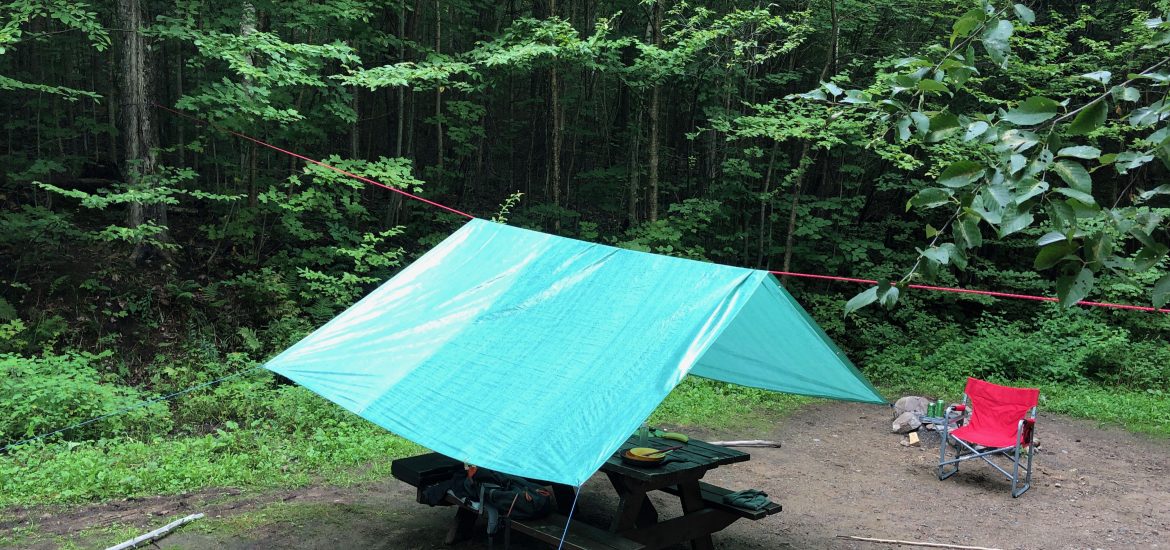 Regarding sunshades and rain shelters, ​​always check the weather forecast before heading out into the wild.
If you're visiting an area with limited tree coverage or expect rain, a sunshade or rain shelter is a great way to keep you dry and comfortable.
Sunshades block the direct sunlight from reaching you, while rain shelters protect you from the elements.
Both products come in various shapes and sizes, so you can find one that works best.
Camping Kitchen Must-Haves
Cooking in the great outdoors is a unique experience. Food is much more delicious when prepared in nature. Period.
You can set up your outdoor kitchen in so many different ways, and we'll write an article in the future covering that topic.
But for now, let's see what you need on your car camping checklist.
Camp Stove & Fuel
A camping stove is essential for any car camping trip. It is the key to delicious camp meals at the campsite.
With so many different types and models on the market, knowing which one is right for you can take time.
Here are a few things to consider when choosing a car camping stove:
Stoves come in various fuel types, including propane, butane, kerosene, and unleaded gasoline. Each has its benefits and drawbacks, so choosing the one that best suits your needs are crucial.
Another important consideration is the size and weight of the stove. If you're car camping, weight may not be as big of an issue.
Burn time is how long the stove will run on a single fuel tank. Consider this vital if you cook multiple meals or boil water for coffee.
If you're camping in windy conditions, look for a stove with some windscreen or wind protection. It will help keep your flame burning steady.
If you want to learn more about stove fuels and which is the best for you, check out our comprehensive guide on butane vs propane camp stove.
Cooler
If you ask us, a cooler is one of the essential items you have to fit on your car camping checklist.
A good cooler will keep your food and drinks cold, whether camping in the heat of summer or in the middle of winter.
Here are a few things to look for when choosing a cooler for your next camping trip:
Make sure to choose a big cooler to fit all the food and drinks you'll need for your trip. If you're going on an extended camping trip, consider getting two coolers – one for food and one for drinks.
The thicker the insulation, the longer your food and drinks will stay cold. Look for coolers with thick walls and lids and insulated liners.
The best coolers can keep ice frozen for days at a time. If you'll be camping in hot weather, this is especially important.
If you plan on hiking or backpacking with your cooler, ensure it's lightweight and easy to carry. Look for coolers with straps or handles that make them easy to transport.
Coolers can range in price from very affordable to quite expensive. Decide how much you will spend on a cooler before you start shopping around.
We have a super helpful guide on how to pack a cooler like an expert in 7 simple steps, so make sure to check it out.
Water Jug
Having a refillable water jug on your camping trip is so convenient. It is just handy and super helpful.
They are lightweight, easy to carry, and perfect for your car camping checklist.
Most have a built-in filter system that helps eliminate harmful bacteria and particles from the water before you drink it.
Once you fill it, you have available water for filling bottles, cooking, and cleaning up right at your site.
Plus, they're dishwasher safe so that you can keep them clean while on the go.
Food Prep and Dish-Washing Supplies
Here are some of the fundamental supplies you'll need for preparing food and washing dishes:
A pot or frying pan with a tight-fitting lid is essential for cooking over an open fire or stovetop.
The tight-fitting lid prevents smoke from entering the pot, reducing your food's quality.
A dishwasher detergent (soap) designed explicitly for cleaning pots, pans, plates, cups, etc., as this will help remove all traces of bacteria before you put your food into storage or eat it out loud!
An oven mitt made from heavy-duty cloth or vinyl material to protect your hands while handling hot pots and pans. Gloves will protect your skin from burns while preventing dropped items from causing injury too!
All these supplies should make your adventure much easier and more enjoyable; remember to pack them when planning your next adventure!
Cooking Utensils
We usually bring utensils from home, but there are some 'camping versions' you should consider buying and storing in your storage bin.
But, when packing for your next adventure, remember to include all the cookware and eating utensils you'll need to make meals while you're away from home.
Depending on your group's size and the trip length, you may need different pots and pans, plates and bowls, cups and mugs, utensils, and more.
If you plan on cooking over a campfire, be sure to pack a fire-proof pot or pan.
Once you've cooked your food, you'll need somewhere to eat it.
Pack plates and bowls for everyone in your group and some plastic cups or mugs. And remember the silverware! Forks, knives, and spoons are essential for any meal.
Here is a short list of accessories you should add to your car camping checklist:
Ladle
Spatula
Large spoon
Tongs
Strainer
Whisk
Cheese grater
Can opener
Bottle opener
Pot holder
Pots and Skillets
Step back and think about your meals before thinking about pots and skillets. One big pot and one skillet would be fine if you plan to cook simple meals.
It is vital to consider it because you don't want to take a hill of pots and skillets you won't use at the campsite.
Camping Coffee Maker
Fun fact? I don't drink coffee. But Anja does, and she is in charge of this paragraph.
So, if you ask her, having a camping coffee maker with you can make your mornings much more enjoyable.
Here are some reasons why you should add a coffee maker to your car camping checklist:
Coffee is an essential part of any campfire breakfast or brunch. By taking care of this aspect, you won't have to worry about spending extra money on top of your food budget.
A good coffee maker uses minimal water and filters efficiently, reducing waste (and potential pollution) overall. It is precious if you are traveling light and want to use as few resources as possible.
Most models come equipped with durable cups and spoons that can take a beating outdoors – no more broken mugs or chipped utensils!
Many great options are available when choosing a coffee maker, so it's essential to do some research.
You can also check out our article on making a perfect camping coffee and choose the coffee maker that best suits your needs.
Tableware and Drinkware
The most important thing to know regarding tableware is to forget about glass. Make sure to leave it at home.
Choose sturdy tableware that is unlikely to break when banging around your storage box.
Containers for Leftovers
Yes, you need camping containers for leftovers on your trip.
Camping without proper food storage can be a real hassle. Not only will you have to pack extra food just in case something happens (and it surely will), but you'll also be dealing with stale food all weekend long. That's no fun at all!
Instead of packing a container of leftovers, why not store them in small containers you can carry with you? This way, everything is neatly packaged and easy to grab when hunger strikes.
Plus, if any leftover meals don't get eaten immediately (which is likely), they can easily be stored in the cooler for later consumption.
Clothing & Footwear
When planning a camping trip, it is essential to choose the right gear. Especially for winter camping.
It will keep you warm and dry, and proper clothing can enhance your outdoor experience.
Weather conditions and the environment largely determine which clothes to choose, so check the weather forecast and think about your activities before packing.
Make sure to dress in layers that you can easily remove if necessary.
Here are some camping tips for choosing the right apparel:
Choose weather-appropriate clothes.
Pack appropriate shoes.
You'll want sturdy hiking boots if you're going on long hikes. Make sure to pack an extra pair of socks, just in case your shoes get wet and muddy.
Avoid wearing tight pants and skirts.
It restricts movement and makes walking harder.
Opt for loose-fitting pants and comfortable shirtdresses
It stretches when you move and tie at the waist or hips, so they stay put when climbing trees or crossing streams.
Moisture-Wicking Baselayer
Moisture-wicking baselayers are an excellent choice for those who want to stay cool and dry during hot weather. They help wick sweat away from the body to remain comfortable throughout the day.
Down Jacket
Down jackets are a must-have for any outdoor enthusiast. Down is the warmest and most efficient type of insulation available, and it's also environmentally friendly.
Rain Jacket
Occasionally, you'll find yourself stuck in nature in heavy rains. It's inevitable when you're camping.
So, you'll want to ensure you have a good rain jacket. Good rain jackets should be water and windproof, so select one that meets your needs. It will keep you dry and protected.
Hiking Pants / Hiking Shorts
Hiking pants are essential for anyone who enjoys hiking and other outdoor activities.
They protect from the elements, help keep you comfortable on your feet all day, and look great too!
There are a few factors to consider when selecting hiking pants: fit, comfort, breathability, and durability.
Hiking Boots / Hiking Shoes
If I must bring only one piece of gear on my camping trip, I will probably select boots.
Hiking boots are a vital part of any outdoor enthusiast's wardrobe.
It provides stability and traction on rough terrain and protects your feet from rocks and sharp objects.
Hiking Socks
Hiking wool socks are a great way to keep your feet warm and dry while hiking or walking.
To find the best hiking wool socks for you, consider factors like weight, type of terrain you'll be hiking on, size, etc.
Most brands offer different sock options (lightweight vs. heavyweight), so it's easy to find something that fits your needs perfectly.
Optional Clothing and Footwear
Beanie
Gloves
Ball cap
Swimsuit
Long underwear
Camp sandals or slippers
Neck gaiter
Sleepwear
Health & Hygiene
The most important things to think about when it comes to staying clean while camping:
Does my campsite already have facilities such as pit toilets with running water? If not, you should consider bringing a portable toilet, solar shower, and a variety of toiletries like soap, toilet paper, and basic first aid supplies.
Toiletries
When it comes to toiletries, you'll want to pack various items if anything happens. From toothpaste and toothbrushes to condoms and birth control, many options exist.
Here are some items you should include in your car camping checklist:
Toothbrushes
Toothpaste
Floss
Medications
Lip balm
Sunscreen
Bug spray/Insect repellent
Menstrual products
Deodorant
Hand soap
Shower supplies
Quarters for the shower
Shower shoes
Towels
Baby wipes
First Aid Kit
A first aid kit should include supplies to treat common injuries/illnesses and tools to help deal with more serious emergencies.
Include bandages, antiseptic wipes, painkillers, medical tape, insect repellent, sunscreen or sunblock cream, water filters, bottles, and an emergency whistle.
Extra tip: Look up the nearest urgent care to your campsite at home just in case you need it and your site doesn't have cell service.
Gear Repair Kit
A repair kit can be handy when something goes wrong on your adventure.
Whether journeying into the woods for a day of fishing or spending the night under the stars, having a repair kit at your disposal can make things smoother.
Here are some items that are typically included in gear repair kit:
Tape measure
Wrench set
Punch assortment (hammer, screwdriver)
Screws and nails of assorted sizes
Hex keys (these will come in handy for tightening screws)
Personal Items and Extras
When it comes to personal items, it is entirely up to you. Make a plan for your needs, and think about your activities.
Here are some essentials you should consider including in your bag:
ID, credit card, cash
Camera, batteries, memory cards
Phone
Navigation
Solar chargers
Hammock
Journal and pen
Book
Instruments
Kid's toys or activities
Bikes/Scooters and helmets
Water toys/Lifejackets
Hiking daypack
Other optional items for activities
Where to Buy Camping Gear
We recommend supporting your local gear shop when purchasing gear; they are vital community centers for outdoor lovers.
Also, checking to see if a used gear shop is nearby is essential to get the best deals. Why not give a second life to some pieces?
We shop at REI Co-op for our gear because they have an excellent in-store and online inventory.
Backcountry should be at the top of the list for online shoppers looking for a great deal.
We want to add just one more option: Amazon. When it comes to finding cheaper items and acquiring gear quickly, it is the best place to go.
FAQ
What do I need for car camping?
Tent: Make sure you have a big tent to accommodate everyone in your group and any gear you need to store.
Sleeping bags: Bring sleeping bags that are appropriate for the weather and season.
Sleeping pads: Sleeping pads provide extra cushioning and insulation to make sleeping on the ground more comfortable.
Cooler: Essential for storing perishable food items and keeping your drinks cold.
Stove: It will allow you to cook meals at the campsite.
Water bottles or hydration system: Bring enough water bottles or a hydration system to keep yourself hydrated throughout the trip.
Headlamp or flashlight: This will be useful when moving around the campsite at night.
First aid kit: A basic first aid kit should include bandages, gauze, ibuprofen, and any other necessary items.
Sun protection: Don't forget to bring sunscreen, a hat, and sunglasses to protect yourself from the sun.
Insect repellent: Insect repellent is a must to keep bugs at bay.
Clothes: Bring clothes appropriate for the weather and any planned activities.
Shoes: Make sure you have comfortable, sturdy shoes for hiking and exploring the great outdoors.
Food: Pack easy-to-prepare meals and snacks, as well as any cooking supplies you may need (e.g., pots, pans, utensils).
Personal hygiene items: Remember to bring toothpaste, toothbrush, soap, and other personal hygiene items you may need.
Entertainment: Consider bringing books, games, or a portable speaker to help pass the time.
Camera: Bring a camera to capture memories of your trip.
Cash or credit card: It's a good idea to bring a little cash or a credit card in case of emergencies or unexpected expenses.
Maps or a GPS device: If you are unfamiliar with the area, bring a map or a GPS device to help you navigate.
Trash bags: Pack some trash bags to help keep the campsite clean and tidy.
Chargers: Make sure you bring chargers for any electronic devices you carry.
What do you sleep on when car camping?
Air mattress: An air mattress can provide a comfortable and supportive surface to sleep on. Ensure you have a pump or an air mattress with a built-in pump.
Sleeping pad: A sleeping pad provides extra cushioning and insulation to make sleeping on the ground more comfortable.
Camping cot: A camping cot raises you off the ground and provides a sturdy surface to sleep on.
Hammock: If camping in an area with trees, you could bring a hammock to sleep in.
 
Ultimately, the best option for you will depend on your personal preferences and the conditions of the campsite. Some people prefer the comfort of an air mattress, while others enjoy the simplicity and lightweight design of a sleeping pad or hammock.
Does car camping mean sleeping in your car?
Car camping doesn't necessarily mean sleeping in your car. Car camping refers to camping where you drive to the campsite and use your vehicle as a base for your trip.
It means you can sleep in a tent, a campervan, or even in a hammock.
The main difference between car camping and backpacking is that you can bring more gear and supplies, as you don't have to carry everything on your back. So, while you could sleep in your car, you also have many other options.
What are the most forgotten camping items?
1. Toothbrush and toothpaste
2. Soap and shampoo
3. Sunscreen
4. Insect repellent
5. First aid kit
6. Maps or a GPS device
7. Trash bags
8. Chargers for electronic devices
9. Headlamp or flashlight
10. Cash or credit card
 
Creating a packing list and checking items off as you pack them can be helpful to ensure you remember everything necessary. That way, you can be sure you have everything you need for a successful camping trip.
What To Do Next?
So now, when you're all set for your camping adventure, check out our super helpful camping breakfast, lunch, and dinner ideas and tips.
And don't forget to subscribe to our weekly newsletter and get your FREE PDF Car Camping Checklist!
Also, tell us what do you think about this article. Feel free to write your thoughts, experience, and some fun stories in the comments. We would like to hear from you!