---
Top Pick & Best Overall Screen Tent For Camping
---
Why You Should Trust Us
We're Anja & Alex, a couple of gear geeks and outdoor enthusiasts with 10+ years of living with the outdoors. During countless road trips and adventures, we've made a million mistakes and had a lot of bad purchases. It helped us develop an eye for detail and an obsession to find the best product.

This website is our try to help you avoid buying crap gear. It is founded on the principles of honest, detailed, objective, and independent camping and hiking gear reviews we would like we had when we were younger and inexperienced.

Our review process starts with selection: we look at hundreds of products to determine the top contenders in each category. We then spend weeks testing it and researching the top contenders for detailed comparison testing. We don't accept any manufacturer's free evaluation units or paid endorsements. Our focus is strictly on creating content for the benefit of our readers. To learn more about us, click here.
---
Hey, fellow campers!
Welcome to my best screen tents for camping review in 2023!
We all know that nature can be relentless. Storms come suddenly, temperatures drop or rise to extremes, and pesky insects persistently eye you as prey. So what do you do if you want to camp for a few days in the wilderness without giving up the comfort you deserve?
In this review, I'll give you 7 ideas by looking at some of the best screen tents for camping currently on the market.
I spent 40 hours researching the best screen houses with a high-end experience but without a high-end price that won't break the bank.
In the next few minutes, I will share the best-selling screen tents for camping I ranked based on comfort, safety, extra protection, a respite from the sun, rain, and value for money.
Before purchasing, you should know the most important factors your screen house for camping should have.
*NOTE: If you're, in any case, looking for the best camping tents with screen room, feel free to check out our 7 top picks for this year.
Table of Contents
What Should You Think About When Buying Screen Tent For Camping?
Choosing the ideal camping screen tent is easy if you know what features it should have to make camping an unforgettable experience.
Here are some that can help you:
Waterproofing
A weatherproof screen tent is always high on my priority list. Even if the screen room isn't big enough to accommodate everyone, it's not a big deal if you get soaked in a light rain anyway.
When buying a screen tent, remember the difference between waterproof and water-resistant.
When something is water resistant, it will deflect moisture up to a point – but in heavy downpours, it'll let the water through.
On the other hand, waterproof means that your screen room should be able to protect you no matter what storm is coming your way. This is what you want to find, and if your tent isn't waterproof, there are ways for you to coat the tent with a waterproofing substance manually.
Always go with a waterproof screen room tent, and save yourself a lot of headaches later on when you find yourself in a rain storm.
Size
If you plan on sheltering many people in your screen house, it's worth looking at the square footage of a tent when determining if it will work for you.
18-20 square feet per person are enough to get comfortable. You can also get away with fewer square feet per person, though you will feel much tighter.
Let's be honest – just because a label says it's made for 10-12 people doesn't mean it's a pretty accurate assessment. It also depends on what gear you bring with you.
Imagine you want to fit all camping furniture and a large group of campers simultaneously; you won't enjoy being squished together without an ounce of personal space. Well, keep that in mind.
Weight
If you don't want to overdo it, I recommend having a screen house canopy tent heavy enough to withstand strong wind, rain, or snow.
That said, a durable, lightweight screen house will suit you for transferring screen houses from point A to point B. Typically, "quick pitch" screen tents for camping lean toward the heavier side.
It is essential to know what your tent is made of to avoid carrying a heavy tent on your back.
Tent Material
The balance between durability and reduced weight is critical. Most people agree that steel frames are stable and tend to be heavier than aluminum frames. Since tent poles take up quite a bit of your tent's overall weight, I like to use light and durable aluminum.
Nylon is also light, making it the most common material in tent design. The canvas is thick, heavy, and long-lasting, though transport is a significant pain. A polyester is a good option too, but less durable.
So, choose the one according to your camping plans.
Durability
Nature can be a tricky place sometimes, especially for your tent. There are many jagged edges, stinging branches, and rough surfaces, so the durable screen house will play an essential role in enjoying your getaway.
This is where the fabric's denier comes into play, indicating the fiber's or thread's thickness. The higher the denier, the thicker and stronger the material will be.
Easy To Set Up
The instant setup makes the tent stand out from the crowd. Nothing is better than arriving at the campsite and assembling the tent in the shortest possible time.
Pop-up canopy screen houses are quick and easy to set up, which is why I love them! In very little time, you'll have your tent ready and be able to enjoy your camping trip much sooner.
That's why you should have an instant screen house room for camping!
Portability and Storage
To keep your tent clutter-free, tents that have gear lofts and mesh pockets around the walls are a great option.
Things that may seem small but significant that you will be thankful for the storage space are like gear loops to hang a lantern or tent fan.
A portable screen house room is also a plus. Consider a screen room with a carrying bag making it portable and easy to store when it comes to packed size.
Doors, Walls, and Floors
Since you want to keep all those nasty insects away from your party, you need large doors, wall panels, and floor space to create a great outdoor space without them.
Tent doors should be flexible, so you can zip them up and unzip them if you want to get through without letting the bugs in immediately.
Hinged-door tents solve this problem by acting like the doors you have at home, so you can enjoy a little more luxury while enjoying the wilderness.
Guy lines
Durable center hubs support extra-large, flex-test 11mm fiberglass poles and allow for fast setup and take down without compromising support or structure.
One of the significant resources you can have when camping is guy lines. Attaching your rope doesn't take much time; you'll thank it when the wind blows.
Guy lines are thin wires you tie to the walls of your tent. Once you've attached them, you'll want to tighten them and tuck them in, which creates tension on each side of your shelter.
It's a great way to hold the tent when strong winds threaten to blow it away and prevent it from collapsing when wind resistance becomes too much.
Price
And, of course, we can't talk about screen tents without mentioning one essential factor – the price.
Getting high-quality and cheap tents is difficult, so you may have to settle for a more expensive tent.
But trust me, there is a clear correlation between expensive tents and top quality, so it's still the route I'd recommend.
➤ Dimensions: 12,5 x 12,5 feet open, 6′ x 12″ x 12″ when folded up
➤ Weight: 34 pounds
The Quick-Set Clam Screen Tent earned our Best Screen Tent Award for 2023. It's one of the most popular outdoor brands with many handy features and benefits.
In the case of a 4-season Quick-Set Clam Screen Tent, you can enjoy chilly nights and hot summer days undisturbed.
It revolutionized how outdoor enthusiasts battled bugs and Mother Nature while camping, at backyard gatherings, etc.
It has the usual features like many camping-screen houses, but the Clam Quick Set high-quality screen house does a better job.
Key Features & Benefits You Get
✅ Extra Space For Everyone and Everything – I like to have a lot of space, so I'm a big fan of this screen tent. It may accommodate up to 8 people and is roomy enough to fit camping furniture like picnic tables with a few camping chairs for eating and chilling.
At night, you can spread out and wiggle around as if in your comfortable bed at home.
✅ Fast and Easy 45-Second Setup – You will have your tent instantly set up and ready to use straight out of the box in just 45 seconds – better than many of its competitors. All you have to do is lay the shelter flat, remove the five hubs, and slide the roof.
Durable center hubs support extra-large, flex-test 11mm fiberglass poles and allow for fast setup and take down without compromising support or structure.
When you decide to go home, unfolding is even quicker; pop the tent into the included large carry bag when you're done.
✅ Say goodbye to bugs – Mosquitoes, flies, and other biting bugs can quickly ruin a perfect camping trip, especially if they make their way into your tent! Thanks to the durable material and large mesh windows, you will say goodbye to them as soon as they hop into your shelter.
My hearty advice is to avoid standing water sources when choosing your campsite, as they are often breeding grounds for mosquitoes.
Also, choose a spot with a breeze to stir the air and blow away some bugs, and you will stay calm.
✅ Durable and Sturdy Construction Built to the Last – With no-see-um nets, 210 deniers and 600 denier fabric in the center of the roof, large 11mm fiberglass poles, and Triple Layer Corner Pole Pockets to reduce wear and tear, it will serve you for years and years.
It also includes stakes to secure the screen houses when the wind picks up, and an invisible mesh screen keeps pesky bugs out and brings in a nice breeze to clear out any condensation that might build up.
✅ Rain panels and attachable floor – It may rain, but you won't mind! Built-in roof flaps detour rainwater over wind panels. You can lower the rain panels from the sides to create walls when the wind blows, the rain starts pouring, or the temperature gets chilly, and protect yourself while you sleep soundly.
Not just that, it's one of the best screen houses for camping with an attachable floor. There is no need for additional pads, so feel free to walk in socks.
What I Don't Like About This Tent
❌ At 34 pounds, It's a little bulky when it comes to packed size, so you may struggle with it if you decide to bring it on a camping trip, but the beauty of this gazebo-style screen room makes it worth the weight. Just ensure you have enough car space to make the transport efficient.
❌ Some parts may not withstand a strong storm, but I recommend using a waterproofing spray or a spare tarp to cover it with for the best protection.
❌ We know that every superior feature adds to the higher price, but many cheaper screen homes lack it, which you'll agree is extremely useful. Pair these features with a great price point, and you have a significant budget and a high-quality tent. That's why it deserves the epithet of the best budget screen house.
However, if these issues are enough to put you off the tent, you may prefer the Coleman Screened Canopy Tent below.
---
➤ Dimensions: 12 x 10 feet open, 4′ x 12″ x 12″ when folded
➤ Weight: 45.2 pounds
If you're looking for a sturdier and more spacious option to fit your budget, consider this Coleman Screened Canopy tent.
In general, Coleman is one of the best brands that produces affordable camping screen houses. This tent will be your top option that won't break the bank but still has the quality you want to have in your outdoor gear.
Key Features & Benefits You Get
✅ The more people you bring to camping, the harder it is to please everyone. But, the more critical it is to have a spacious tent to keep everyone comfortable and happy.
With an area of 120 square feet and a maximum height of 8.4 inches, this screen house gives you such spaciousness that you can stretch out inside, even with a couple of other people.
✅ Durable Polyguard 2X double-thick fabric with UVGuard 50+ UPF sun protection gives you all the comfort and rain protection, keeping you nice and toasty at night.
If you know you'll be outside in chilly weather or trekking through the mountains; you'll get warm with added insulation. If you plan camping only during the summer, the airflow through the fabric will suffice.
Extra tip: How to insulate the tent yourself additionally? It is simple to do once you have suitable materials.
Adding a rug or floor mat is one of the best things you can do to insulate your tent.
Also, your rainwater will help keep the heat in, but it may not be enough, so it may be worth investing in another tarp.
Throw it on top of your rain-flake and ensure you can secure it and keep the material taut.
✅ Although this tent weighs a whopping 45.2 lbs, its carrying bag is a lifesaver, making it easy to tow. And you'll agree that it's nice to keep your overall weight as low as possible when you're car camping, even though you won't have to lug your gear as far.
✅ It has two doors for access in and out, so you can enter and exit the tent smoothly, even when many people are simultaneously at the entrance.
What I Don't Like About This Tent
❌ The price is slightly higher than some screen houses on the market, but what you get is justified in quality and comfort.
❌ Setup can take a little longer than other models, especially at first, until you get used to it. But, after a while, you will find it is impressively stable and resistant to windy conditions.
❌ The extra equipment makes it a little bulky, but if you plan on camping in the fall when the nights still get chilly, the extra weight is worth it, which means the tent material is heavier and more durable.
Also, it's more suitable for high-budget campers looking for a large, comfortable screen house who don't mind the weight.
---
➤ Dimensions: 124 x 124 x 86 inches
➤ Weight: 34 pounds
The Gazelle Pop-Up Tent is a fantastic tent for outdoor camping, as you will be protected from all the elements while enjoying yourself with your crew. Yes, it's high on the budget, but you should consider investing in it with its premium features.
With its gazebo shape and six sides, you might feel like royalty when you host in this space.
Key Features and Benefits You Get
✅ Spacious – So big that you can stand straight up inside without your head touching the ceiling. This makes it attractive for families with kids or anyone who likes standing inside their shelter without hunching over uncomfortably. There will be plenty of room to spread out horizontally as well.
✅ It includes ground stakes and ties for windy days. They're the component that will take the brunt of the force generated by the wind. If a heavy downpour starts, you'll have peace of mind because the screen houses a waterproof and water-resistant roof, so you can continue enjoying it as if nothing happened.
The tent's weight and durability help keep your shelter rooted as a fortress against heavy wind and rain.
✅ Two large doors with zippers allow you to get in and out quickly.
✅ The tent also includes two large windows that allow for much better airflow and an awning that will be a natural shelter with shade and rain protection and as far away from the sun as possible. Plus, they provide an excellent view of your surroundings without exposing yourself to mosquitoes.
✅ A heavy-duty steel frame and rain fly make the tent more durable, so you feel protected in bad weather.
✅ Weighing only 10 pounds, it will be straightforward for you to transport it wherever you go.
✅ Its waterproof and UV-resistant fabric makes it highly durable and keeps you safe from the sun and rain meaning you won't care about being wet or sweaty.
✅ Its innovative design features automatic pop-up adjustment, possible in just a few seconds, making it an excellent option for a quick getaway.
✅ This screen house is freestanding with a unique design you can instantly set up, even alone. Simple and easy, with no chance of ripping a hole in your sleeve trying to put it all together.
Once it's all setup, prop up the awning, pull out your camping chairs, and enjoy a relaxing evening outdoors.
What I Don't Love About This Tent
❌ Walls are made of light material but are not very durable, which means that in bad weather conditions, they can tear and are unsuitable for long-term use. Even so, it cant spoil the overall camping experience.
❌ As the posts must be connected in a specific order, setup may be tiring. But once you set it up, you'll realize it was worth the effort.
❌ It's more expensive than most screen houses for camping, but for the price, you can hardly complain when the screen house tent is so cozy and warm.
---
➤ Dimensions: 13 x 9 ft (396 x 274 cm). Area: 117 ft² (10.85 m²). Peak height: 6.9 ft (210 cm).
➤ Weight: between 10 and 20 pounds
The YDYL Screen House offers an excellent solution for weekend camping and outdoor enjoyment without sacrificing comfort and convenience.
Buying this screen house is suitable if you are on a tight budget.
This beautiful canopy tent can accommodate six to eight people, plus there's enough interior space to set up even a folding picnic table and a few chairs.
All you need to do more is to bring the portable gas grill; then, you're ready to cook. Such space gives you the freedom you want to have.
Key Features & Benefits You Get
✅ The glazed walls of the YDYL screen housing are a perfect barrier against the penetration of bugs and dust, and durable fiberglass with steel tubing and mesh walls will make your space clean, dry, and airy.
✅ YDYL camping screen house walls provide a private, enclosed space that is great for entertaining or relaxing. It is beneficial to change clothes or stretch out a little.
✅ This screen tent is easy to put together and take down at a broader level, considering its size. You won't have an issue carrying it far to the campsite. It's rectangular and has corner posts, making it easy to assemble. Make sure there's soft ground nearby, and you'll be fine.
For high-quality enjoyment, you should also keep in mind safety when cooking in one of the best screen houses for camping, so:
➤ Place a flame-resistant mat under the grill or stove
➤ Take precautions such as venting smoke from cooking appliances
What I Don't Love About This Tent
❌ I suggest not setting up this tent in a windy area, as it's not designed for strong wind, which can cause the screen house to collapse.
❌ A screen house can heat up quickly in direct sunlight, making it uncomfortable during summer.
---
➤ Dimensions: 120.08 x 120.08 x 83.86 inches open (10′ X 10′ X 7′ feet)
➤ Weight: 8.8 pounds
The Alvantor Screen House room can become a favorite camping gear due to its unique shape and light weight of 8.8 pounds. It can accommodate up to six people, which is ideal for your family.
It may not have everything you're looking for, but it certainly has the essential things – protection from the sun and annoying insects.
Key Features & Benefits You Get
✅ This lightweight screen house tent and its instant pop-up design make it easy to set up without even having any previous experience. My boyfriend and I would split the weight, I would take the poles and stakes, and he would take the tent body, so it's a setup that worked well for us.
Also, it's great when you have two large front doors with double-sided silicone zippers you can open and close in seconds. Simply put, you will like setting up your tent!
✅ The Alvantor fiberglass room frame is lightweight and will last you for years, and it has a design that makes it easy to trap body heat.
✅ I've never been a fan of feeling like a sardine packed in a can with my friends or family. Fortunately, I'm amazed by the roomy space of this tent that provides me with a pleasant stay while sitting on my comfortable camping furniture with an extensive camping crew and grilling.
✅ On hot summer nights, thinking about air conditioning and ice-cold drinks while getting cooked inside your tent is normal. Alvantor Pop-up Screen House, with its 360-degree ventilation, will offer so much relief, so you'll get a refreshing breeze that will help you stay sane in the sweltering heat.
✅ The tent fabric provides all-day UPF 50+ UV protection from the scorching sun, so you won't even think about the sun and the possibility of getting burned. The UV-resistant coating will protect you against the sun's harsh rays and make your skin even more tender
✅ There are incredibly additional specs that will catch your eye, such as the optional floor, allowing you to shift the interior space to the outside for more usable space, coat hook, six elongated sandbags, 12 ropes, and 12 metal mounting studs beat even the worst winds.
Besides, the floor is one of the most common places for penetrating cold air. Since it lies directly on the snow in winter, you will feel the ground cooling when lying in the sleeping bag at night. And this one keeps you warm so you don't have to worry when it's cold.
What I Don't Love About This Tent
❌ The significant drawback of the Alvantor screen house for camping is not the waterproofing function. But still, it's worth using in sunny weather.
---
➤ Dimensions: 15 x 13 feet open, 41.6 sq. ft. of shade, 7 ft. center height
➤ Weight: 18.25 pounds
The Coleman Instant Screen House is a simple-looking tent, unlike many others.
But even so, you'll be pleasantly surprised to learn about some unique features that The Coleman put into this product.
Consider this if you want to enjoy reliable shelter from the sun, wind, and insects with a generous seven-foot center peak height and 100 square feet of sheltered floor area.
You won't have to break the bank; you get the quality, durability, and comfort budget screen tent at an affordable price.
I have seen many people with Coleman Screen House go camping several times a year, so why don't you try it too?
Look at the key features of one of the best instant screen houses!
Key Features & Benefits You Get
✅ Too roomy – It is so spacious that you can use it as a living room or cooking area and place inflatable furniture. You won't feel claustrophobic if you throw in 2 queen-size mattresses, a few cots, or sleeping bags.
Whether preparing a meal, exercising, or playing a game with friends, you can do whatever you want with a fully straightened back. Thanks to the straight wall design, you can free-stand in the tent at full peak height without bending over.
✅ Protected shelter from bugs – You can comfortably settle down in a protected tent as it prevents pesky bugs from getting inside, so you'll save yourself from bites, itching, redness, or inflammation.
✅ Instant setup with pre-attached frame – The canopy cover with pre-attached footed poles that you unfold, extend, and secure to set up the instant screen house in only 60 seconds is one of the best things to happen to you as soon as you come to the campsite.
Thanks to a sturdy telescoping-pole frame system and one-piece cover, you will set up without feeling it. Besides, there are pre-attached lines for double stability.
✅ No-See-Um mesh screen walls keep insects out while the breeze flows. You can detach all the mesh walls and use them as a classic canopy to improve it. And the best part is that it won't destroy your view!
✅ Two doors make easy access front and back – There will be no rush at the doors, but you can get in and out quickly, even if one of the entrances or exits is busy. Not only that, but when you're ready to pack it away, the shelter collapses as quickly as it erects, and again, you will save your valuable time.
✅ Simple and exclusive Coleman push button release levers – Your fingers will stay safe while adjusting and taking down the screen house without worrying about getting hurt.
✅ Waterproof screen tent – As proof of the best screen shelters, I will point out durable water-repellent fabric built to withstand rain and other bad weather conditions so you can still camp in peace.
✅ Great sun protection – You'll be protected from the sun thanks to the UVGuard material that offers UPF 50+ protection from the sun's dangerous rays. The tough, double-thickness Polyguard 2X fabric allows you to easily survive harsh outdoor conditions, season after season.
✅ Wheeled Carry Bag Included – You also get a screen house carry bag that you can easily tow wherever you go camping. Moreover, it is excellent for storage and transport and will fit in your car.
What I Don't Love About This Tent
❌ Small roof panel – Since the covered part of the roof is so small, you may get wet during rainstorms or more sun exposure during the summer heat. But you can find shade when it's sunny or some shelter when it's rainy.
❌ They're known for being lightweight but remaining sturdy in their structure.
---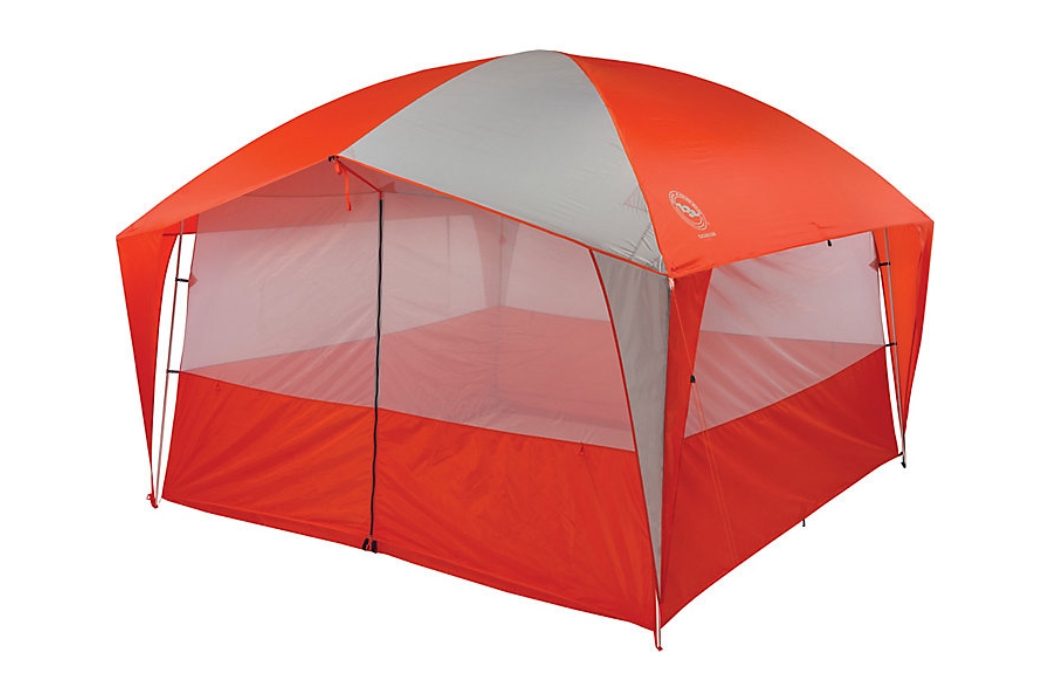 Crafting high-quality camping gear is something the Big Agnes Sugarloaf Camp Screen Shelter is known for. But still, take a look at the features and assess if it is the right fit for you.
➤ Dimensions: 120 x 120 inches (100 sq ft), 25.5 x 14 x 6 inches
➤ Weight: 14 lbs. 8 oz.
Key Features & Benefits You Get
✅ An instant setup is a great option as an additional bonus. Once set up, the screen mesh walls allow you to lie down peacefully, and the two large doors provide easy entry to the front and back. Even if you are older or out of shape, you will adjust it quickly and easily.
Without lifting your arms high, the telescopic legs allow you to adjust much faster than you imagined. Also, it will be easy and fast, thanks to the cables and tensioners. There are only a few of them, so you'll be fine.
✅ With the help of reflective ice, tape, and 16 aluminum pegs, even the windiest weather won't limit you from enjoying your cozy tent. Because of its larger size, you might think it acts like a rock in intense storms. But it is. Even in strong gusts of wind, this shelter will barely move as its construction is solid, so you can rest easy and relax.
✅ The waterproof layer prevents the rain from penetrating the tent so that you can enjoy the comfort of the tent with the soothing sound of the rain. And while enjoying all luxuries in the usable space inside, you can feel confident that you'll stay dry no matter what's happening outside.
✅ Transporting your tent to the campsite and back will become routine and a straightforward job because the bag you get when you buy it has adjustable straps and pockets so you can even carry it over your shoulder.
✅ Two doors and high-quality aluminum poles are outstanding elements that will make you feel comfortable and safe due to the solid structure that makes this tent recognizable.
However, its weight and construction set this tent apart from the crowd. Therefore, it can boast impressive resistance to external elements
What I Don't Love About This Tent
❌ A hefty price tag makes it expensive, but it will be worth it if you are a 'full-time' camper. You will pay more but have excellent quality for the price.
❌ This smaller screen shelter limits its usefulness for camping trips with larger groups but is a good option for a shorter camping trip.
---
The Best Screen House Tents For Camping – Final Conclusion
Now that you have the best screen tent recommendation from the list, it's time for your camping trip to begin, but this time the best yet.
All the screen shelters in this review are impressive in some way and suitable for a wide range of needs.
Quick-Set Clam Escape Screen Tent is the #1 choice on my checklist. Comfortable space and unique views allowed a wider variety of people to experience the outdoors with this screen house.
Besides, some more excellent options, such as the high-budget Gazzele Pop-up Screen Tent, with features that will always leave you feeling cozy.
But, for those designed for memorable family moments, such as Coleman Screened Canopy Tent and Alvantor Pop-up Screen House, you will be pretty sure that your camping will be one of the best from now on.
Happy shopping!