Greetings, fellow campers! Are you looking for an easy and delicious way to make your camping trip special? Look no further than camping snacks!
Whether you're looking for sweet treats to satisfy your cravings or savory snacks to fuel your adventures, there are plenty of delicious options.
This blog post will share some of the best camping snacks for your next outdoor adventure. We've covered you, from protein-packed trail mix to refreshing fruit and veggie snacks.
Here is a quick list of our top 10 easy and no-cook best camping snacks to bring on your camping trips:
Trail mix with a base of nuts, dried fruit, and fresh fruit
Oatmeal with dried fruit, nuts, roasted almonds, roasted chickpeas, shredded coconut, or peanut butter
Crunchy crackers (Texas trash, Almond flour crackers, Alabama firecrackers, Cheez-it, etc.)
Popcorn with the savory or sweet topping
Chips (standard salty or with specific flavors like crispy fruit chips (apple chips, banana chips), corn chips, chocolate chips, and Kale chips)
Beer Nuts in various flavors such as original, barbecue, and jalapeno)
Granola variety of grains, nuts, dried fruit, and fresh fruit
Snack bars such as Nutri grain, Quaker Chewy, Gluten-free snack bars, etc.)
Cookies (mini marshmallows, blueberry muffins, banana boats, and tart cherries.)
Tacos are filled with flavorful proteins like chicken, beef, and fish and vegetables like lettuce, tomatoes, and onions.
Here, you'll find ideas for the must-have camping snacks for your next adventure. So, keep reading and create some delicious memories.
Table of Contents
The Best Camping Snacks To Keep You Going All Day Long!
Camping snacks are the perfect way to keep your energy levels up and add a bit of deliciousness to your outdoor adventure.
When packing for a trip, it's important to bring healthy camping snacks high in protein, complex carbohydrates, and healthy fats to keep you going all day.
Some good choices include trail mix, protein bars, crackers, or cookies. Additionally, bringing along snacks like dried fruits, granola bars, and cheese can provide a quick energy boost when needed.
With the best camping snacks, you can look forward to a fun-filled adventure and plenty of tasty treats.
Below, you'll find some fun camping snacks without which you won't hit the road.
Deliciously Crunchy Crackers Make The Perfect Snack
Crackers are great nonrefrigerated snacks for camping as they are lightweight and easy to store. They are an excellent base for spreads and toppings, such as nut butter and almond butter, so they can be equally juicy and crunchy.
You can combine crackers with other foods, like cheese or peanut butter.
The good thing is that crackers don't require any preparation or cooking, which makes them ideal for camping when you don't have any resources available.
What's more, crackers take up minimal space in your backpack, making them a great option if you want to pack a little.
Some of the favorite crackers on the market are:
Texas Trash
Texas Trash snack mix is a delicious snack that combines the flavors of Texas, namely pretzels, almonds, chips, and Chex cereal. It's great for a picnic or road trip.
Almond Flour Crackers
As the name suggests, they are made from almonds, which are a good source of healthy fats, fiber, and protein, making them a healthy food.
Alabama Fire Crackers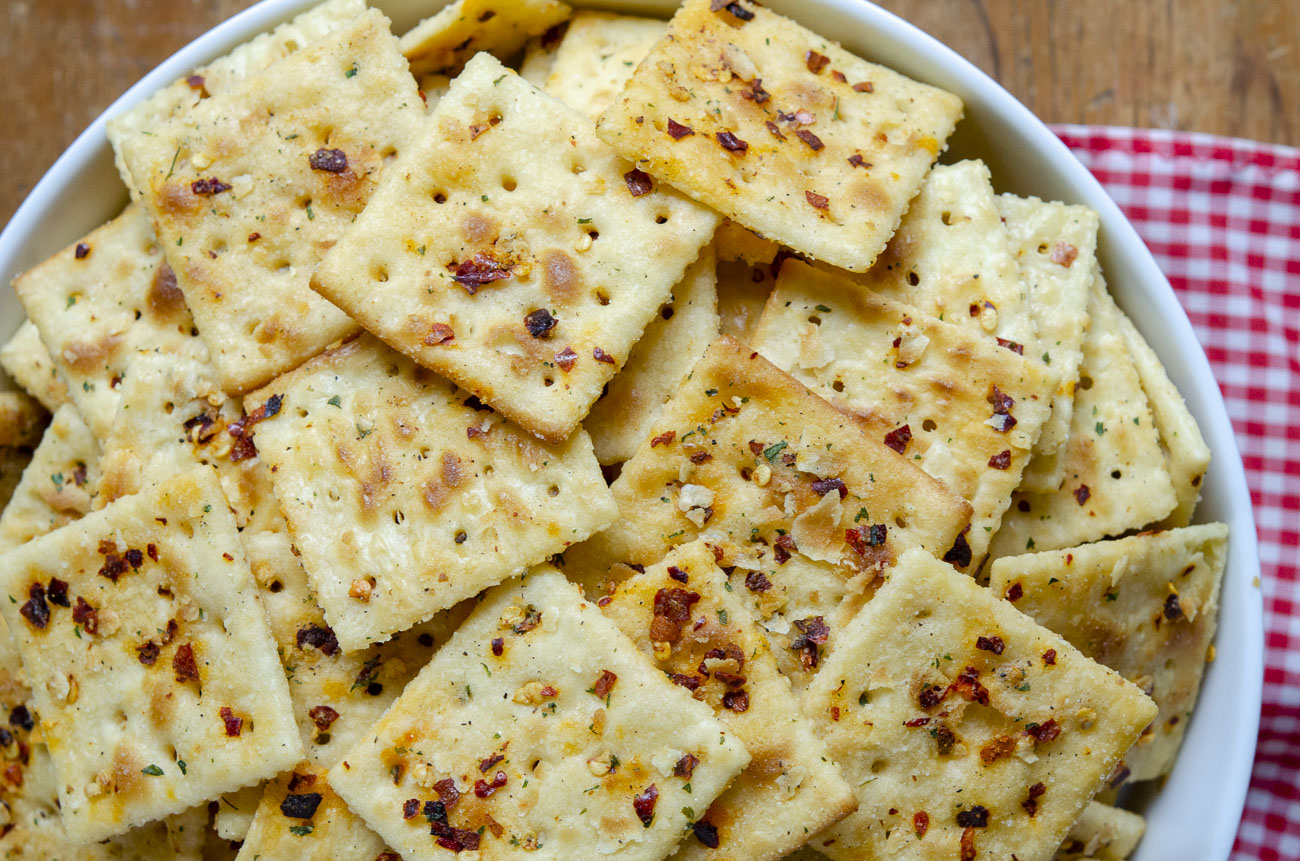 Alabama Fire Crackers are a famous southern snack made with sugar, corn syrup, baking soda, and butter and a great energy source for outdoor activities.
Cheez-It
Cheez-It crackers are a popular snack made from cheese and wheat flour that comes in various flavors, from original to cheddar jack and jalapeno.
Original Zesta Saltine Crackers
These crackers are simple because they are made from flour, vegetable oil, yeast, and salt, but they are ideal for dipping into your favorite sauces or spreads.
Ritz Crackers
Ritz crackers are standard round crackers made from wheat flour, vegetable oil, and salt and are an excellent base for various dishes, from cheese to tuna salad.
Goldfish Crackers
Goldfish crackers are famous fish-shaped crackers with enriched wheat flour and vegetable oils. The original flavor is cheese, but they are also available in other flavors, such as pizza and cheddar.
Chicken In a Biskit Crackers
Chicken In A Biskit Crackers is a crunchy cracker snack made with real, roasted chicken, giving them a unique flavor.
Honey Maid Graham Crackers
Honey Maid Graham Crackers are a delicious fiber- and calcium-rich snack made with natural honey and whole grains.
Enjoy Around a Campfire With Popcorn!
Sitting around a campfire and popping popcorn is a great way to end a day of hiking, fishing, or exploring.
If you love this camping snack, you will agree that nothing compares to the smell of fire, the crackling of burning logs, and the sound of popcorn, adding to the already pleasant atmosphere.
The best part is that you can make a variety of toppings for your popcorn, from savory to sweet. In addition to classic salted popcorn, you can make chocolate or caramel corn.
Also, they are an excellent source of fiber, protein, and antioxidants, making them a healthier alternative to other snacks. If you take care of your diet, this camping snack is low in calories, so a more significant amount of popcorn won't harm you.
You won't be able to resist these campfire snacks.
Oatmeal: The Perfect Breakfast For a Nutritious Start To The Day!
Oats are a great energy source rich in vitamins, minerals, and antioxidants, helping you tackle whatever the day brings.
You can easily customize oatmeal to your liking by adding dried fruit, nuts, roasted almonds, roasted chickpeas, shredded coconut, peanut butter, and spices or even making rolled oats for a tasty and enjoyable breakfast.
You can also prepare oatmeal ahead of time, making it a convenient breakfast option when camping, such as overnight oats.
Whether you serve it hot or cold, sweet or savory, oatmeal is a great way to get the day off to a healthy and delicious start!
Not only that, but it's also easy to prepare and transport, making it a great on-the-go meal.
Delicious Chips Perfect For The Great Outdoors!
Chips are a great choice whether camping, hiking, or enjoying anywhere in nature.
This excellent camping snack comes in various shapes, sizes, and flavors. Apart from the standard salty potato chips, you can try specific flavors like crispy fruit chips (apple and banana chips), corn chips, chocolate chips, and Kale Chips. Therefore, with carbohydrates and fats, chips boost a good energy boost.
They are effortless to store; they come in individual packets you can put in your bag or cooler space. You can enjoy a delicious savory snack with chips without worrying about food prep or cleanup.
The Crunch Of Beer Nuts!
Beer nuts are camping snacks that have been around since the 1930s. They are made from a mixture of peanuts and a unique blend of spices.
Beer nuts are known for their unique taste that is slightly sweet and salty with a crunchy texture and comes in various flavors such as original, barbecue, and jalapeno.
They're a brilliant choice for camping because they're easy to pack and store, a great on-the-go snack, and an energy source. They're fun snacks that campers have enjoyed for generations, so they're sure to be a hit with your camping crew or a whole family.
Enjoy a Healthy, Delicious Start To Your Trip With Granola
Granola is a great choice for camping and any outdoor adventure because of an excellent source of protein, carbohydrates, essential vitamins, and minerals, providing you with a rich nutritious snack.
You can use a variety of grains, nuts, dried fruit, and fresh fruit to create a unique taste. If you want ready-made granola, you can choose between chewy Granola Bars, Love Crunch, Good & Gather, Bob's Red Mill Natural Foods, etc.
Enjoy your granola with yogurt or milk before hitting the trails, or use it as a snack.
This snack mix is effortless and can last for days in an airtight container, making it the perfect accompaniment for any trip.
Snack Bars: A Delicious Way To Enjoy High-Protein Energy Bites!
Snack bars are great camping snacks, giving you plenty of energy while on the road.
They are delicious and provide a dose of healthy carbohydrates, so they're a great way to satisfy hunger between meals, giving you a quick and easy energy boost on your camping trips.
With their delicious taste and practicality, snack bars will be a snack you will always have in your pocket or backpack.
Some of the snack bars you can take on your walks are chocolate bars such as:
Nutri Grain
Nutri Grain cereal is a nutritious breakfast made with whole grain wheat, and it comes in a mixture of flavors, including strawberry, apple cinnamon, and honey nut.
Nature Valley Protein
Nature Valley Protein is a snack bar that provides a hearty meal. Flavors range from chocolate peanut butter, oats, and honey, to peanut butter and dark chocolate.
Quaker Chewy
Quaker Chewy is a snack bar made with whole grains and real chocolate, and you can choose different flavors like peanut butter, chocolate chip, and s'mores.
Special K Protein
Special K proteins are rich in vitamins, minerals, and fiber to help you feel full of energy throughout the day.
No-Bake Cereal Cookie Bars
No-Bake Cereal Cookies are easy-to-make camping snacks by mixing the ingredients of cereal, peanut butter, honey, and chocolate chips in a pan.
Rice Krispies Treats
Rice Krispies treats are a dessert made by melting butter and mixing rice Krispie flakes that are ideal for any gathering.
Gluten-free snack bars
Gluten-free snack bars are a healthier alternative to camping snacks full of nuts, seeds, and dried fruit.
Delicious Cookies That Are Quick To Make
Cookies are a great treat to bring camping with you! There are endless easy recipes that you can bake before you go on a trip, or you can even make them over the campfire.
Making s'mores is common for these trips, but you can get creative and make wide varieties like mini marshmallows, blueberry muffins, banana boats, and tart cherries.
You can use enjoyable toppings to add to these delicacies, such as sour cream, almond butter, peanut butter, maple syrup, lemon juice, fresh strawberries, and dried cranberries.
No matter what type of cookie you choose to bring, they will always be a welcome addition to your camping trip!
The smell of freshly baked cookies is sure to bring a smile to everyone's face and provide a tasty snack while you're out exploring.
Trail Mix – One of The Best Camping Snacks All Around!
Packing the perfect snack for your next camping trip can be as simple as grabbing a bag of trail mix. Put it in a resealable bag or container, and you'll have the ideal snack on your next trip.
To make the perfect trail mix, start with a base of nuts, dried fruit, and fresh fruit, and then add in whatever tasty treats you prefer, such as chocolate chips, potato chips, kale chips, pretzels, popcorn, and chex mix, cashews.
For an extra boost of nutrition, you can also add chia, flax seeds, sunflower seeds, and other nutritious favorite snacks. The trail mix is great for long hikes or snacking around the campfire.
Plus, it's easy to make in bulk, so you can have plenty for the whole family or company. With trail mix experience, your trip will surely be tasty!
Tacos: A Delicious Snack To Spice Up Any Evening!
Tacos are a popular Mexican-style dish made from soft corn or flour tortillas.
From crispy to soft tortillas, you can fill them with flavorful proteins like chicken, beef, and fish and vegetables like lettuce, tomatoes, and onions. You can top the tacos with a zesty salsa, creamy guacamole, olive oil, chili powder, cayenne pepper, and a sprinkle of cheddar cheese for a truly satisfying meal.
So, if you're looking for a tasty dinner or snack, tacos are the perfect choice to spice up any evening!
Enjoy Delicious Veggie Meals On Camping
Eating vegetables while camping is a great way to stay healthy, have enough energy for all activities, and enjoy your camping trips. Vegetables give you all the essential vitamins and minerals for a healthy diet.
Depending on your will and time, you can cook or eat vegetables raw. If you prefer raw vegetables, salads are always a good solution. You can add vegetables to stews and soups or cook them in aluminum foil.
Some popular veggie camping meals include hearty vegetable soups and stews, veggie kebabs, and grilled veggie sandwiches.
You can also make a variety of salads and wraps from fresh vegetables, as well as simple stir-fries and casseroles. The possibilities are endless, so always have something healthy and delicious for camping meals!
The classic campfire vegetable kebab is one of the most famous camping vegetable meals. You can make this dish easily and quickly. All you need is your favorite vegetables, such as peppers, onions, mushrooms, zucchini, cherry tomatoes, and more.
Cut up the vegetables, grill, or cook over the campfire until the vegetables are lightly charred and cooked, then serve with your favorite dip. This delicious meal is sure to be a hit with everyone.
What To Do Next?
Now, take your favorite camping snacks and head for a nature escape! By reading this article, we hope you found the best camping snack ideas right for you and already have a camping food list for your next adventure.
Also, we've put together our valuable lists of best camping breakfast, lunch, and dinner ideas, so make sure to check them.
What do you think about this article? Feel free to write your thoughts, experience, and some fun stories in the comments. We would like to hear from you! Thank you