In this blog post, you'll find a curated list that features our favorite and foolproof camping gift ideas of the year. No matter your budget, there is something on this list for every type of camper.
We've covered you from affordable knick-knacks and tools to cool, luxury items the camper in your life might never buy for themselves.
And no, these aren't some products we randomly threw on the list. We selected these unique camping gifts based on our own experience with them or our desire to receive them as a gift ourselves!
How to choose the best gifts for camping lovers?
First of all, the best camping gifts are often camping gear upgrades.
For example, my friends' family once needed a new camping tent because their old one had become too small for their growing family. They had always loved camping together and were disappointed when they realized they couldn't fit everyone inside their tent.
I knew how much a new tent would mean to them, so I surprised them. I knew I'd get The North Face Wawona 8 Tent, an impressive super roomy 3-season tent for eight sleepers.
They couldn't wait to try it out on their next camping trip and were confident it would be able to fit everyone comfortably. They said it was easy to set up, stayed dry in the rain, and was spacious enough for everyone to move inside. It made a massive difference in their camping experience. I was happy for them and knew I had given them a gift they would use and appreciate for years.
Everyone needs camp chairs too, but most outdoor lovers settle for uncomfortable chairs. A camp chair like the super sturdy YETI Trailhead Camp Chair or the excellent NEMO Stargaze Luxury Recliner is a can't-go-wrong camping gift. If these chairs overreach your budget, you can still find affordable chairs like the Kjaro Dual Lock Portable Camp Chair.
Have they complained about sleeping performances? How about a camping cot? You can also look for camping gift hints.
Meanwhile, what are our favorite camping gifts?
For example, an ENO DoubleNest Hammock was one of the best camping gifts I have ever received, and I use it on most camping trips. It is lightweight and easy to pack, but it's also super comfortable for relaxing after a long day of hiking. I love setting it up between two trees, kicking back, and watching the sunset. It's a game-changer for any camping trip, and I always pack it in my backpack.
Below, we made our list of the 10 unique camping gifts every camper will appreciate + 19 categories to ensure you can find the perfect gift for your outdoorsy.
Make sure to bookmark this blog post. It will be super helpful whenever you buy a new camping gift.
Table of Contents
Top 10 Unique Camping Gifts
1. REI Co-op Kingdom Cot 3
#1 camping gift for campers who need more comfort when sleeping outdoors
This fully padded REI Kingdom Cot 3 provides plush support with plenty of room to stretch out, relax, and slumber.
350+ reviews and an average rating of 4.3 make this camping gear an excellent gift for every camper. You can't go wrong with this cot.
---
2. Front Runner Spare Tire Mount Braai/BBQ Grate
Best camping gift for car campers (they won't expect it for sure)
This ingenious, stainless steel cooking grate stores over the spare wheel and takes up virtually no space, which makes it one of the most practical camping gifts for car campers and families on our list.
---
3. Pelican Elite Soft Cooler Sling
Ideal camping gift for one-day adventures
The Pelican Elite Soft Cooler Sling is a water-resistant, incredibly durable soft cooler that keeps hands free and cold drinks close. It is excellent for the beach or picnic. It is easy to carry with a padded shoulder strap and rubberized carry handle.
---
4. Patagonia Nano Puff Jacket – Men's
Perfect camping gift for every outdoor guy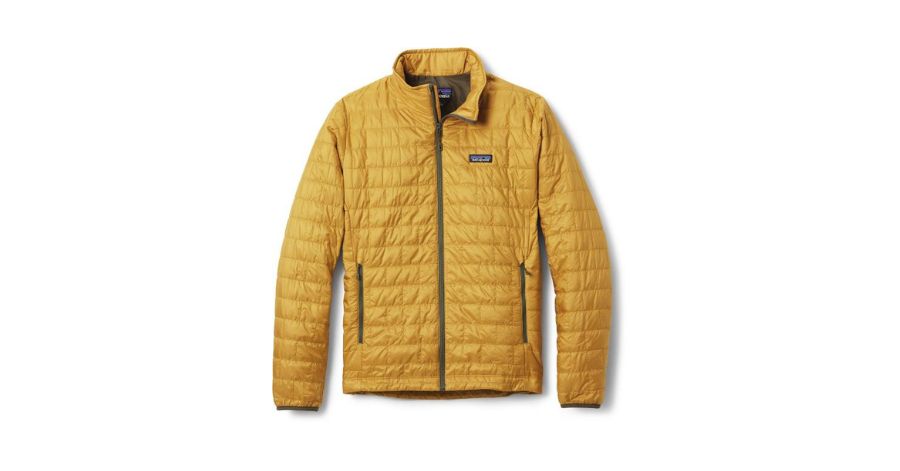 Born of shoulder-season belay duty and quick-hit ski tours, the Patagonia men's Nano Puff jacket traps body heat blocks wind, and lets you move freely. It's made using primarily recycled materials.
---
5. REI Co-op HunkerDown 20 Sleeping Bag
#1 camping gear gift for all campers
This luxurious REI Co-op HunkerDown 20 bag is warm and roomy. Its extra-large hood will even accommodate a pillow from home. It is one of the most valuable camping gifts for eco-friendly adventurers because it uses recycled materials.
---
6. Kid-O-Bunk Children's Portable Camping Bed
Best camping gift for families with kids
This portable camping bunk bed is our #1 for families with kids. We bought it for our friends, which was a lifesaver for their family camping trip.
It is modular, portable, compact, and ultra-strong for indoor and outdoor use. The frame is manufactured from anti-rust, powder-coated steel, and each cot has a weight tolerance of up to 200 lbs. It is for kids ages 7-12.
---
7. Coleman Instant Tent
Ideal camping gift for a family of 4
This weatherproof instant tent is well worth the money. An integrated vented rainfly offers added protection from the rain and improves airflow without requiring extra assembly. It fits two queen-size air beds, which makes this tent the ideal gift for a family of 4.
---
8. KingCamp Camping Shower Tent
The most useful all-around camping gift
If you know campers who spend weeks at the campsites, this KingCamp Camping Shower Tent will make their adventure more comfortable and pleasant.
It is effortless to set up, user-friendly, has ample space, and has multipurpose usage. It can be used as changing room, camp storage, portable toilet tent, and camping privacy tent.
---
9. Ignik Gas Growler Deluxe
Money-saver camping gift for every camper
One Gas Growler is a game changer in camp cooking. It costs less than one single-use green bottle and lasts five times longer. It is safe to transport in a car, SUV, RV, or boat. Tanks are shipped pre-purged and ready to fill at any propane filling station.
---
10. Ignik FireCan Portable Fire Pit
Priceworthy camping gift for every family
The Ignik FireCan is safe, easy, and packable for campfire anywhere needed. It has collapsible legs and removable lids that are easy to set up and quick to break down. Compact, durable, forest-safe, and well worth the price.
---
Best Luxury Camping Gifts
Yeti Hopper M20 Backpack Soft-Sided Cooler
Perfect camping gift for her
Put the day on your back.
If the budget isn't a problem, then the Yeti Hopper M20 Backpack Soft-Sided Cooler will be one of the best camping gear gifts for any camper. Beautiful design, ergonomic fit, innovative closure, and ultra durable. Won't leave anyone indifferent, you can be sure.
---
Primus Kuchoma Portable Gas Camp Grill
Great camping gear gift for guys who love cooking outdoors
An easy-to-use and portable grill – as familiar as backyard BBQ but can be carried with one hand. This camp grill has the ease and performance of gas grilling at the fingertips anywhere outdoors. Light and compact, yet big enough for those ribeyes, this grill sears, toasts, and bakes.
---
ENO Nomad Hammock Stand
Excellent camping gift for couples and campers who like to chill
Who doesn't enjoy hammocks? We've never met anyone who doesn't. Hammocks are always one of our top camping gifts.
This Kammock Swiftlet Hammock Stand is big and strong enough for two. Your camper can nap, read a book, or chill.
It can be set up on the beach, in the desert, above treeline, and anywhere in between.
---
ISLE Pioneer 2.0 iSUP
#1 camping gift for water lovers
It's hard to go wrong with an inflatable stand-up paddleboard as a gift. Kids love them, and adults appreciate the fitness challenge.
This ISLE Pioneer 2.0 iSUP is beginner friendly and delivers an outstanding price-to-value ratio.
---
REI Co-op Wonderland 4 Tent
Ideal camping gift for a family with two kids
If, in any case, you know someone who needs a tent and budget isn't a problem, this one is our honest recommendation. It's the best price-to-value ratio you will find out there.
The REI Co-op Wonderland 4 tent pitches into a cozy, 3-season basecamp with large doors, 360° views, and stable architecture to handle stormy weather.
The freestanding 4-person design features a triangulated center pole and an extended ridge pole for stability in windy conditions.
---
Aquaglide Chinook 100 Inflatable Kayak
Great camping gift for couples who love water activities
An all-purpose, open-cockpit inflatable kayak that paddles solo or tandem, the Aquaglide Chinook 100 will take two medium-size paddlers on gentle rivers and lakes, with room for extra gear and lunches.
---
Best 'Leave Them Speechless' Camping Gifts
Burch Barrel V2
Perfect camping gift for all campers
Price isn't questionable, and you want to leave them speechless? The Burch Barrel is our TOP PICK.
A charcoal or wood-fired grill allows better interaction with fire dynamics for more control. Its versatile design allows you to grill, smoke, bake, or hang out by a fire. It will quickly become the central hub for any backyard or outdoor gathering.
---
Tepui Foothill 2-Person Roof Top Tent
Ideal camping gift for car campers and active adventurers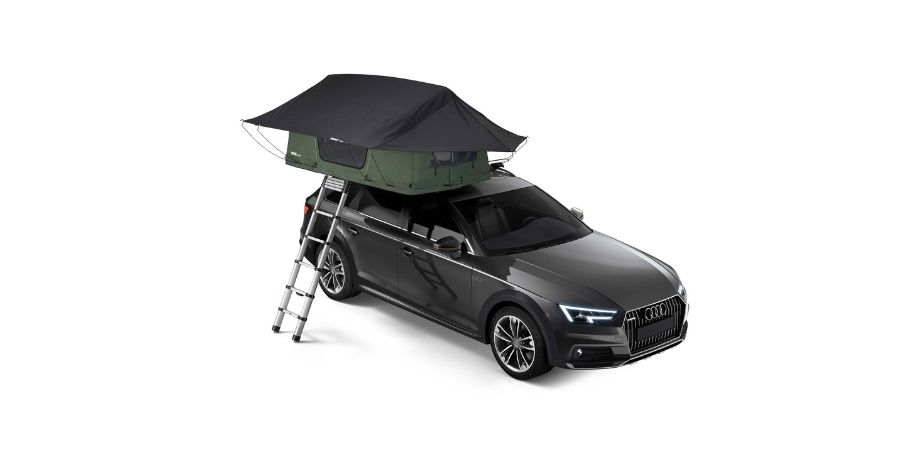 Spacious enough for two adults to sleep comfortably, the Thule Tepui Foothill rooftop tent folds up compactly to preserve valuable rooftop space for bikes, kayaks, or other cargo.
It has skylights and panoramic windows, so sleeping in it will be an unforgettable experience for any active adventurer. They will be thankful and happy for the rest of their lives.
---
EcoFlow DELTA Max Portable Power Station
Proven camping gift for campers who have everything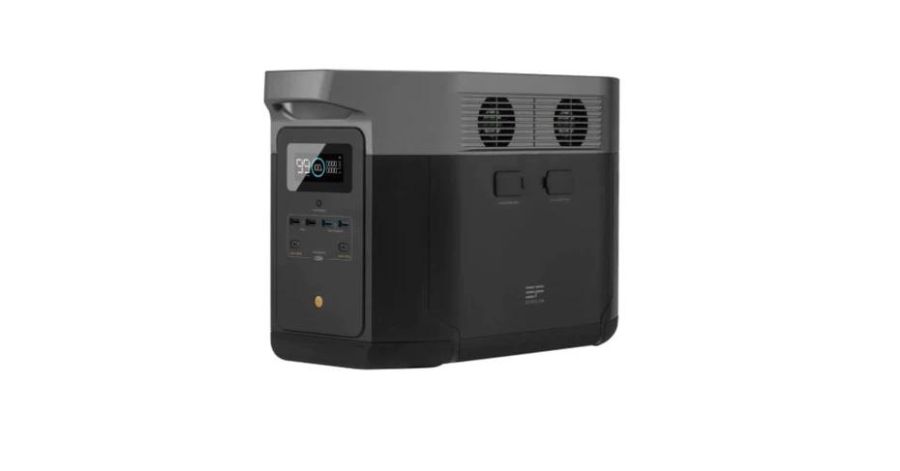 With an expandable capacity of up to 6 kWh, super-fast recharging, and the ability to power nearly every home device, everyone can stay powered on in any situation using the EcoFlow DELTA Max.
---
Dometic CFX3 75 Dual Zone Powered Cooler
Truly high-class camping gift
Built for rugged outdoor use, the Dometic CFX3 75 Dual Zone powered cooler features a robust design and ExoFrame construction so you can bring more of the food and drinks you love wherever you go.
---
23′ Avalon Optimus Bell Tent
Perfect for campers who like comfort and space
The Avalon Bell Tent is luxury redefined. It's a premium bell tent that goes above and beyond with features and functionality.
With three doors, ten windows, and the room for a stove jack, they will take a camping experience to a whole other level.
It's a unique feeling, and they won't forget it.
---
Best Camping Gifts Under $100
Black Diamond Spot 400-R Headlamp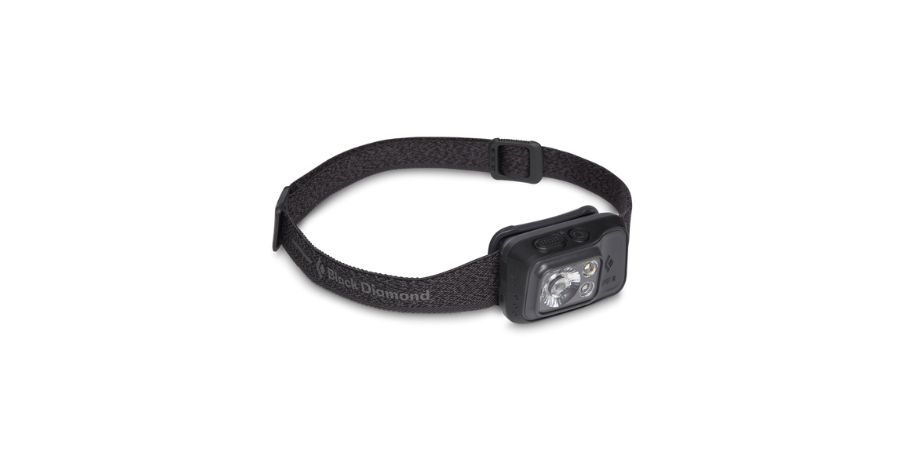 I use this one and can tell it is excellent and necessary camping gear for all. You can't be wrong with a headlamp as a camping gift.
---
GCI Outdoor Freestyle Rocker Chair with Side Table
Everyone needs at least one camp chair. Our experience and extensive research show that GCI Outdoor Freestyle Rocker Chair with Side Table is the best all-around camping chair.
It will bring comfort indoors and outside. It rocks smoothly on flat, rigid, or soft terrain while the side table holds a drink and phone.
---
Coleman 2-Person Sundome Tent
A great budget camping tent. Great for backpacking with large windows and a ground vent for superior ventilation. If you're on a budget and your loved one needs a tent, be sure that you won't be wrong with this one.
---
Forest Lantern
Our beloved vintage-inspired lantern creates a seamless, warm ambiance, whether camping in the wild or entertaining in the backyard and beyond.
---
Adults' Mountain Classic Camp Sleeping Bag
A super-comfortable, roomy summer bag with soft lining, warm insulation, and a handy pocket that keeps a phone or headlamp close. It's perfect for car camping, summer camp, picnics, outdoor concerts, or just lounging at home.
---
The Stay-Hot French Press 48OZ
Great coffee is meant to be shared, and this large-capacity French press can brew enough for the crew. A stainless steel mesh filter keeps grounds in place, so you get a bold, full-flavored cup of coffee with minimal sediment every time.
It's built rugged for the outdoors but great to use at home daily.
---
The North Face Nuptse Mule Slippers
Durable and insulated with 550-fill down, these warm and comfortable Men's Nuptse Mules can be the shoes of choice from fall to spring.
---
Gerber StrongArm 4.8 inch Fixed Blade Knife
Can you imagine a better Christmas gift for your loved survival guy? Neither do we.
Gerber StrongArm 4.8 inch Fixed Blade Knife is the knife every male can rely on. It is built in Portland, Oregon, with your survival basics in mind.
---
REI Co-op Camp Roll Table
Whether playing cards or sitting down for a gourmet dinner, this lightweight, packable camp table makes it all possible on your car-camping adventures—the perfect gift for those who prefer to drive to the campsites.
---
Mr. Buddy Heater
A must-have piece of equipment for all winter camping adventures.
---
Best Camping Gifts Under $50
The Yeti Rambler Tumbler 20 OZ
This Tumbler is made from durable stainless steel with double wall vacuum insulation to protect the temp of all beverages at all costs. It can be used for hot and cold drinks—the perfect gift for all coffee lovers.
---
MPOWERED Luci Solar String Lights
You can brighten your yard or illuminate a campsite with these solar and USB-rechargeable MPOWERD Luci Solar string lights. Perfect gift for romantic camping couples.
---
I'd Rather Be Camping Socks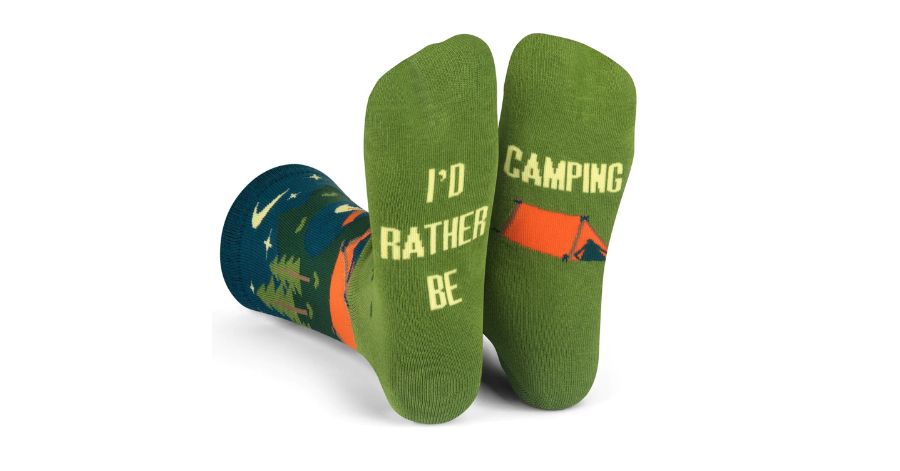 Any outdoorsy man or woman is sure to love these socks! The design features a beautiful camping scene complete with a bonfire, mountains, lake, canoe, starry night sky, and bear prints, while the bottom of the socks showcases a funny saying: "I'd Rather Be Camping."
---
Lightweight Portable Hammock
This camping hammock is one of the best camping gift ideas for your favorite camper. It's lightweight, easy to set up, and provides a comfortable place to relax and unwind after hiking or exploring.
---
Coffee Percolator for Campers
This rugged camp coffee pot is engineered for the outdoors. It was made by men who weathered 15 combat deployments. The last camping percolator coffee pot you will ever need.
---
Anyoo Waterproof Rain Poncho
It is an upgraded version of the Anyoo rain poncho. Features a soft plastic cap-design part on the hood to protect the face from the rain. There are snap closures on the front placket neck opening, suitable for head sizes. It weighs only 12 oz; the poncho is ultralight.
---
Compressible Pillow Cinch
Keeping the Compressible Pillow Cinch in our travel kit ensures a great rest, whether napping on the plane or spending a night under the stars.
This pillow is lightweight and packable. And even better, recycled and repurposed materials give waste a second chance.
---
BioLite FirePit Prep and Grill Tool Kit
Packable tools designed for cooking with fire. The extra-long design provides a comfortable distance from flames and heat, while the roll-up organizational mat keeps everything in order.
---
Best Camping Christmas Gifts
Balmuda Lantern
Lightweight and water-resistant, Balmuda Lantern can safely illuminate even after a few light splashes or raindrops. It is the perfect companion for outdoor dining or a peaceful evening stroll.
---
Yeti Gallon Water Jug
The Gallon Jug has a full inch of lid insulation, ensuring your drinks stay frosty or hot.
---
Microfiber 2-Pack Fast Drying Towels
This Ultra-Soft towel can hold up to 5 times the water it's weight. Dry up to 10 times faster than regular towels.
---
Pendleton Yakima Camp Throw Blanket
Famously durable and warm, they're modeled after the blankets early shepherds used to brave the elements of the Pacific Northwest—right where our rugged wool versions are still woven today.
---
SABRE Frontiersman 7.9 oz. Bear Spray
When camping in the wild, having this one in the backpack is always a good idea.
---
Kelty Discovery Cot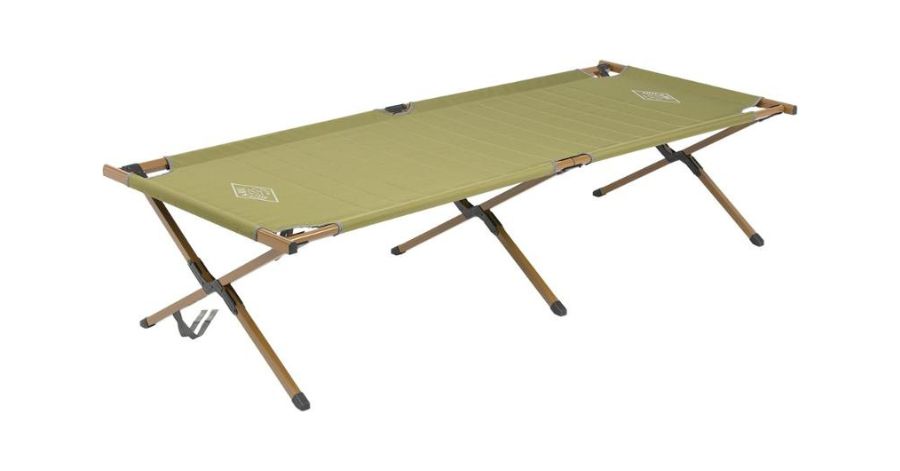 The quilted, lightly padded Kelty Discovery cot is easy to set up for a more comfortable sleeping surface above the ground and away from dirt and insects.
---
Adventure Series Explorer Medical Kit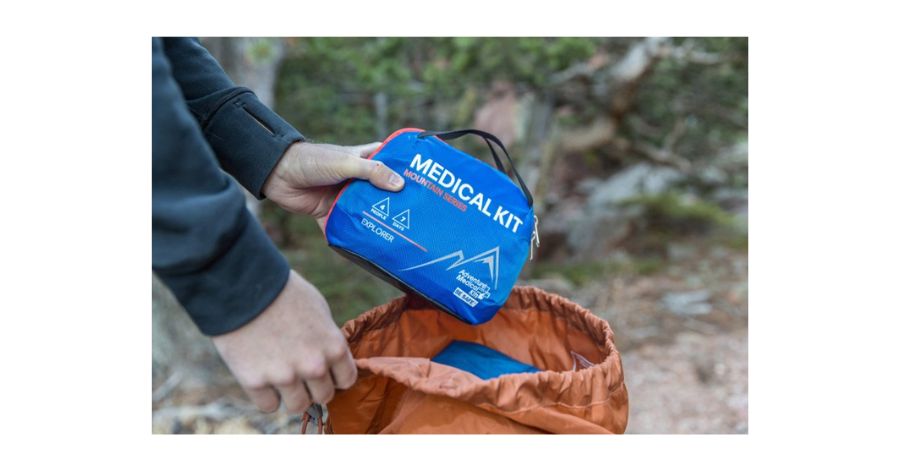 The Adventure Series Explorer medical kit is comprehensive, compact, and tailored to smaller groups on extended camping trips or trail adventures.
---
Revel Gear Trail Hound 30ft Camping Lights
Providing long, bright, energy-efficient mood lighting for the great outdoors, the dimmable REVEL GEAR Trail Hound 30 ft. camping light is a go-to choice for making memories under the stars.
---
BioLite Charge 40 PD Powerbank
One of our favorite camping gear gifts!
Designed to power the next generation of high-performance personal electronics, Charge 40 PD features USB-C Power Delivery for faster, more flexible charging. Power phones, tablets, and other everyday gear.
---
Best Camping Gifts For Him
Eureka Ignite Plus 2-Burner Camp Stove
Full size and fully featured, the portable Eureka Ignite Plus 2-burner camp stove helps you create culinary masterpieces while camping.
---
Leatherman Tool Maintenance Kit
The best camping gift for dad.
This kit includes Leatherman's Blade Sharpener, cleaning supplies, a cleaning mat, a microfiber cloth, lubrication oil, a pick, swabs, and a brush. There's even enough room to carry or store your multi-tool (not included) inside the kit, so you always have your maintenance essentials on hand.
---
Hults Bruk Almike Hatchet
The Hults Bruks Almike Hatchet is a small, all-purpose axe that makes kindling, light clearing, and other backcountry jobs.
---
Leatherman Signal Topo Multi-Tool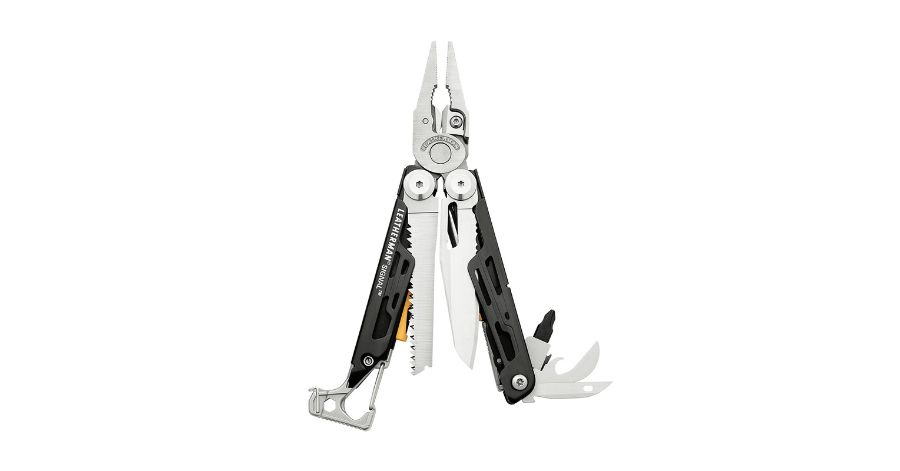 This multi-tool is designed for the outdoors and packs a firestarter, hammer, one-handed blade, and an emergency whistle.
---
L.L.Bean Spin/Fly Outfit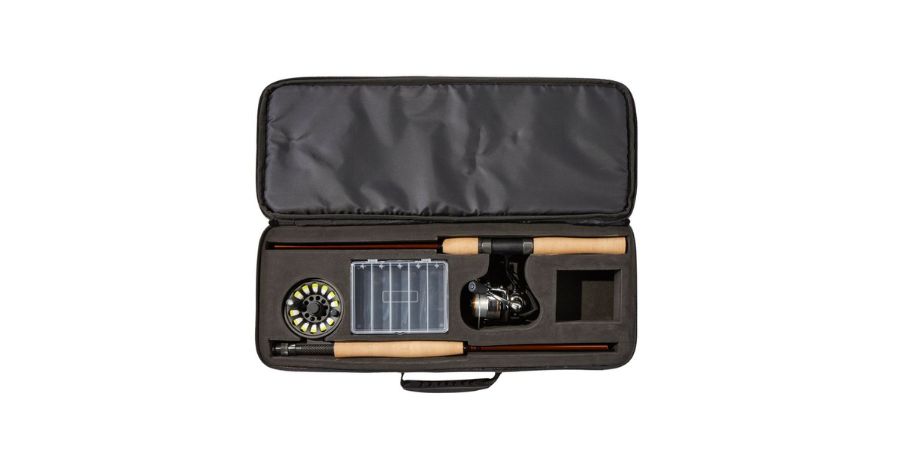 Perfect gift for guys who love camping by the water.
---
Men's Merino Wool Hiking Calf Sock 3-Pack
Like your trail mix, these socks are made with a combo of materials.
Soft Merino Wool, for its moisture-wicking, odor-resistant, and quick-drying properties. As well as supportive yarns like polyester and spandex, which help to create a perfect fit and built-in arch support system.
---
Patagonia Fjord Flannel
Built for the season when northern seas swell and snowflakes fly, the men's Patagonia Long-Sleeve Midweight Fjord flannel shirt features warm flannel in a traditional button-front design.
---
Best Camping Gifts For Her
Ultralight Backpack Cooler Chair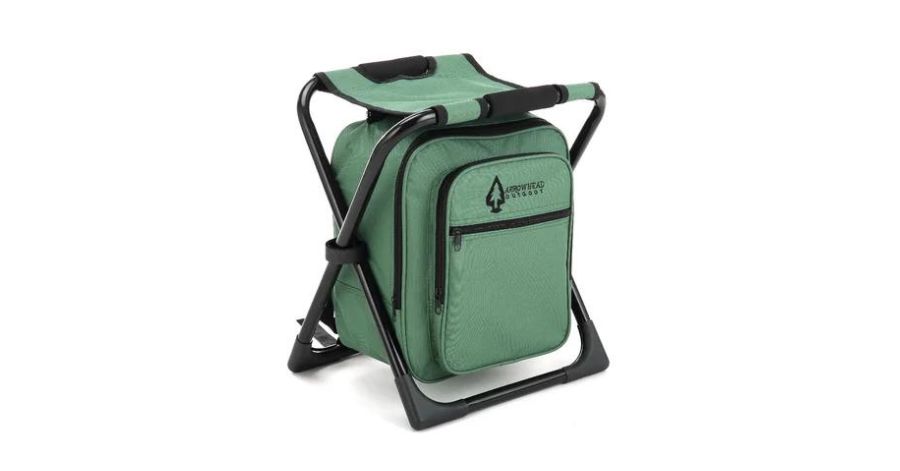 Perfect equipment for outdoor enthusiasts. Whether hiking, spending the day at the beach, fishing, tailgating, or relaxing in your yard, this convertible backpack/stool has something for you.
---
Therm-a-Rest NeoAir Xtherm Sleeping Pad
Crafted for mountaineering, winter camping, and backpacking, the Therm-a-Rest NeoAir Xtherm sleeping pad delivers warmth and lightweight performance, making cold outdoor nights cozy and comfortable.
---
Whisper Sandals
Elastic cording gives these lightweight performance sandals a secure fit, in or out of the water, and the washable uppers make cleaning the KEEN Whisper sandals a breeze.
---
AeroPress Go Travel Coffee Press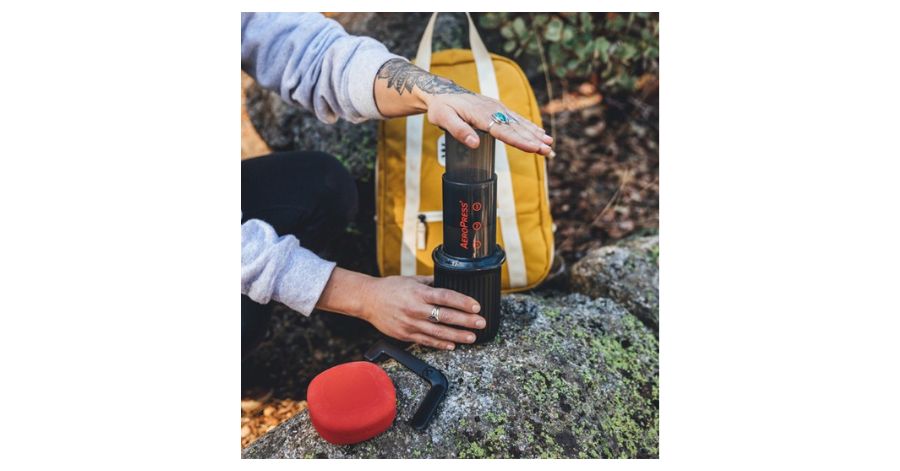 Thoughtfully engineered to provide all the delicious brewing capabilities of the original, the AeroPress Go Travel coffee press includes a convenient drinking mug that doubles as a carrying case.
---
Advanced Elements Portable Outdoor Solar Shower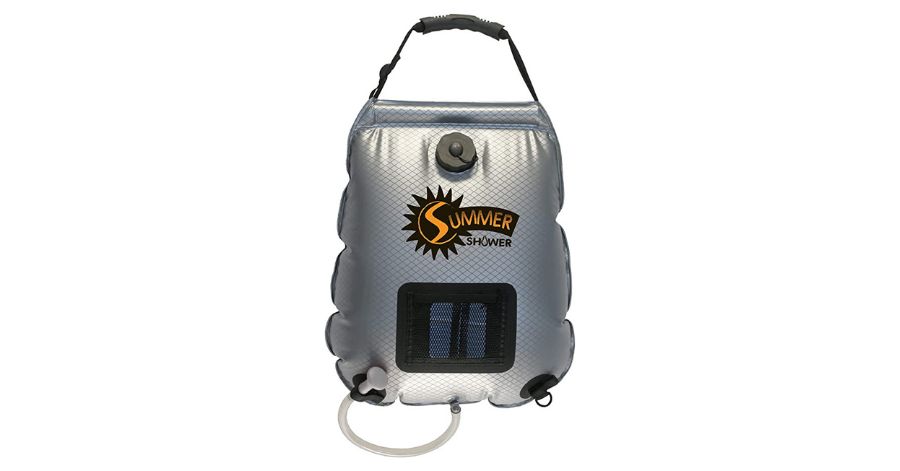 This summer shower has a large 5-gallon capacity. It is designed to heat water fast in the warm sun and has an easy-to-read temperature gauge, as well, to know when your shower is warm.
---
28 oz Insulated Food Jar
The perfect food jar has to be easy to open and convenient to eat from. Second, it needs to keep ice cream cold and soup hot. Finally, it needs to travel without fear of leaks or breakage.
---
LARQ PureVis Self-Sanitizing Water Bottle
The LARQ Bottle PureVis is the world's first self-cleaning water bottle and purification system. It uses PureVis technology to eliminate up to 99% of bio-contaminants, such as E. coli, from water and bottle.
---
Stanley Classic Perfect-Brew Pour Over Set
This stainless-steel coffee maker includes a stainless-steel filter and a matching Camp Mug for brewing the perfect cup. No paper filters are needed.
---
Best Camping Gifts For Families
Extra Large Picnic & Outdoor Blanket
This sophisticated and attractive outdoor blanket is tartan & creative stripe design is fashion-forward and sure to impress family & friends as you have lunch at a picnic.
---
Scatter Lawn Game
Jazz up outdoor gatherings with an easy-to-learn lawn game that began in Finland.
---
RTIC 45 QT Hard Cooler
This cooler is about extremes – impact resistance and durability to long-lasting ice retention. This midsize cooler makes a perfect multipurpose. The RTIC 45 can do double duty as a bench, non-slip step stool, tabletop, and extra cutting board while keeping ice, perishables, and vital supplies.
---
REI Co-op Base Camp 6 Tent
Combining sturdy geodesic-dome architecture and rugged materials, the mountaineering-inspired REI Co-op Base Camp 6 tent is a roomy and robust campground shelter for six people.
---
Snow Peak Takibi Fire & Grill
The Takibi Fire and Grill is made of durable stainless steel and designed in Japan for a lifetime of use. It is packable, portable, and modular.
---
GoSun Sport Solar Cooker
We're sure you didn't expect this one, but it is the fastest and best-selling solar oven in the last couple of years. It can bake, roast, and steam a meal for two people in 20 minutes under direct sun.
---
Pinnacle Camper Cooking Set
This fully loaded four-person set is geared for high-performance campsite cooking and eating.
---
Best Camping Gifts For Couples
Double Cloud Camp Bed
Updated with a new grid-shaped foam insulating layer, this cushioning sleeping pad delivers more comfort while winding down and more space in the van when packing up.
---
Mineral King 2 Tent
We don't camp to hang out in our tent all night and day⏤that's why when it's time to zip up into your sleeping bag and lay your head down, the Mineral King maintains the view. Thanks to an adaptable fly, you can peer out the oversized doors at your alpine oasis and gaze at the starry night.
---
Kelty Loveseat Camping Chair
The Kelty Low Loveseat is excellent for couples! Try Mountain Summit Gear Loveseat if it sold out.
---
Advanced Elements Convertible Tandem Inflatable Kayak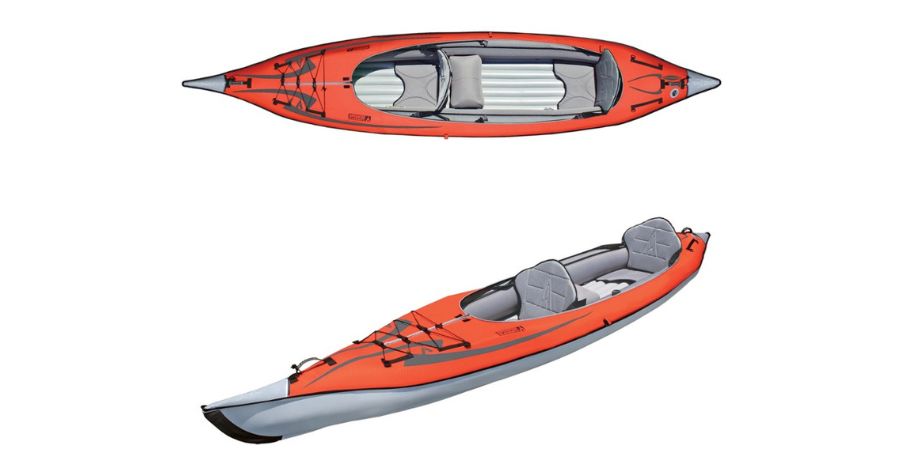 The AdvancedFrame Convertible Inflatable Kayak offers performance and portability for one or two paddlers with a rigid bow, stern, and multi-chamber inflatable hull.
---
REI Co-op HunkerDown 20 Double Sleeping Bag
Double sleeping bags make great camping gifts for couples.
The excellent REI Co-op HunkerDown Hooded 20 Double is lightweight and warm.
Also, check out the innovative The North Face Dolomite One Double. It features three layers you can mix and match depending on your desired temperature rating.
---
Best Camping Gifts For RV Campers
weBoost Drive X RV
This cell-signal booster works with all carriers. When installing it in an RV, your RVers can get much-improved cell service while driving remote roads and camping off the beaten path. (You can get the weBoost Drive Reach version for cars, pickups, SUVs, and vans). It's a tremendous peace-of-mind gift that could enhance the safety of your RV-loving family.
---
Best Camping Gifts For Car Camping
Titan Camping Stove
The camp stove was inspired by reconnection. Its lightweight, compact, and innovative design make Titan a shareable outdoor essential.
---
Sportrack Vista XL Rear Opening Cargo Box
Sometimes, depending on the type of car they have and the gear your giftee's packing, one trunk is not enough. When that time comes, they'll be happy to have the additional space with this rooftop cargo box.
---
EcoFlow 110W Solar Panel
With an industry-leading 23% conversion rate, it's far lighter and approx. 10% smaller than similar portable solar panels on the market. That means a faster, more accessible charge wherever.
---
RTIC 52 QT Ultra-Light Cooler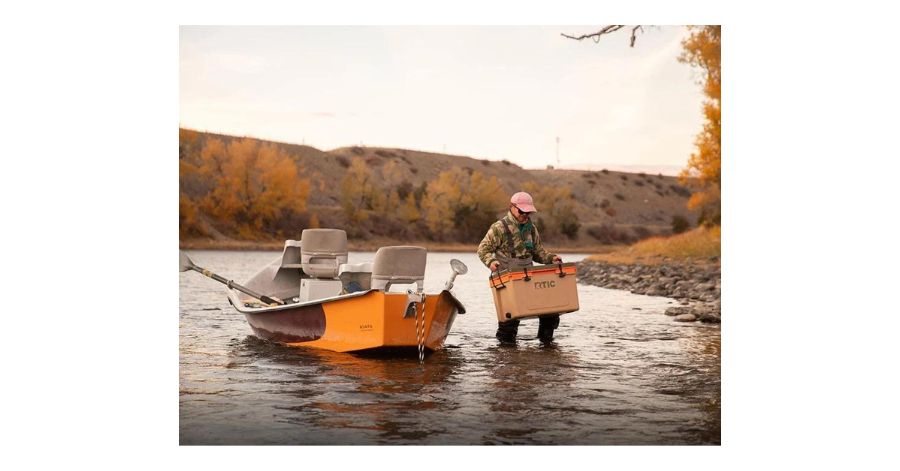 Engineered to deliver ice retention performance without weight. Infused with that legendary RTIC toughness, the 52QT Ultra-Light makes it easier to take your premium hard-sided cooler as far as your spirit of adventure takes you.
---
Mountain Series Rainier 2X Two-Burner Cooking System
There's no better camp system to create a great meal than the Rainier 2X Combo. With the included non-stick aluminum griddle, there is space to cook breakfast on one side and heat a kettle of water on the other.
---
Rightline Gear Full-Size Standard Truck Bed Tent
Pull off the road and sleep the night away off the ground in the Rightline Gear Full-Size 6.5 ft. Standard-Bed truck tent. Its floorless design sets you up quickly in the bed without removing your gear.
---
TETON Sports Outfitter XXL Sleeping Pad for Car Camping
The TETON Sports Camp Pads are thoughtfully designed to help you feel like you've brought the comfort of home to the campsites. Each camp pad has open-cell foam that recovers when you roll it out.
---
Kelty Waypoint Car Tarp
When the weather comes in, the Kelty Waypoint car tarp comes out, attaching to your vehicle and supported by a simple 1-pole design that keeps you sheltered from the rain or shaded from the sun.
---
Hitch Cargo Carrier
The car trailer hitch carrier is constructed with heavy-duty steel & can hold up to 500 lbs of cargo, such as luggage carrier, camping gear, and construction material.
By the way, we've made a super helpful car camping checklist to help campers prepare for their next camping trip. Make sure to check that or send your camping fellows.
---
Best Camping Clothing Gifts
Teva ReEmber Camp Shoes
Pack the women's Teva ReEmber quilted slip-on when you want booties that tread lightly. This recycled remake delivers the same toasty warmth and versatility as its predecessor.
---
Flexible Insulated Zip-Up Hoodie
The Flexible Insulated Zip-Up Hoodie is a lightweight quilted jacket. The shell material offers stretchability, water resistance, and heat retention. The lining comprises 100% recycled polyester and 40% recycled padding material.
---
Patagonia Range Earflap Cap
Patagonia's Range Earflap Cap is perfect for chilly days spent in the sun, providing a functional combination of sun protection and warmth. A classic design made with durable, sustainable materials makes this a staple for many fall and winter seasons to come.
---
Queue Smartwool's Smartloft Vest
Next time you're up against the elements, ensure the Men's Smartloft Vest comes along for the ride. It may be the smartest vest yet, with DWR coating to help repel rain and snow and a Merino lining for next-level comfort and sweat management.
---
Best Camping Bags and Packing Gifts
Matador Freerain Hip Pack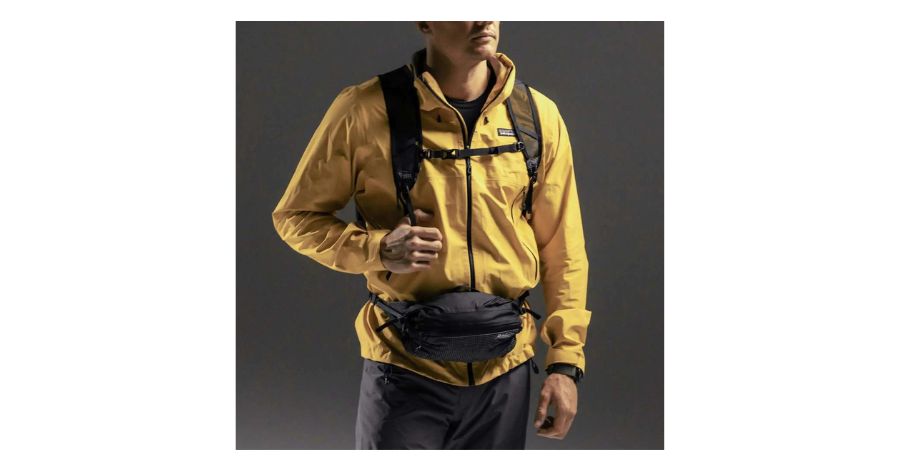 The Freerain Packable Hip Pack is a waterproof, hands-free place to keep valuables nearby.
---
Fjällräven Tree-Kånken Backpack
Bring nature on your back with the Fjallraven Tree Kanken pack. Instead of being made from fossil-based materials, it's made using Swedish wood from trees grown near the brand's hometown, Ovik.
---
Yeti Crossroads 40L Duffel
Large enough for spontaneous weekend getaways but compact enough for daily trips to the gym, we find plenty of use for Yeti's Crossroads 40L Duffel.
---
Earth Pak Waterproof Backpack
100% waterproof to ensure your gear stays completely dry while traveling, kayaking, biking, commuting, camping, and fishing.
It is constructed with an ergonomic padded back panel, reinforced contoured shoulder straps, and a low-profile sternum strap, providing ultimate comfort by taking the weight off your back. In addition, a heavy-duty waist belt relieves added pressure to help support the load.
---
REI Co-op Pack-Away Cube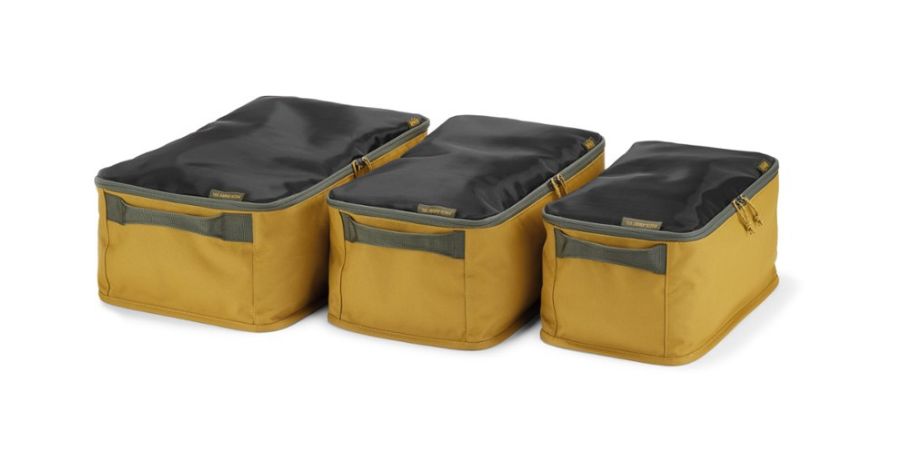 Mix and match the three sizes of the REI Co-op Pack-Away cubes inside the Pack-Away bin to organize your camping kit – sporks, TP, and all.
Super helpful piece of equipment to keep staff organized.
---
Plastic Storage Containers
At first sight weird camping gift, but a must-have for every camping lover with a large amount of equipment like me.
---
REI Co-op Cool Trail Split Pack Cooler
Carry the essential pack at the party. The REI Co-op Cool Trail, Split Pack cooler, keeps 12 cans cold with 6 lbs. of ice, while the top compartment holds the Ten Essentials and more.
---
Best Camp Kitchen Gifts
Lodge Camp Dutch Oven
This dutch oven was crafted in America with iron and oil and featured clever legs for cooking over coals and a bail handle to hang your creations on a tripod.
---
VSSL Java Coffee Grinder
JAVA manual coffee grinder was built to make great coffee easy and intuitive.
---
Stanley Adventure Camp Cook Set
Make big meals with this fully-loaded prep and cook set that packs up small for the campsite or RV. Every piece functions just like the gear in your kitchen.
---
Jetboil Flash Cooking System Lightweight Stove
Enjoy cocoa, coffee, or a gourmet freeze-dried meal in a jiffy with the new Jetboil Flash cooking system, which boils water in 100 seconds, allowing you to conserve fuel and dig in faster.
---
YETI Tundra 65 Cooler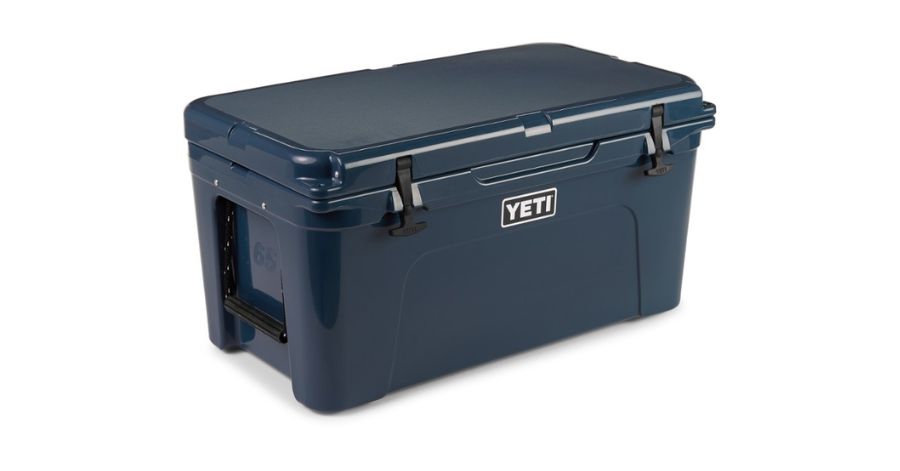 Most coolers come away from a life full of adventure with cracked corners, caved-in lids, and busted hinges. Not the YETI Tundra 65. It's tough to take the abuse that comes with how you play.
---
Overmont Camping Kettle
Nothing is more important than health, so don't risk buying something you frequently use but with hidden chemicals. This camping kettle is made of rugged anodized aluminum.
---
EcoZoom Camp Stove
The EcoZoom Versa stove uses wood, charcoal, or solid biomass fuel. The Versa provides the same efficiency and heat output as the Zoom Dura when cooking with wood and offers a more controlled cooking experience using charcoal.
---
Kelty Camp Galley Deluxe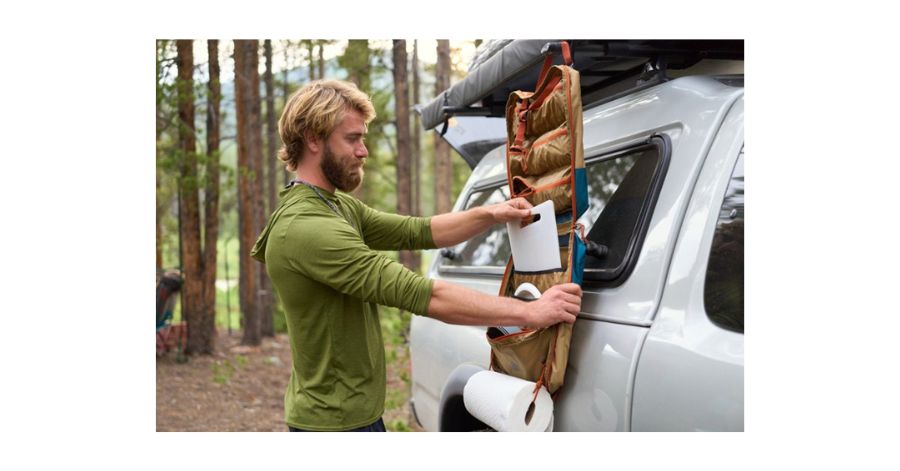 Turn your camp kitchen into a tight ship with the Kelty Camp Galley Deluxe bag. Designed to easily haul kitchen gear for a family of 4, this structured camping cupboard hangs up for easy access.
---
Steven Raichlen Best of Barbecue Extra Long Suede Grill Gloves
These gloves are 18 inches long and protect the whole arm.
---
Mountain Summit Gear Deluxe Roll Top Kitchen
Store your camp kitchen goodies with the spacious Mountain Summit Gear Deluxe Roll Top kitchen. It has two side tables, a detachable compartment, and two shelves to organize your gear.
---
Best Camping Gadget Gifts
VSSL Flask
It isn't your average Flask, but a best-in-class multipurpose beverage container complete with a compass, a 4-mode LED flashlight, and two stainless steel shot glasses that collapse neatly into the base of the Flask.
---
JBL Flip 5 Eco Portable Waterproof Speaker
The waterproof JBL Flip 5 Eco edition is made from 90% recycled plastic and has eco-friendly packaging.
---
Garmin inReach Mini 2
A bit pricy, but a great outdoor gadget for every camping lover. Stay in touch using inReach technology.
---
Thermacell Radius Zone Mosquito Repellent
Radius is easy to use and provides scent-free, mess-free, DEET-free mosquito defense hours. Compact, rechargeable, and TSA-approved, Radius is everything you need to keep mosquitoes away with the simple push of a button.
---
Best Camping Lounging Gifts
Inflatable Lounger Air Sofa Hammock
No pump is required. Just whisk it through the air to inflate. The little trick is to trap air by closing the sleeve opening before the end of each movement and keep the mouth closed until you begin the next move.
---
Rumpl Original Puffy Blanket – Grand Canyon
Inspired by the red rocks and dramatic topography of the most famous national park, the Grand Canyon print will transport your camper to the most iconic scenery in the west.
---
DoubleNest Hammock
Spacious enough for two, the award-winning ENO DoubleNest Hammock is expertly constructed with durable yet soft FreeWave® fabric and reigns supreme as your all-access pass to relaxation.
---
NEMO Stargaze Recliner Luxury Chair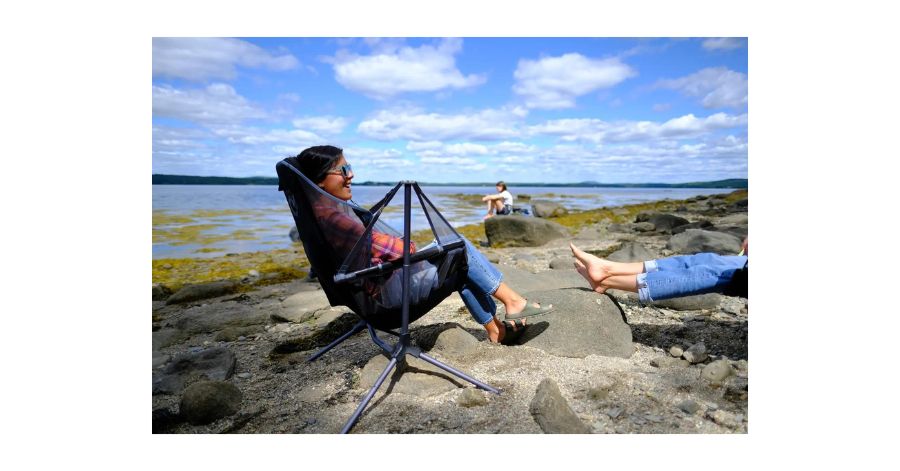 The next generation in camp comfort. This first-ever swinging and reclining camp chair takes relaxation to a new level.
Unlike rocking chairs, this chair is designed for use on any surface, including rocky, sandy, or uneven ground, bringing the relaxation of motion to a host of new environments.
---
Best Camping Gifts For Dog Lovers
Collapsible Double Dog Bowl
Bark Brite's new double dog bowl is designed to be portable and efficient. Adjustable capacity and easily collapses and folds up for travel and storage. They are great for food and water at the same time.
---
Adventure Dog Kit
The Adventure Medical Kits ADS Trail Dog first aid kit provides comprehensive dog-specific medical solutions for your trail buddy.
---
Dog Pack Saddle Bag Rucksack
The 2-in-1 dog backpack harness provides maximum comfort and control so you can take your pal camping, hiking, or anywhere your journey might take you.
---
Guide Gear Dura Mesh Elevated Dog Bed
The Guide Gear dog couch bed is excellent for indoor or outdoor use while camping, on the beach, or in the backyard.
---
Mountainsmith K-9 Cube
Great gift for people often going outdoors with their furry friend.
---
Best Books For Campers
There are many options, from practical guides on camping and survival techniques to thrilling wilderness adventures and nature photography books.
Consider a book on wilderness first aid, Leave No Trace principles or outdoor cooking for the practical camper. These books can provide valuable knowledge and skills to enhance any camping trip.
Here are some suggestions:
The Campout Cookbook
The Field Guide: Eating Outdoors
50 States, 5,000 Ideas
Field Notes National Park Series
---
Gift Cards
Gift cards are the best gifts for someone who loves to go camping. They allow recipients to choose their camping gear or supplies, ensuring they get exactly what they want or need.
Here are some ideas:
National Parks Pass
HipCamp or Tentrr
REI Gifts Card
What To Do Next?
Now that you found some unique camping gifts for your outdoor enthusiast, please send them our lists with plenty of camping breakfast, lunch, and dinner ideas.
What do you think about this article? Feel free to write your thoughts, experience, and some fun stories in the comments. We would like to hear from you! Thank you
Also, make sure to bookmark this blog post. It will be super helpful whenever you buy a new camping gift.