Family camping with kids can be an exciting and memorable experience. Kids camping is a unique opportunity to disconnect from technology and daily life and reconnect with each other and the natural world.
However, planning a first camping trip with children can seem overwhelming and stressful, especially for those new to camping.
This text will provide helpful tips and advice for your next camping trip with kids. From choosing a campsite to preparing meals and activities, we will guide you through the planning process to ensure a safe and enjoyable trip.
We will also discuss the benefits of family camping vacation with children, such as strengthening family bonds, building confidence and resilience, and fostering a love for nature.
Planning a first family camping trip is never easy. Taking care of yourself only is one level, and taking care of children, unaware of all the dangers, is a whole new one.
But it doesn't mean you shouldn't go; you must prepare.
Just as we've prepared this thorough article below about kids camping tips that contains everything you need to know before your family camping trip with kids.
Let's make camping fun!
Table of Contents
Fun Activities You Can Do During Your First Family Camping Trip
Plan Outdoor Activities Before Your Trip
Many activities can be planned in advance, but leave some space for surprises. When I went on a family camping trip with my friends and their kids once, without proper preparation, we found ourselves in the middle of nowhere with a nervous toddler.
Luckily, if you're creative enough, and we were, you can figure out some stuff to do right there. But, anticipating this would also be a wise decision.
This is also important because if you plan your activities before, you can pack all the necessary gadgets. Overall, taking the time to plan activities for a family camping trip will provide everyone with a great time, and the whole process of planning and packing will be less stressful.
Organize a Scavenger Hunt
You can bet kids will love it!
To make the scavenger hunt more exciting, consider choosing a theme for the items on the list. For example, you could make the items nature-related or create a list of items with a specific color.
Also, try to keep the game age-appropriate, meaning that the younger children may need simpler items to find while older children may enjoy something more challenging.
Last but not least, find a creative, small prize for the winner to spice it up a little bit.
It is a great activity for children as it is fun and engaging. It encourages exploration, observation, and teamwork while providing an opportunity to learn about nature and the environment.
Pack and Bring Your Favorite Board Games
Honestly, this is an adult tip. Even though plenty of board games are dedicated to children, we adults love to play them from time to time.
Board games are an excellent solution for longer family camping trips, as they can be time-consuming.
Remember that you should choose the portable, compact, and easy pack. Cards can be a good choice.
Also, you might want to consider the age range and bring some for the kids and some for yourself or, even better: some that can involve everyone. The ones you choose for kids should be easy to learn and involve a more extensive group or team.
Playing games on a camping trip with kids will definitely help pass the time during downtime and create wonderful memories for the whole family.
Bring the Proper Toys That Kids Love
If your children have their favorite toys that you find suitable for family camping occasions, don't even think twice: pack them.
Here's a short list of some interesting items that can be fun for the whole family during the kids camping activities:
Balls
Frisbees
Binoculars
Coloring books and crayons
Stuffed animals
Musical instruments
Bringing a variety of toys will keep you safe and sound, and the kids will be covered.
However, don't overpack, especially if the space is an issue, and bring those items that you know your kids will enjoy the most.
Scary Campfire Stories
We've all watched some movie at least once in our lives where kids are displayed sitting around the fire and listening to scary tales from someone older.
It doesn't have to be that way, though. Yes, if you prefer horror stories, then it's okay. But the campfire atmosphere is generally very moving and comfy, and it's a great situation to bond with your kids on any topic that naturally pops up.
You can talk about nature and everything you have experienced on your trip. Or your family history, some life lessons you want to pass on to them, and talk about each other's hobbies and interests.
It is a great opportunity to ask your kids the famous "what do you want to be when you grow up" question.
Planning & Packing for Your Next Family Camping Trip
Involve the Kids in the Process
There's no better way for kids to get more excited and engaged in the trip than to involve them in every possible way.
You'll encourage their creativity, build their anticipation, and develop their decision-making skills. All are essential to proper child development.
They will learn to be more independent while collaborating on planning activities can help strengthen family bonds and create lovely, shared memories.
Think of Anything That Can Go Wrong and Try To Avoid It
Anticipating different scenarios before a family camping trip can help prepare you for any situation.
This is especially important when you're taking kids with you. It would be best if you did everything to think about certain things, such as safety, comfort, and emergency preparedness.
Overall, being mentally prepared and having the correct gear will ensure a safe trip and help you prepare well for potential emergencies. You will have a successful family camping adventure by taking that precious time to think through all the possibilities and plan accordingly.
Explore and Appreciate the Nature Together
You don't want just to bring your kids with you to the great outdoors. You will also want them to learn something from such an experience. 
You can look for trails or parks nearby and research any local wildlife or natural features you can explore. Try taking as many nature walks as possible, and encourage your kids to observe their surroundings, look for plants and animals, and ask many questions. Nowadays, we know that spending time in nature greatly benefits our youngsters' development.
Another great thing is to build simple nature crafts out of natural materials such as birdhouses, nature collages, or leaf rubbings.
Take some time to appreciate the beauty of your surroundings, and teach your kids about the Leave No Trace principle so they can grow into responsible young adults who will protect nature properly.
Pick Your Camping Style
Depending on your preferences and level of experience, there are a few most common camping styles, and I'll list them below:
Tent camping: we don't need to talk much about it, as tent camping is one of the most popular camping styles involving sleeping outside a tent.
RV camping: to do this, you logically need an RV. This is a good option for longer trips, for those who want more comfort and convenience, and might be more suitable for people with children or larger groups. You don't need to buy an RV; you can rent it to try if it works well for you.
Car camping: This option is for those who want to camp at a campsite but still have easy access to their vehicle. Car makes packing gear much less complicated as you can take as many items as possible into your car, which is not the case with tent camping during backpacking.
Each style has advantages and challenges, so choose the one that best fits your needs and interests. Whatever you choose in the end, prepare to have an awesome time!
Safety First
Camping with kids can be a wonderful and rewarding experience, but prioritizing safety ensures everyone has a fun and safe time.
Before heading out, research the campsite and surrounding area to identify any potential hazards or risks. It includes checking for wildlife activity, evaluating the terrain for potential hazards, and identifying weather risks.
Here's how you can do it:
Look for potential hazards in the campsite, such as sharp objects or uneven terrain. Encourage your children to stay aware of their surroundings as well.
If you plan to build a campfire, teach your children about fire safety and ensure they understand the importance of keeping a safe distance from the fire. Make sure the fire is properly extinguished before leaving the area.
Set boundaries for your children and ensure they understand the limits of where they can explore. Always keep an eye on your children and never leave them unattended.
Bring a first aid kit and ensure everyone knows its location. Familiarize yourself with the location of the nearest hospital or emergency services.
By taking these steps, you can help ensure a safe and enjoyable camping experience for you and your kids. Remember always to prioritize safety.
Always Make Plans In Advance
Planning before camping with kids is essential for several reasons.
First of all, it's all about safety which is mentioned above. But it's also a hell of a logistics: camping with kids requires actions from packing the right gear to ensuring you have enough food and water.
By planning, you can ensure you have everything you need for a successful trip and avoid any logistical snafus.
While having a plan is important, it's also essential to remain flexible and adapt to changing circumstances.
Finally, do what you can to reduce stress and anxiety before and during your family camping trip. Having a clear plan and knowing what to expect lets you relax and enjoy the experience, knowing you have everything under control.
Find a Good Campground For Kids
This task requires some research and consideration.
Some campgrounds are specifically designed with families in mind, with features like playgrounds, swimming pools, and organized activities for kids.
Look for campgrounds that advertise as family-friendly or have amenities that appeal to children.
Online reviews can be a helpful tool for this. Look for reviews from families who have camped with kids to understand the campground's suitability for children.
Of course, it never gets old: ask for recommendations. Ask friends, family members, or other parents for recommendations on good campgrounds for kids. They may have valuable insights into which campgrounds are particularly family-friendly and enjoyable for children.
Pro-tip to write down: Remember to plan and make reservations early, especially during peak camping season.
Delegate Your Kids Some Tasks
Giving kids responsibilities on camping trips can build self-esteem and confidence. When kids are given responsibilities on family camping trips, they feel a sense of accomplishment and pride when they successfully complete a task, which can benefit their emotional well-being.
A family camping trip can provide an excellent opportunity for kids to learn valuable life skills, such as how to set up a tent, build a campfire, cook over an open flame, and navigate the outdoors.
This way, you can encourage kids to work together and support each other, which can help build strong bonds and relationships within the family.
Useful Gear Tips for Family Camping Vacations
Borrow or Rent Gear
It can be a great option for families new to camping or not wanting to invest in expensive gear upfront.
Many outdoor gear stores offer rental equipment for camping. This can include tents, sleeping bags, backpacks, cooking stoves, and other essential gear. Prices and availability may vary depending on the store and location.
You can also borrow from friends or family who has experienced campers; they may be willing to lend you some gear for your trip.
Planning and making early reservations are essential when renting or borrowing camping gear, especially during peak camping season. You should also check the condition of the gear before you use it to ensure that it is in good working order and free from any defects or damage.
Note that some things, such as sleeping bags, are not hygienic if not washed beforehand.
Teach Your Kids Some Camping Skills at Home
It's essential to familiarize kids with camping equipment. This is why it's crucial to practice camping at home, to make it easier for them to understand how to set up and use the camping gear on the next camping trip.
Before camping with kids new to camping, practicing at home can help build confidence and comfort with sleeping outside and being away from home. It can be a fun and low-pressure way to introduce them to camping.
Also, if you discover that your tent is too small or missing a key piece of equipment, you'll have time to address those issues before you leave.
Camping Checklist of Essential Items: From Sleeping Bags to Extra Tent
The best advice you can get is to download an example of a camping checklist like the one you can find here. And then, through time, you will learn what you need and don't, and you will be able to personalize it.
Here is a brief list of camping supplies for camping with kids that you can start with:
Main tent (with stakes, guylines, and footprint if needed) and an additional one
Sleeping gear

Sleeping bags (with pillows and sleeping pads if desired) for adults
Sleeping bag for children

Flashlights or headlamps (with extra batteries)
Lantern or campfire lighting options
Picnic table
Camping hammock
Camp stove or grill (with fuel and matches/lighter)
Cookware (pots, pans, utensils, plates, bowls, cups, and mugs)
Cooler and ice packs
Food and drinks (including snacks and easy-to-prepare meals)
Water bottles or hydration system
Water filters or purification tablets
First-aid kit (with basic medical supplies and any necessary medications)
Bug spray and sunscreen
Maps, compass, or GPS device
Whistle and signal mirror
Multi-tool or knife
Rope or paracord
Extra clothing and rain gear (including hats, gloves, and warm layers)
For fun purposes, don't forget the following:
Swimsuits and towels
Books, games, and other entertainment options
Camera or smartphone for capturing memories
In addition to these camping essentials, you may also want to consider packing specific items for your kids, such as:
Diapers and wipes (if applicable)
Baby carrier or stroller (if applicable)
Extra clothing and shoes
Sun hat and sunglasses
Favorite toys, books, and stuffed animals
Snacks and drinks that they enjoy
Before you go, check the weather forecast and any specific regulations or restrictions for your chosen camping location. Also, making a camping checklist and checking off each item as you pack is a good idea to ensure you don't forget anything important.
Pack As Many Wet Wipes as You Can
Baby wipes and antibacterial wipes are life-savers.
Baby wipes can be used for personal hygiene, such as cleaning hands, faces, and bottoms. They can also freshen up between showers or when water is unavailable.
On the other hand, antibacterial wipes will help clean surfaces that may be contaminated with germs or bacteria, such as picnic tables, cooking surfaces, and utensils.
This tip will keep your family healthy and comfortable during your trip. They are small, lightweight, and easy to pack, which makes them a convenient addition to your camping gear.
Bath Station as a Must-Have For Camping With Kids
Kids can get dirty extremely quickly, even on regular life occasions.
Therefore, a bath station can be a helpful addition to your camping setup and is pretty easy to use.
Select a private spot away from the central camping spot, such as behind a tree. Make sure the ground is relatively flat and free of rocks or debris.
You can use a portable shower camping tent or a pop-up privacy shelter to create a private space for bathing. Fill a large bucket or container with water from a nearby stream or water you've brought.
To bring bathing to a higher level, use biodegradable soap or shampoo to minimize environmental impact and keep your kids' skin safe from potential rashes.
Teach Your Kids to Dispose of Trash Properly
Proper trash disposal is essential when camping with kids to minimize the environmental impact and keep your area clean and sanitary. At the same time, this is a great learning opportunity for kids of any age, especially older kids.
Remember to keep your trash bags in a secure location, away from animals and insects. You can store them in a sealed container or hang them from a tree out of reach of wildlife.
Many campgrounds have specific rules for trash disposal, such as designated trash collection areas or guidelines for recycling.
Follow the Leave no trace principle, which means pack out all trash and leave your camping area cleaner than you found.
Ultimately, do your best to teach your kids the importance of responsible trash disposal and involve them in the process.
Extra Tips
Prepare Easy Meals That Everyone Likes
Food preparation is vital for safety and convenience when camping with kids. Here's a brief guide on how to do it:
Before your trip, plan your meals and snacks so you know what food you'll need to bring and how you'll prepare it. This will help you avoid overpacking and ensure you have enough food for everyone.
Choose easy-to-prepare and cook meals like hot dogs, burgers, and pasta dishes. To make meal times more manageable, prepare some meals in advance, such as pre-cooked sausages or marinated meats.
Ensure you have the right cooking equipment, such as a camping stove, grill, or Dutch oven.
Get the kids involved in food preparation by letting them help with simple tasks like stirring, chopping, or assembling meals.
In conclusion, bring food you're regularly eating, and don't experiment with it while camping with kids. This especially includes children since their digestive system is even more sensitive than ours.
And check out our posts on camping breakfast, lunch, and dinner recipes, as well as camping snack ideas.
Let the Kids Get Muddy
It's perfectly fine to let kids get dirty when camping! In fact, getting dirty and exploring nature is one of the joys of camping.
Many studies have shown that exposure to dirt and germs can boost kids' immune systems and help prevent allergies and other health issues.
Letting kids play freely can encourage their creativity and independence. They may discover new things, develop imaginative games and activities, and learn new skills. It is also a natural and fun part of the camping experience.
Cleaning up shouldn't be one of your concerns.
Of course, it's important to balance the benefits of letting kids get dirty with proper hygiene practices and safety precautions. Make sure they wear appropriate clothing and footwear for the activities they'll be doing, and use sunscreen and insect repellent as needed.
Balance Between Routine and Flexibility
While it's important to maintain some sense of routine for kids when camping, it's also okay to be flexible and let go of some of the strict routines of everyday life.
Maintaining some of the most important routines for kids, such as regular meal times, nap times, and bedtimes, is important.
But, while it's essential to maintain some routines, it's also important to be flexible and adaptable. Camping is all about exploring and trying new things, so it's okay to adjust routines to fit the activities and experiences of the day.
Let the kids use camping as a great opportunity to try new things and learn new skills. Encourage them to explore, play, and engage in new activities, even deviating from their usual habits.
Disconnect From Social Media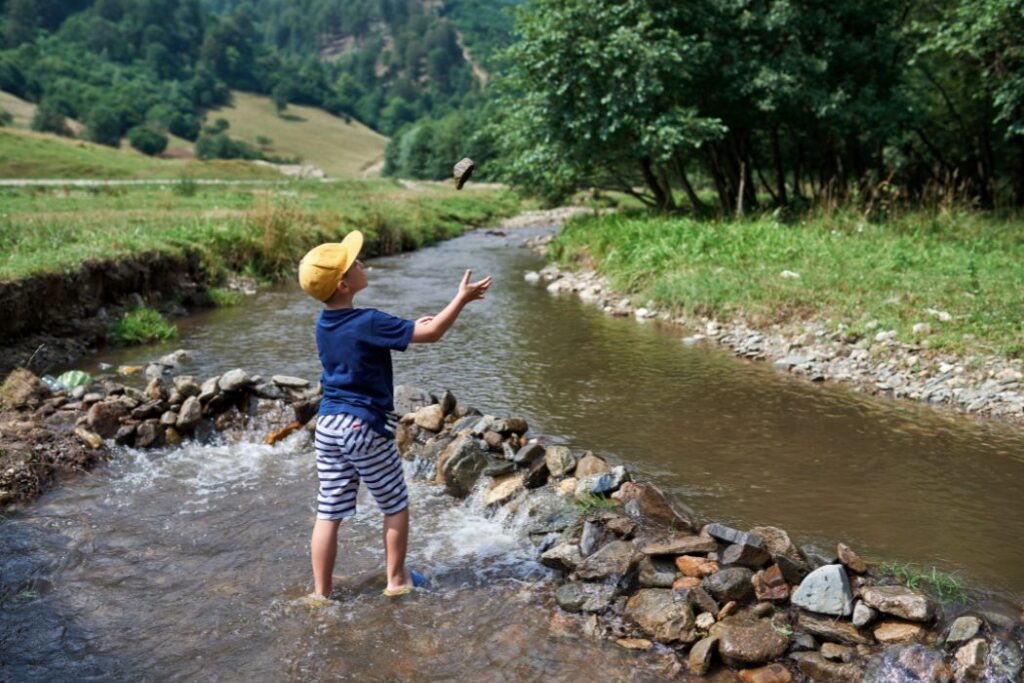 This is the only way to fully immerse yourself in the outdoor experience and create meaningful connections with your family. By unplugging technology, you can focus on spending quality time with your kids, exploring nature, and engaging in activities without distractions.
Additionally, disconnecting from social media can reduce stress and anxiety caused by constant notifications, news updates, and messages. It can also improve sleep quality and mental health, creating a more enjoyable and relaxing camping experience.
However, it's okay to check your phone occasionally. Just make sure to prioritize spending time with your kids and being present in the moment.
Ask Your Friends to Join Your Camping Adventure
Inviting friends to go camping with kids can be a great way to enhance the camping experience for both the children and the adults.
Having friends on a family camping trip can also help alleviate some of the responsibilities and workload of camping with kids. With more adults around, there can be more supervision and assistance with setting up tents, preparing meals, and watching over the children.
Ultimately, having adult company is great, but planning and communicating everything effectively is important to ensure an amazing trip for everyone involved.
Take a Deep Breath and Enjoy This Experience
People often forget the purpose of camping with kids: to enjoy camping and fresh air and strengthen family relationships.
Outdoors can help reduce stress, improve mood, and increase overall well-being. It allows you to disconnect from the busyness of everyday life and reconnect with nature.
Teaching your kids from the youngest age about this is one of the best things you could do for them.
So, don't get stressed about planning, packing, and overthinking, but remember that this is the time you'll spend with your loved ones.
What's Next?
To wrap up, I love camping with kids! It can be a fantastic experience that creates lasting memories and strengthens family bonds. While it may seem daunting initially, with careful planning and preparation, camping with kids can be a fun and stress-free adventure.
When camping with children, choose a family-friendly campsite with access to essential amenities such as restrooms, running water, and fire pits.
When packing, remember to bring appropriate gear and clothing for the family, including warm layers, waterproof gear, and comfortable footwear.
Involve young kids in the planning process by letting them help choose the campsite or plan the meals and activities for the trip. Incorporating fun and educational activities such as nature walks, scavenger hunts, or stargazing can make the trip more enjoyable.
Lastly, it's essential to teach your kids about responsible camping practices in a fun way. Encourage them to respect and appreciate the natural environment by avoiding littering, staying on designated trails, and minimizing the impact on the ecosystem.
You can make your family camping trip with kids an unforgettable adventure by taking the necessary steps to ensure safety and comfort, involving your kids in planning, and teaching them about responsible camping practices.
Feel free to write your thoughts, experience, and some fun stories in the comments. We would like to hear from you!
Happy camping!